An attempt to lighten the load.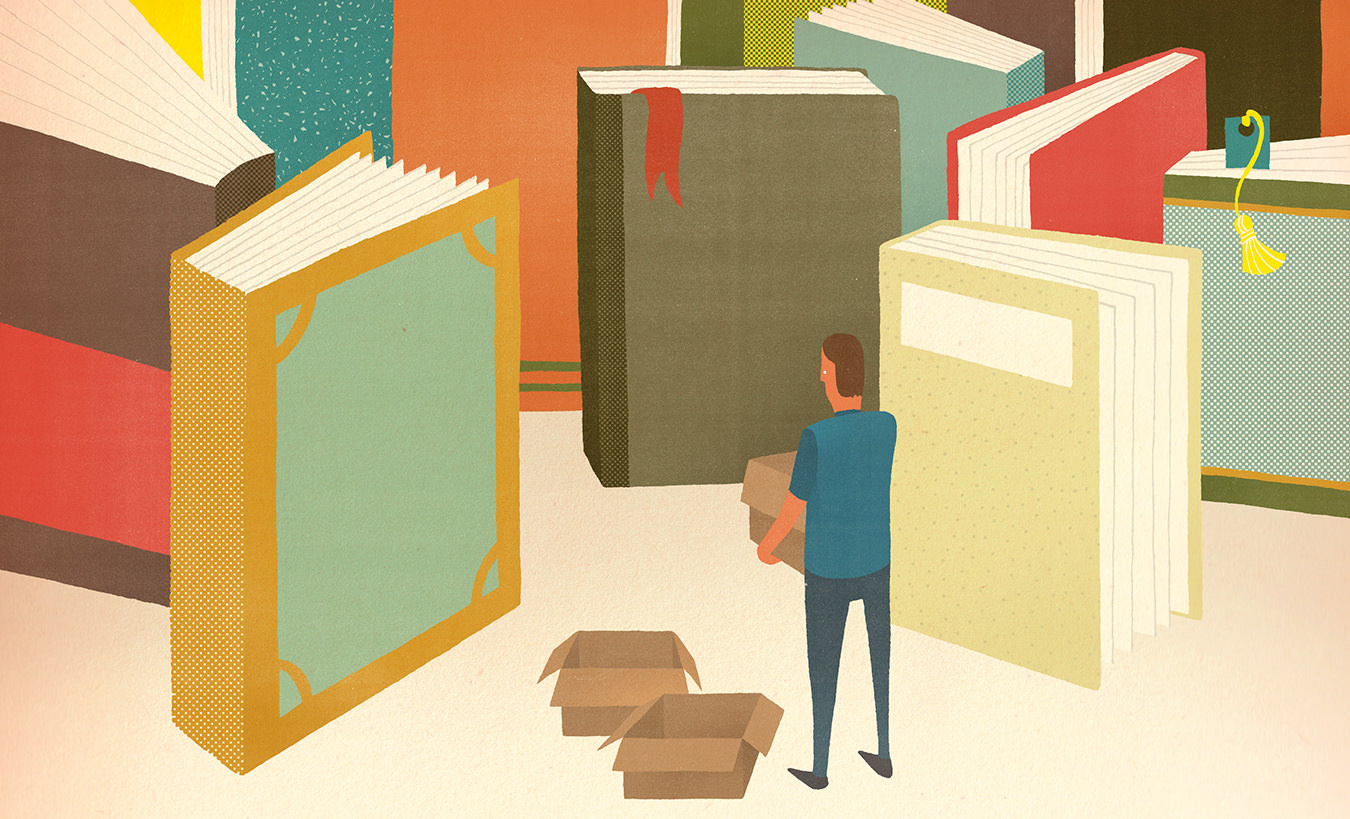 Have you ever read Snow Man by David Albahari? It's really good. "Provocative insights abound," The Georgia Straight raved. How about Matthew Kneale's When We Were Romans? Terrific. "Intense … perfect voice," said The Globe and Mail. Well, I said those things, and a lot more besides. For 10 years, I reviewed fiction and non-fiction here, there, and everywhere. A book a week (or two, or 10), month in, month out: that's a lot of reading, probably more than many people bother with over a lifetime. The experience left me with an engorged vocabulary, a well-earned squint, and significant pressure on my bookshelves.
Those impacted shelves are why I recently buckled down for a cull. Putting on my Sophie's Choice game face, I inched through the collection, prizing out each volume, weighing the likelihood it would still live up to my hype. Through the novels (alphabetized), the poetry (organized by period), the non-fiction (no system at all), the kid lit, I proudly, sternly, weeded out 100 books. A hundred, out of thousands.
"A flamethrower and a Kindle," my 15-year-old said to me. "That's what you need."
Instead, we boxed up the weak—Mark Kingwell's Marginalia: A Cultural Reader ("acute and insatiable … arrogant"), Alberto Manguel's Ark in the Garden: Fables for our Times ("bittersweet"), Lewis Lapham's Theater of War: The Innocent American Empire ("a voice of measured despair and mocking incredulity")—and headed for our local second-hand bookstore.
It felt like a good new home, with its wooden floors, its gentle light. They're choosy, the fellow at the counter warned me, but I was bullish as I hoisted my hoard up on the barrel. Victor Pelevin's Helmet of Horror: The Myth of Theseus and the Minotaur ("a fresh, Borgesian update to the well-known myth of Minos"). Stranger Than Fiction: True Stories by Chuck Palahniuk ("beautifully crafted vignettes").
"I mean, they're good books," the clerk said. "I'd take them all, but they're just going to sit here for a year. And I don't have the room for that." He looked pained. We both did. The hours, weeks of my life spent poring through their pages, sleep lost, invitations unheeded, parties unattended. And for what? "I can take nine," he said. I'd brought my camera for a final farewell shot, but in my deflation I couldn't even look at the sad little pile washed up on the counter. Thousands down to a hundred down to this. My son and I exchanged glances; we both considered the boxes that we'd now have to hump back to the house.
There's a charity bin down the road that promises to keep books from clogging our landfills. I swear I'm going to use it, but first I just want to finish Gary Shteyngart's satiric new novel Super Sad True Love Story. Have you read it? Very funny. A middle-aged guy in the near future has this eccentric collection of actual books (everyone else has sort of super-iPhones), and to hold on to his few friends, he spritzes his library with air freshener. It's the smell he's hiding—a lingering stink of obsolescence. Poor schlub.