Toronto's coolest indie collective.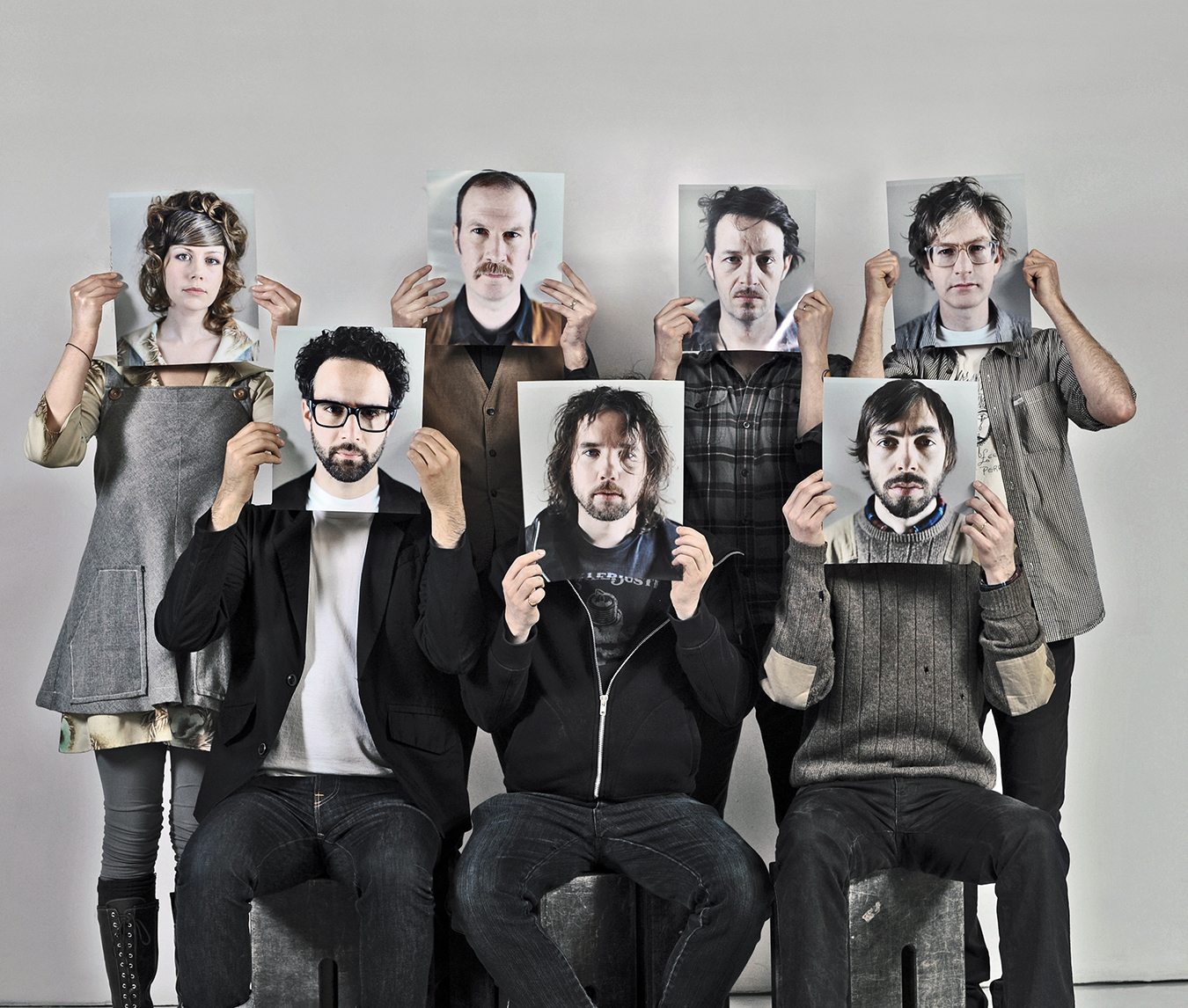 The streets of Toronto are quiet tonight, and all seems right in the city that spawned one of Canada's most eclectic and successful indie bands: a group so epic in its soundscapes, accidental in its cool, and sweeping in its membership that it's a collective, or a scene—as in, Broken Social Scene.
Founded a decade ago by Kevin Drew and Brendan Canning, both of whom, like most of the Juno-winning crew, also have other bands and solo projects, the group has featured a rotating cast that's included Leslie Feist, Jason Collett, Pavement's Scott "Spiral Stairs" Kannberg, and members of popular bands Stars and Metric. Many of these illustrious friends are featured on Broken Social Scene's new album, Forgiveness Rock Record, from Arts & Crafts, the indie label at the heart of this community.
Their name says it all. They are a scene, an insular family whose branches bow and sway in wayward turns. "We really became a band again," says drummer Justin Peroff, discussing the new album while standing outside an empty neighbourhood schoolyard. "I felt I was making music that really mattered to me and we were writing for the same cause."
But wait, something is amiss. Peroff's bag has gone missing. As in, disappeared without a trace, without even saying goodbye.
He isn't upset about losing his stuff—no big deal—but surprised that hooligans absconded with his bag while he was cheerfully discussing a botched acting audition (he acted a lot in his late teens, including alongside Sarah Polley in the mid-90s CBC series Straight Up) and his love of comics and graphic novels (he and Los Angeles artist Joe McKay started a visual arts website at www.pffffft.com and together did the cover art of Broken Social Scene's new album).
He takes inventory. What was in it? Keys, iPod, empty Tupperware. He searches. He sighs. Again, no big deal. The show must go on, right?
So it does. Forgiveness's 14 songs are worth the five-year wait. Familiar grooves punctuated by clangs and echoes, clicks and whistles, silence and cacophonies. Written by the band and produced by Tortoise's John McEntire, Forgiveness comes after years of touring and surreal success: awards, film scores, an appearance on the Late Show with David Letterman, and a book and film about them. Coming full circle, Broken Social Scene has redefined its core lineup: Drew, Canning, Peroff, Charles Spearin, Andrew Whiteman, Sam Goldberg, and Lisa Lobsinger.
Canning explained in an earlier conversation how the songs drove the new album's creation. "A little spark of something can generate a whole influx of ideas. It's up to the song to decide which way it's going to go, good or bad." Finishing has been a relief. "It consumes you almost to the point where, personally, I lose a bit of focus," said Canning, who has 2,000 albums in his vinyl collection and occasionally DJs at bars around town. (He likes reggae nights.)
As for the hand-holding group sensibility of these forever friends, who wore plaid before it was hip, don glasses because they actually need them, and see music as necessary poetry, "We definitely are in our own little world and I like it," said Canning. "You can imagine if you're with your family unit for X number of years. It's always going to be somewhat of a peaceful atmosphere—not to say there aren't minor annoyances. But everyone's got different interests and we all live in different cities."
Just like Peroff, who has been spending time in Los Angeles (he doesn't drive but putters around on an electric scooter) and Montreal, where he started a new band with the Stills' Dave Hamelin and Liam O'Neil, who sometimes plays in Broken Social Scene. "I'm a chronic list-maker, and I always wanted a bumper sticker that said, 'My other band's a trio,' so I compiled a list of people I thought were amazing," says Peroff, grinning.
Understanding how these musicians found each other isn't complicated. Just as we sense whom we connect with personally, the same is true musically. "Bands are almost like different tribes—we're all like tribesmen speaking different languages," Peroff ventures.
Guess what? There's his bag—perched on a stoop a few houses down from where he left it, stuff untouched, just waiting to be discovered.
Broken Social Scene photo by Dave Gillespie.