Dior Utilizes Stem Cell Research to Reprogram Skin for Anti-Aging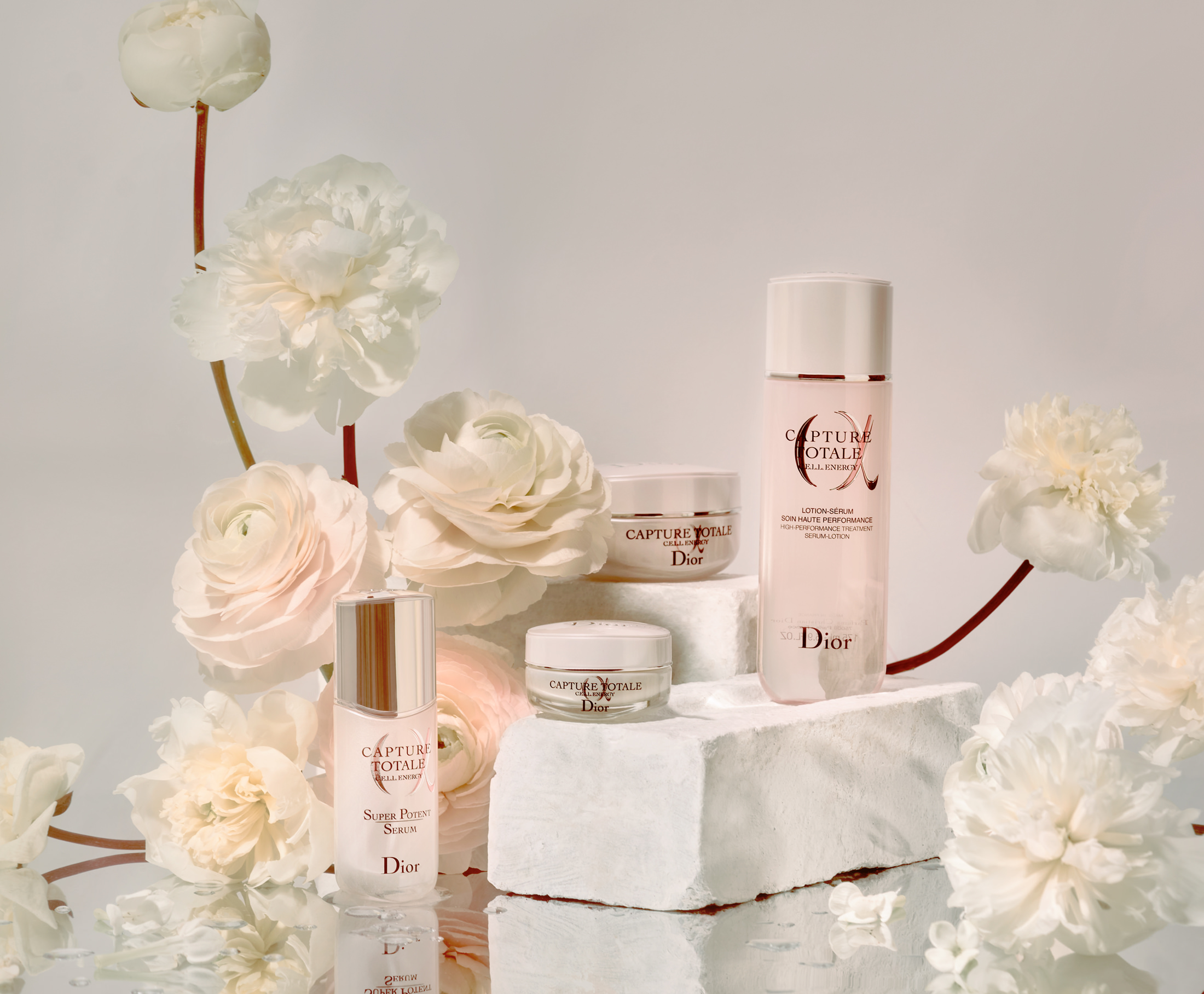 When Dior's very first Capture Totale skin-care range was released in 1986, it was an extraordinary innovation, introducing the use of liposomes in cosmetics to help the active ingredients penetrate the skin. Over the following 30 years, Dior constantly renewed the formula of its top anti-aging skin-care range. The latest offering is Capture Totale C.E.L.L. Energy, which acts on stem cells to restore the skin's vital functions and youthful appearance.
Recent studies have shown that, although stem cells don't decrease in number, with advancing age they drastically lose their regenerating power. By comparing stem cells obtained from a 20-year-old donor with those from a 40-year-old, Dior discovered the stem cells' energy potential declined by 50 per cent between the ages of 20 and 40. "They decrease in energy potential," commented Bruno Bavouzet, LVMH president of research at the Dior Skincare Scientific Summit in Paris this past November. "This decrease goes hand in hand with the decline in all cellular functions and the overall vitality of the face."
Identifying a need to kick-start cellular energy was the impetus for Capture Totale C.E.L.L. Energy. "We are counterbalancing the decrease of activities, but we don't touch on the stem cells by themselves," explains Bavouzet. To make Capture Totale C.E.L.L. Energy, Dior uses a complex of four flowers, all grown in Dior gardens without chemical fertilizers or pesticides, that reactivate the regenerating power of the cell: longoza from Madagascar, peony, white lily, and jasmine. A total of 1,667 ingredients were screened before identifying these flowers. "The composition is part of the secret," says Bavouzet. "This is not just pure longoza. There are some extracts and different biological roots to promote specific mechanisms."
The result is a super-effective complex conveyed by a latest generation assimilation vector, a lipopeptide that has an extraordinary affinity with the skin. The line includes a cleanser, toner, eye cream, and face cream, but the star product is the new Super Potent Serum, made with 91 per cent natural ingredients. The products don't promise to totally eradicate fine lines and dark spots, but they will help promote overall healthy and plump skin. "The question is not about having an immediate effect," says Bavouzet. "The key question is, are you really doing something in the long term? Are you really protecting or bringing something to prevent your aging mechanisms from aging faster and/or compensate whatever has degraded?"
In 2013, parent company LVMH inaugurated the Hélios cosmetics research centre in Saint-Jean-de-Braye in France. The cutting-edge "beauty lab" facility carries out all research for Dior, employing 350 scientists in a range of disciplines—molecular and cell biology, physical chemistry, ethnobotany, formulation, and toxicology—and is considered the temple of Dior skin care. Capture Totale C.E.L.L. Energy was created by the formulation work and expertise of the Dior researchers at Hélios. And while Dior's own scientists have been researching stem cells for years, this most recent discovery—reprogramming skin cells as stem cells and studying the evolution of their vitality—has been its most revolutionary yet.
Bolstered by this cell discovery, Dior Science is collaborating with CiRA (Center for iPS Cell Research and Application) at Kyoto University to further its research in stem cells and how skin ages. CiRA director Dr. Shinya Yamanaka discovered how to take any adult cell and reverse-engineer it back to an embryonic blank slate, or pluripotent state, meaning it can be converted to any type of cell in the body, such as heart muscle, brain neuron, or even an immune cell that seeks and destroys cancer cells. This discovery won Dr. Yamanaka the 2012 Nobel Prize in Physiology or Medicine.
Monitoring medical advances to identify the most relevant, and be the first in applying them to cosmetics, is the Dior strategy. "This is the first time that CiRA is collaborating with a European cosmetic company," said CiRA associate professor Knut Woltjen while in Paris at the Skincare Scientific Summit. "This is new ground. We have a mutual interest in the research, and basic science brought us together."
In a conversation that bridged science and beauty, Dior skin-care specialists and internationally renowned scientists at the Skincare Scientific Summit highlighted the scientific advances and innovations in the cosmetics domain. And while at times the discussion was overly abstract, there was a practical takeaway: "Beauty is a matter of mathematical harmony." 
________
Never miss a story. Sign up for NUVO's weekly newsletter here.