There's a new beast in town.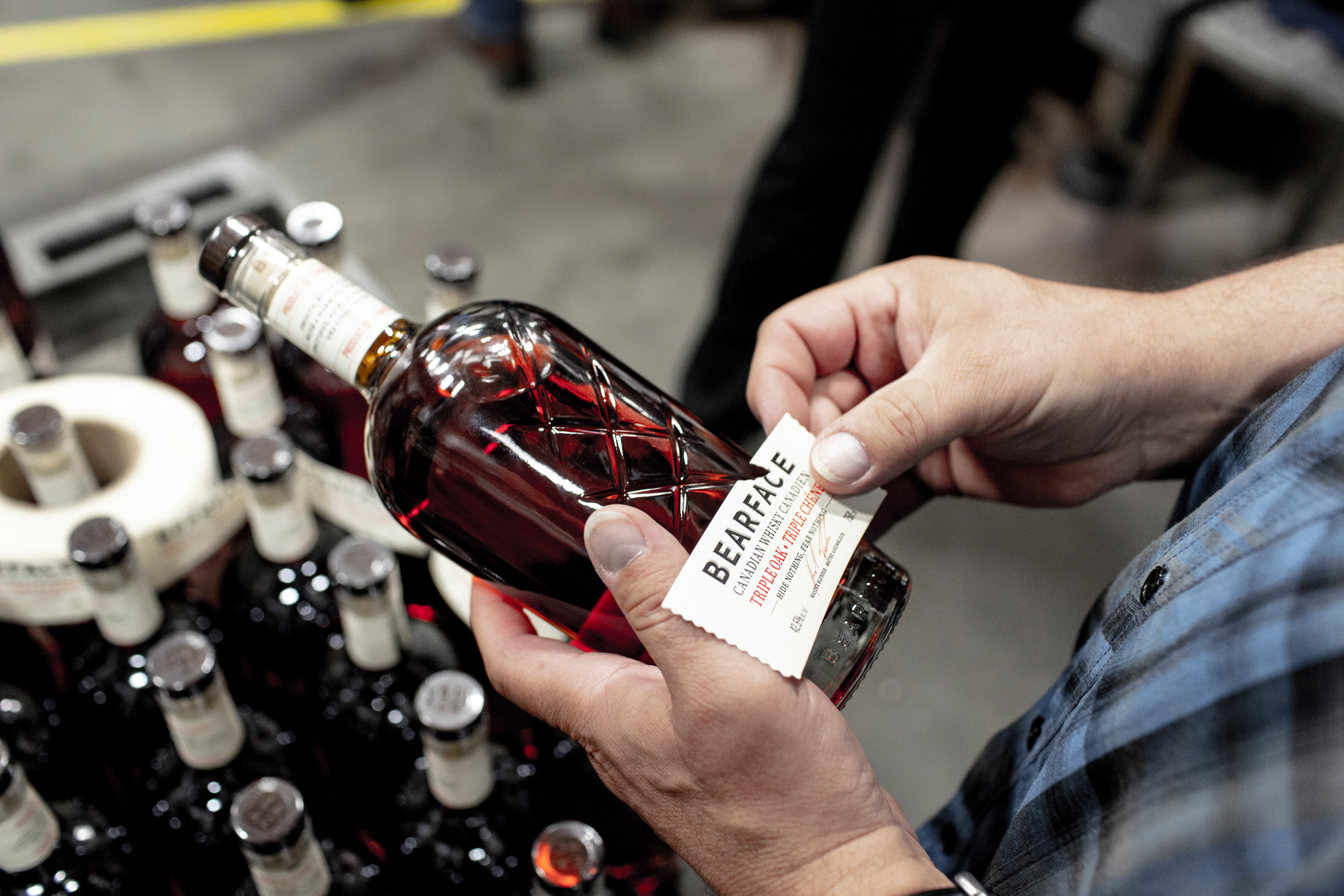 Smooth, well balanced, and pleasantly spicy-sweet, Canadian rye whisky is the easygoing cousin in the whisky world. It's neither bold and brash like bourbon, nor complex and refined like single malt. Mellow and light, this is a whisky that's easy to sip and equally easy to mix. It's, well, nice.
Or is it?
Bearface will be a lot more than that if the team at Mark Anthony Wine & Spirits has anything to say about it. Anthony von Mandl's production and distribution company (best known for Mission Hill Family Estate, Martin's Lane Winery, and CheckMate Artisanal Winery) has just launched what it hopes will be a significant industry disrupter: the powerfully spicy, fruity, woodsy Bearface Triple Oak.
"When you see the map of whiskies in North America, there is a trade-off between what is laid back and mellow, and what has structure," says San Francisco–based master blender Andres Faustinelli, who hails from Venezuela and Italy, and has a background in rum, tequila, bourbon, and wine. "Bearface shows you that you can be laid back and still have structure. If you want to be barrel-forward, you have to be bold."
Besides, he points out, as mild as Canadian whisky is, the category has a pretty significant secret weapon. "Canada is the perfect playground because you don't have the regulations," Faustinelli says. The rules: a Canadian whisky must be 40 per cent alcohol by volume and made from cereal grain that's mashed, distilled, and aged in small wood casks—in Canada—for at least three years. That's it. "No one is telling you what kind of cask you need to use. No one is telling you what kind of grain you need to use. The opportunity for innovation is bigger than in any other whisky category."
When it comes to whisky, Canada has long been the Wild West. Although the country's earliest distillery produced rum using Caribbean molasses, after the American Revolution in the late 18th century, loyalists to the British Crown brought their whisky-producing traditions to this side of the border. By 1840, more than 200 distilleries were operating in Upper and Lower Canada. By the 1860s, distillers Hiram Walker, Joseph Emm Seagram, and James Gooderham Worts were quenching a cross-border thirst for Canadian whisky that would only grow during Prohibition.
Although Canadian whisky is often called rye, there is relatively little rye in what is commonly a blend of mostly corn, with perhaps some barley and rye mixed in. That said, even a little rye offers distinctive spicy notes that dominate the other flavours. Bearface, for example, is a single-grain whisky (technically a blend of 99.5 per cent corn and 0.5 per cent malted barley) whose rye-like flavour comes from the three layers of oak aging it undergoes, hence the name Triple Oak. "Bearface is all about creating textures and flavours just like you would with wine, but whisky," Faustinelli explains. "We take the approach to oak like a winemaker, not a whiskymaker."
Barrel-aged wine typically spends just a few months in new casks that add notes of vanilla, spice, tobacco, leather, and dried fruit to the juice. The quality of this wood is essential, which is why new, quality wine casks can cost triple what new whisky casks do. Whisky, on the other hand, will sleep for years, even decades, in what are typically well-used casks.
Bearface whisky spends the first seven years of its life in Ontario, aging in casks so old and worn, Faustinelli jokes that they would otherwise be used "as planters". At this point, the spirit has pleasing honey and vanilla flavours, but not a lot of structure. "Then we start where most people finish," Faustinelli says. "We take the whisky to a winery."
The whisky is transferred to Kelowna and put in what Faustinelli calls "middle-aged" casks—second-use Mission Hill wine barrels that contribute rich fruity and nutty flavours. "I only use [the barrels of] heavy reds because I am chasing the tannins and I want all these dried fruit flavours, the cranberries and apricots," he says. Finally, it spends a short period in virgin Hungarian oak, a first for Canadian whisky. "The spice you taste is not rye. It's the Hungarian oak, which is very spicy, more than French or American oak," Faustinelli explains.
That already makes Bearface Triple Oak an industry gamechanger, and Faustinelli is just getting started. "There is more innovation that will come every year," he says. "The brand will be showcasing what you can do with Canadian whisky. There are experiments being done in different places, and not only with wood. Every year, there will be variations to come. That's the kind of flexibility we have in Canada, and that's the advantage we have."
_______
Never miss a story. Sign up for NUVO's weekly newsletter, here.