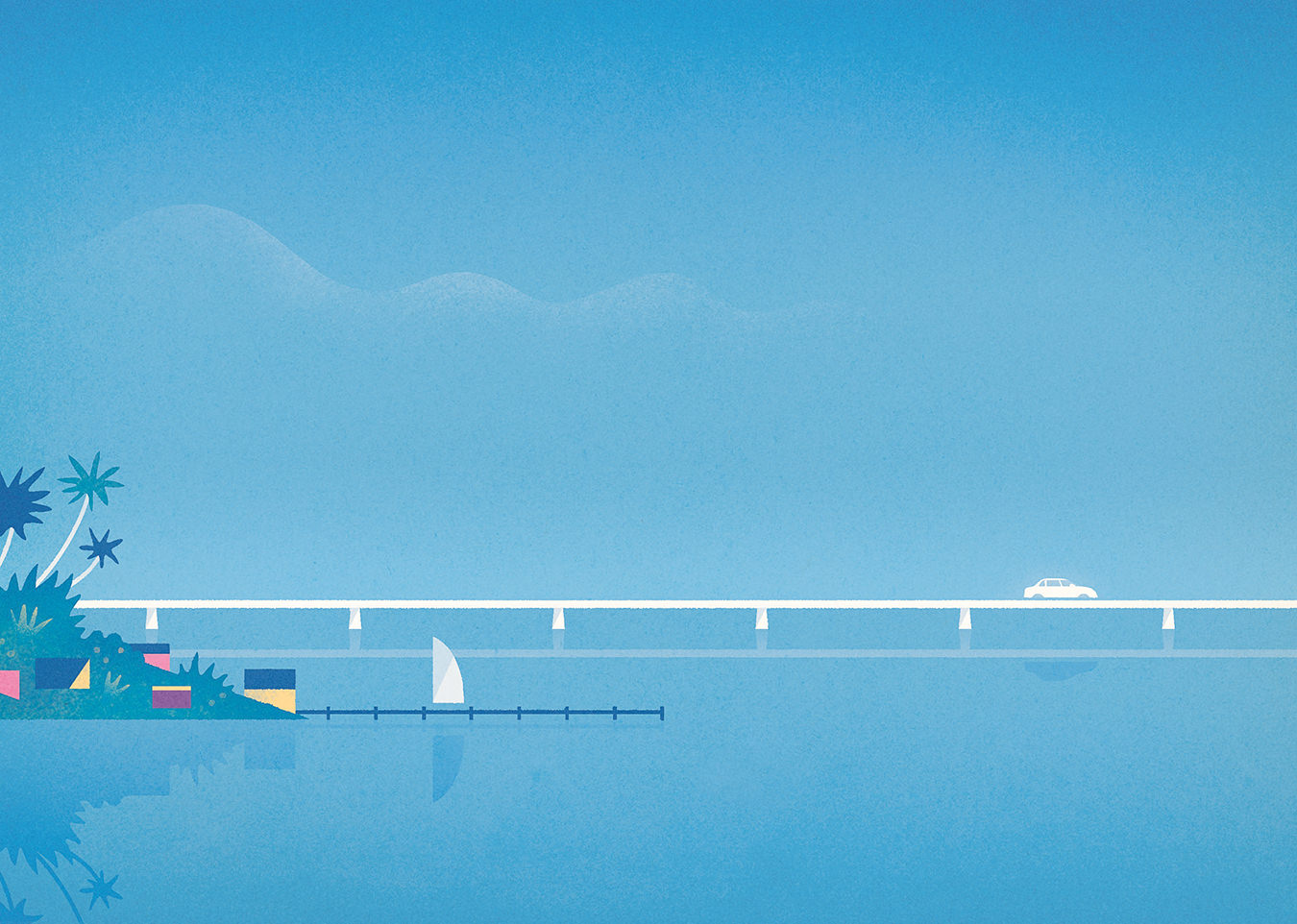 I am in the Florida Keys. I am driving a Cadillac equipped with a state-of-the-art navigation system. But there is really only one place to go: the Overseas Highway, running over a long causeway from Key West all the way to the mainland, with the waves of the Atlantic lapping on my right and the warm Gulf of Mexico to my left. My challenge: Can I still manage to get lost?
Don't bet against me. I could get lost in a bathtub. Still, the Florida Keys will provide the stiffest test yet of my ability to screw up. Around here, making a wrong turn usually requires a keel and a rudder.
The Overseas Highway may be best appreciated from the air. From the window of the commuter turboprop that took me from Miami to Key West, it looked like an exercise in futility, a piece of string trying to separate the mighty Atlantic from the tempestuous Gulf. Its early history was not happy. The highway project was launched by tycoon Henry Flagler as a rail line that would bring tourists south, and oranges and pineapples north to waiting mainland consumers, taking advantage of a then-booming trade with Cuba, which lies only 145 kilometres south of the island chain. Hurricanes and malarial swamps killed scores of labourers before the first train finally carried Flagler to Key West in triumph in 1912.
Hurricanes continued to plague the railway until finally, on Labour Day 1935, a massive storm wiped out large sections of the line and overturned a rescue train. Hundreds died, and so did the Overseas Railroad. It would soon be reborn as a highway—a Depression-era work project that merged parts of an existing Upper Keys vehicle route with surviving remnants of the rail line. The Overseas Highway opened in 1938, and was substantially rebuilt in the 1980s. It has since weathered the storms to link mainland Florida to storied getaways like Key Largo, Islamorada, and, at the end of the string, Key West—playground of pirates, rascals, and Hemingway.
I'm starting from the bottom. The plan is to drive this ATS model back up to Miami with stops along the way. One aspect of the journey that's not planned: it happens to be Election Day in the United States. My impression gained from watching cable TV in my hotel room is that voters in Florida and around the country are lining up to choose either a Republican who will quash the underprivileged with his expensive leather dress shoe, or Fidel Castro's wild-eyed socialist drinking buddy.
It seems fitting. The U.S. auto industry was a major issue in the 2012 presidential campaign. Barack Obama, the guy who bailed out Detroit, is now proudly pointing to its revival as evidence of his wise judgment. And Cadillac is now pointing to the ATS as further evidence of Detroit's revival. The long road I'm preparing to drive will be lined with sign-waving partisans.
The southernmost and arguably most renowned of the Florida Keys, Key West is precariously balanced on the knife edge between charming subculture and shameless tourist trap. Despite being colonized by T-shirt shops, it's still a lovely place, especially if you keep to the side streets.
An emblematic local fauna is the six-toed cat. The grounds of Hemingway House are full of them, apparently descended from an animal owned by Hemingway himself. Visitors can pay $13 to wander through Hemingway House where Papa (a nickname he apparently got here in Key West) wrote some and drank more. The latter tradition wins out on famous Duval Street, although it's probably Jimmy Buffett's hit "Margaritaville" that really set the tone—the singer opened his first restaurant of that name on Duval, where it still does good business. Whichever historic figure they're emulating, people seem to love to get drunk on party-hearty Duval.
I'll leave them to it. Time to climb into the Caddy and head north. The OnStar system has been programmed to guide me to my first stop—the Cheeca Lodge in Islamorada, about 128 kilometres away. Come out of the parking lot, turn right, and go two blocks. "U-turn," the nice lady says firmly. Good start.
Even with GPS, one must always watch the signs on the Overseas Highway—some of them read "Crocodile Crossing". Burmese pythons, an invasive species that has become a major problem in the Everglades, have also been spotted in the Keys. In other words, you might want to use the restroom before leaving. Pulling the car over and walking down into a ditch may not be wise. Around here, when answering the call of nature it's a good idea to make sure you know who's calling.
Then I see another sign—it reads "Detour". As I turn off the main road, the GPS guide remonstrates with me. A few blocks later she says something truly alarming: "Goodbye." It seems I have screwed up so badly that even advanced technology has given up on me.
On this special day there are a lot of extra signs to look at. Election placards are at every intersection, including a particularly local Florida Keys contest—the race for Mosquito Control Board. It's a reminder that the Overseas Highway was not the only innovation needed to make the Keys into a semi-tropical American tourist paradise. Before the arrival of modern pest control, air conditioning, and satellite weather forecasting, grabbing a cheeseburger in Paradise was not as simple. The region was deemed so perilous that 19th-century insurance companies refused coverage to anyone living below 30 degrees north, a line that runs through Jacksonville, Florida.
Then I see another sign—it reads "Detour". As I turn off the main road, the GPS guide remonstrates with me. A few blocks later she says something truly alarming: "Goodbye." It seems I have screwed up so badly that even advanced technology has given up on me.
I have underestimated Detroit. Once I follow the detour route back toward U.S. Route 1, the GPS wakes up again. All is forgiven. "Turn right," she tells me, "and drive 78 miles [125 kilometres]. Your destination will be on the right."
That's the kind of direction I can probably handle.
My Cadillac ATS has some other fancy driving aids. If you begin to drift out of your lane, the car seat sends out little thrumming vibrations on the side you're slipping toward. Come up behind another vehicle too fast and you get the warning vibrations on both sides. There must be a few drivers who attempt dangerous manoeuvres just to get that little Magic Fingers car seat massage.
The Overseas Highway is not the kind of road designed to unwind the 321 horsepower in my ATS's 3.6-litre directed-injected V6. Two lanes for most of its 205-kilometre length, the highway's steady traffic forces me to take it easy, like Jimmy Buffett minus the cocktails. It's surprising how much of the journey seems landlocked; trees and steady development on both sides of the highway frequently block ocean views. But it's on this southernmost leg of the journey that the near-nautical setting is most evident. There are several stretches where it's just the asphalt ahead and water, water everywhere. The Seven Mile Bridge runs past Pigeon Key, and running alongside it for a while, a remnant of the old rail trestle has been transformed into fishing piers and a pedestrian stroll.
It's dark by the time I drive into Islamorada. Positioned about halfway between Key West and Miami, the village has become a favourite spot for those who consider Key West too riotous and Key Largo overbuilt. I'm looking for Cheeca Lodge & Spa, a popular resort on the Key. The Cadillac says I'm there. Then the Cadillac says I've passed it. Then the Cadillac, realizing you just can't tell some people anything, gives up. But I pull a U-turn and find it after all. Not many places it can hide on the Overseas Highway.
My suite at Cheeca is suitably idyllic. There's a stretch of sand below, tennis courts, a nine-hole golf course, and a long pier where you are beckoned to just stare out into the Atlantic while nursing a mojito. But tonight I take in a show that's on for one night only: a bunch of Republicans sitting around the tiki bar staring glumly at Fox News as the election results come in. It'll actually be a few days before Florida is decided, but this time around that won't matter much. Obama's eventual Florida win will just be the cherry on top of a solid national victory.
Next day, I'm off toward Key Largo. It may be famous for the movie of the same name that starred Bogart and Bacall. But that was mostly filmed in a Hollywood studio. The big movie exhibit on the island is actually the boat from another Bogie flick, The African Queen. I try to find it but I get lost. It's what I do.
So I decide to seek out something not on the map. Just north of town I hit the brakes and swing off the road in front of a wooden shack—a little joint called Puerto Vallarta Mexican Seafood. I sit out on the patio across from a billboard for a sandal outlet store that asks "Why Pay Key West Prices?" The hot sauce on the table is not the sort made for gringo supermarkets. A seafood soup featuring yellowtail, shrimp, squid, and chayote—a Mexican gourd—is a utopian culinary expression of the Gulf of Mexico. It's followed by soft tacos with seasoned pork, crescents of fresh avocado, and a bright hit of lime.
Navigation systems are wonderful. But they can't find the places you didn't know you were looking for. Even on a long, straight road, there's always room for serendipity.