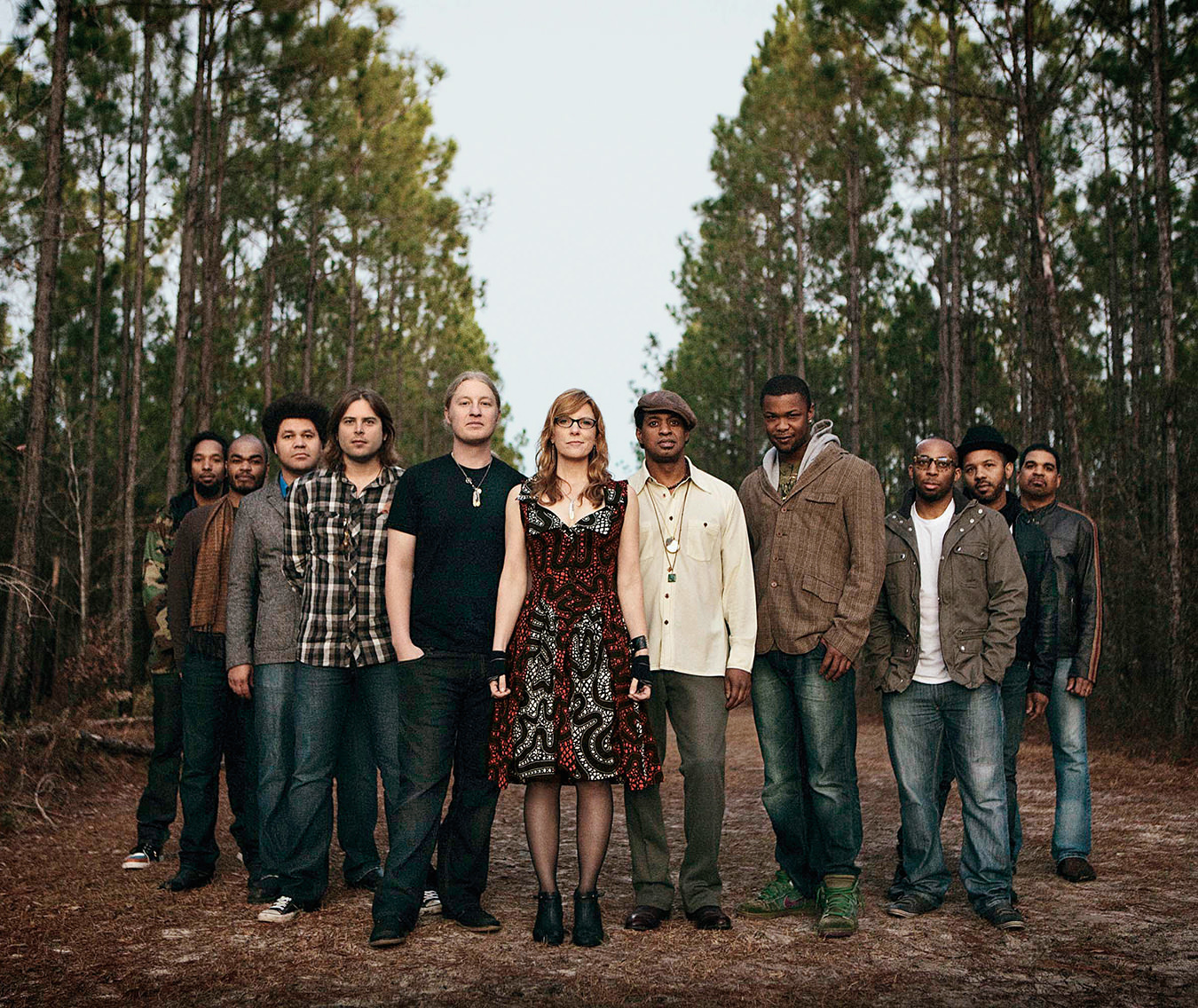 The rain's pouring down as Susan Tedeschi walks along Toronto's Danforth Avenue holding an umbrella aloft. Three middle-aged men spot her from the shelter of a nearby sports bar, dash out onto the street requesting autographs and are delighted when she happily obliges.
Two hours hence, she and husband Derek Trucks will take the stage leading the Tedeschi Trucks Band, an 11-piece, blues-based ensemble replete with two drummers, a horn section, and two backing vocalists. Tedeschi has a wicked blues voice and certainly knows her way around a Fender Telecaster. The Boston-born musician has also earned four Grammy Award nominations, and she attracts an almost cult-like following around the world.
The Tedeschi Trucks Band is a labour of love. It's also a chance for Trucks, who is considered one of the finest blues guitarist of his generation and who toured as a member of Eric Clapton's band on the legend's 2006–2007 world tour, to spend time on the road with his wife. "If it was for the money, we'd go out as a duo. [We wouldn't] bring two buses and 11 A-list musicians [on tour]," Trucks says, laughing.
Their first show together as the Tedeschi Trucks Band was New Year's Eve 2010 in Jacksonville, Florida. "We were experimenting with the horn section. We got offstage that night and just looked at each other like, 'We're screwed. We're not going back [to a small band]. We have to figure out a way to make it work [with 11 members].' "
The couple seems agreeable on everything from parenting their two young children to their selection of musicians and songs. The set list changes every night, but tunes from their debut CD, Revelator, (including such gems as "Midnight in Harlem" and "Bound for Glory") are fixtures. They have also thrown funky covers into their live performances, such as John Sebastian's "Darling Be Home Soon" and "I Want to Take You Higher" by Sly and the Family Stone. Trucks's searing slide guitar work at the Toronto concert brought the audience to their feet 10 minutes in. Not only do audiences appreciate his skills, but the professionals do, too. This past November, Rolling Stone released their latest list of the world's "100 Greatest Guitarists", and Trucks placed sixteenth overall.
His playing is reminiscent of Duane Allman, a co-founder of the Allman Brothers Band who also briefly played with Clapton in Derek and the Dominos. The similarity is not surprising; Trucks is the nephew of Butch Trucks, drummer for the Allman Brothers Band, and he grew up immersed in Southern blues. And in 1999, at the age of 20, Derek Trucks became an official member of the Allman Brothers Band. It was touring with Clapton, however, that exposed him to a wider audience and taught him valuable lessons in musical growth. "Getting to hit 23 countries in a year is something you always dream of doing," says Trucks, who won the 2010 Grammy Award for Best Contemporary Blues Album. "I was named after Derek and the Dominos, so getting to play all that music was pretty surreal."
Tedeschi and Trucks's relationship with Clapton goes back to 2005, when Trucks was hired to play slide on The Road to Escondido, the collaboration between Clapton and J.J. Cale. When the Derek Trucks Band performed at Clapton's 2007 Crossroads Guitar Festival, Tedeschi joined her husband onstage to perform the Dominos songs "Little by Little" and "Anyday". Tedeschi remembers, "I was all nervous, but it was exciting. [Clapton] is so sweet and down to earth."
Now it's Tedeschi's turn to play the role of nurturer with this latest project, which, in light of the fact that she and Trucks have dissolved their respective touring bands, is now their main focus. After being on the road for seven months of 2011, they also have a live-recording release in the works. It's an enormous undertaking, but ultimately satisfying.
"It's really amazing. I get to see my husband every day and get to create music with him, and he's one of my favourite musicians in the world. We have a lot of responsibility. We are parents, and now we have nine new children," says Tedeschi, referring to their fellow musicians. "It's definitely, at times, intense."
Photo by James Minchin.