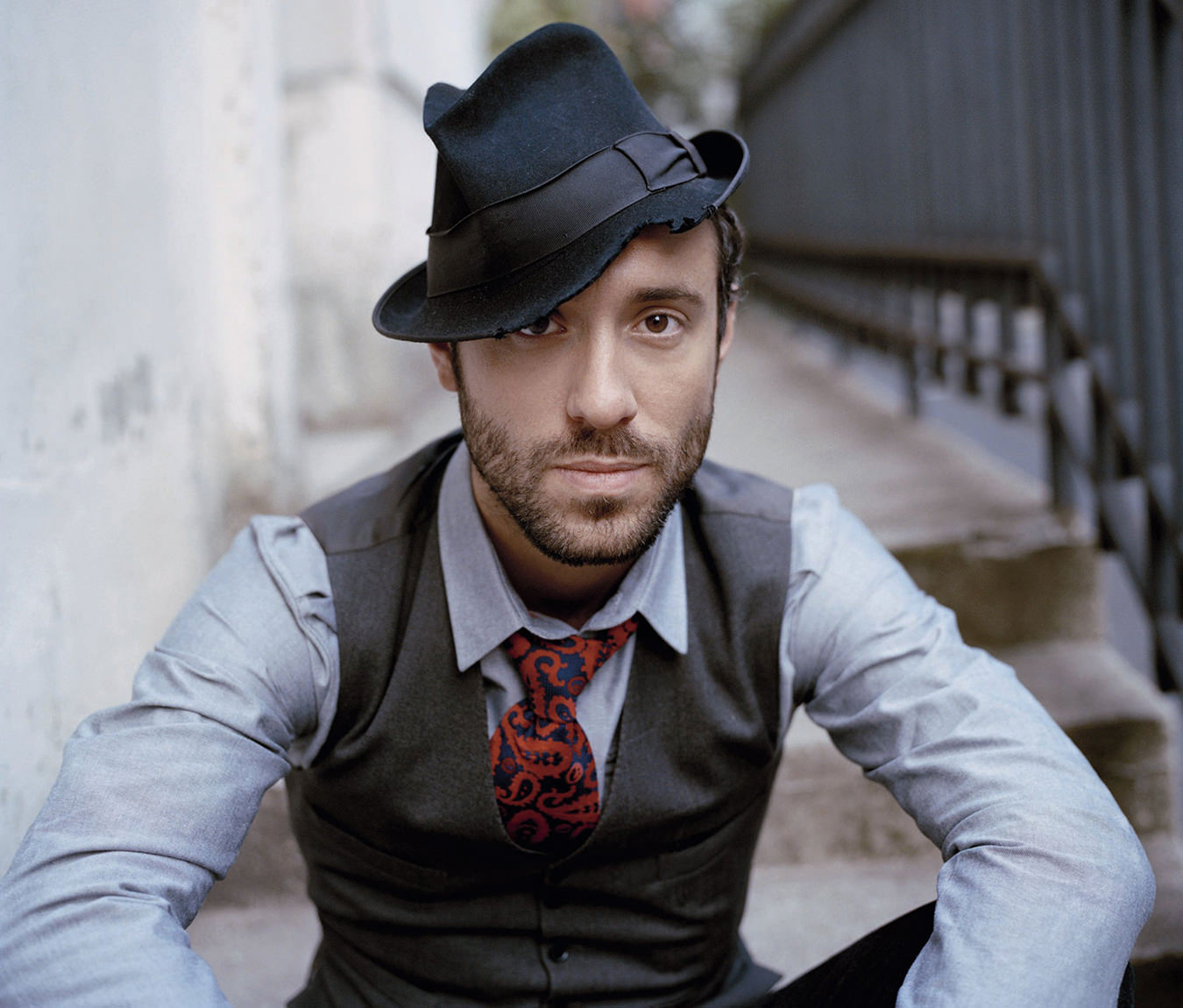 Charlie Winston has seduced audiences across Europe over the past two years with his soulful voice and eclectic repertoire of jazz, flamenco, and folk music. Now it's North America's turn to catch on.
This English singer-songwriter has twice toured Canada, most recently with Bedouin Soundclash. Equally adept with a piano and his well-worn second-hand Lowden acoustic guitar, his style is difficult to pin down, sometimes resembling Coldplay, other times Ray Charles, with a little beatbox thrown in. And with all his charm and originality, Winston might just be the antidote to those artists more obsessed with fame and fortune than composition.
On the strength of songs such as "Like a Hobo" and "In Your Hands", his official debut album, Hobo, has sold nearly 500,000 copies in France alone. A video featuring French actress Audrey Tautou certainly helped—and she's not Winston's only celebrity fan.
Eight years ago, Winston was laying down a bass track for his brother's band at Peter Gabriel's Real World Studios when he happened to meet the rock icon's daughter Melanie. The following summer, she invited him and his girlfriend to join the Gabriel clan on holiday in Sardinia.
"I didn't know she was his daughter," the 32-year-old Londoner reveals. "We just met in the kitchen one day. It turned out she lived down the road from me in London, so we became friends."
Later that year, a serendipitous opportunity arose that Winston just couldn't pass up. He stepped in as a last-minute babysitter for Isaac, Gabriel's youngest son at the time, while the ex-Genesis member accepted a music industry award at London's Grosvenor House hotel.
"I was up in the hotel's penthouse suite playing pirates with Isaac all night," he remembers with a laugh. "Then when Peter came back upstairs, I thought it was the appropriate time to give a CD to him."
Among the songs on the demo was one entitled "Life's a Bitch", which Gabriel said reminded him of his earlier work with Genesis. A few months passed before Winston, who was embarking on a tour with his brother, Tom Baxter, received a call from Gabriel saying he wanted to sign him to a recording contract. Winston used the subsequent advance to move to Paris.
"I wasn't known in my own country so much at that time and I chose to go to France to 'make it', as it were," he explains. "Usually it's the other way around. I just got fed up with the English scene. I found the music industry a bit too snotty and little too fashion-oriented.
"I have done a lot of touring in the U.K. and I have never had a problem connecting with people. I just felt I wasn't speaking the language that the industry could understand at the time."
Growing up in a musical family (his parents were folksingers), Winston was exposed to a variety of music from an early age. When he was two, the family bought a hotel in Suffolk that hosted a variety of visitors including musicians, comedians, and classic car conventioneers. In the front bar, he heard everything from Vivaldi and Miles Davis to Sade, along with local troubadours.
"It was quite chaotic," he says. "When you are a kid growing up in a hotel, you want to get the attention of your parents like any kid. So creativity and music is a good escape route into being able to express yourself. After starting to learn piano at 10, I saw my brother writing songs, so by 12, I started writing songs."
Despite all his success, Winston doesn't take himself seriously. Not at all. It seems he is just as happy to perform in front of thousands, which he did on his recent Canadian tour, or to anyone who will listen.
"My webmaster and my manager had been on my case to make some videos," he says. "I couldn't sleep one night and I had this idea of going out with a video camera and handing it to anyone I met. I was walking around Paris with my camera playing songs from five o'clock in the morning on."
At a time of musical abundance, Charlie Winston is proving himself an exceptional talent, with fans anxiously awaiting his next release.