On alchemy and architecture.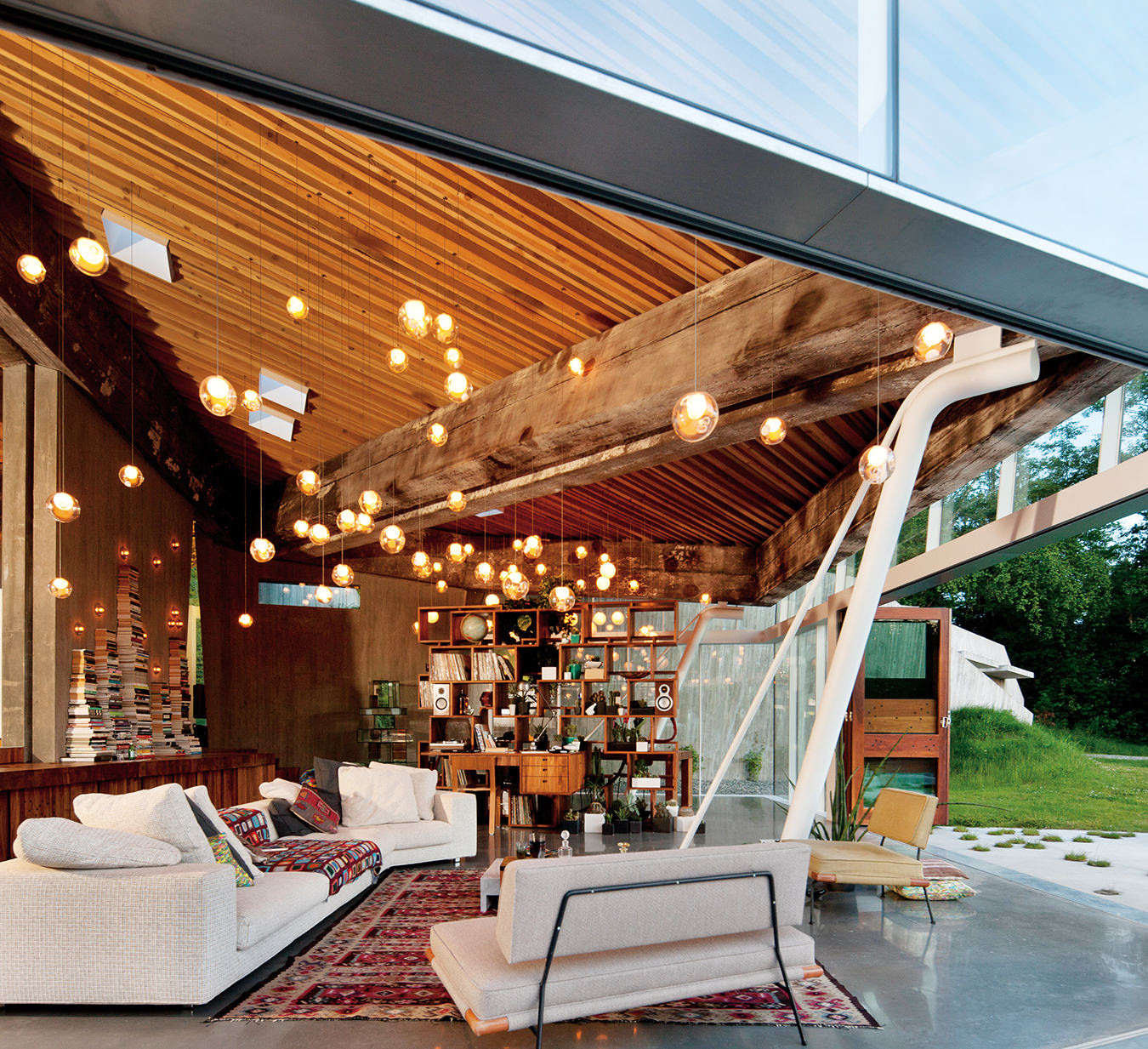 Making it to the Olympic Games is a common dream for athletes. For Omer Arbel, his dream involved competitive fencing—but that was "many years ago, in a different life," he says. Yet, the Israeli-born, Vancouver-based industrial designer and architect actually made it to the 2010 Olympic Winter Games and participated, it could be argued, in every sport—as the designer of the official Olympic medals. His striking gold, silver, and bronze designs adorned the necks of each medalist, and their undulating surfaces were among the most creative (not to mention heaviest) in Olympic and Paralympic history.
Arbel graduated from the University of Waterloo School of Architecture in 2000, and in 2005 he established Omer Arbel Office (OAO). Although he still spends time fencing for the love of the game, his focus has moved beyond sports to his current work as creative director of OAO and Bocci. The two Vancouver design companies are a synergistic, intertwined duo; in simple terms, Bocci fabricates what OAO imagines. And although Arbel himself is at the helm, he's clearly a team player, working with a close group of collaborators to mastermind designs in their 7,000-square-foot studios, located on the top two floors of a concrete building that previously housed a 1950s printing press.
Arbel is comfortable working within the multiple fields of architecture, craft and materials research, and industrial design. This multidisciplinary approach is reflected in a varied project portfolio. Last year, Bocci and OAO finished the design and build of a house in White Rock, British Columbia, called series 23.2. The family home of Arbel's partner at Bocci, Randy Bishop, 23.2 is the company's first complete work of architecture. Upcoming, there's a project for flatware, a shelf, and four different kinds of bowls (one ceramic, one copper, and two glass) in the works. And this April, at the Spazio Rossana Orlandi gallery in Milan, the designer will launch series 19, a collection of bowls crafted from his favourite material of late, copper. "Copper's not very glamorous, but it's very exciting," he enthuses. With a wealth of material knowledge, he is an aficionado of fabrication processes.
The exploration of new ways to mould materials continually informs Arbel's creative process, almost obsessively. After an initial experimentation phase with any new material, the artistry begins. "Usually we discover something strange about it, and it might take time to refine it," he explains. "It's almost like alchemy—and then we make something magical." Over the past few years, blown glass has been one of those notably manipulated materials, turned magic.
Beginning with series 14 and running through 21, 22, 25, and 28, modern chandeliers have been at the forefront of Bocci's design mission. The collections each have marked differences, but all include signature round, hollow, blown-glass circles. The latest series, 28 (comprising up to 28 hanging pendants), uses a particular glass-blowing technique that creates a collection of distorted spherical shapes within each glass sphere. One of the inner cavities holds a low-voltage bulb—but the effect is decidedly high voltage.
Although Arbel's canon of creations is diverse, at least one common thread resonates throughout his work: the theme of romance. "Not as in roses and chocolate hearts," he says, quick to clarify, "but the 18th-century meaning, the literary tradition of the word." That is, the idea of intuition as a generative creative force, and a respect for emotion as a valid source of the creative process. And since the idea emerged originally in Europe, it's fitting that Bocci has a large market base for their designs across the pond. Bocci also has a satellite office in Berlin, and they successfully launched their Japanese partnership last October.
Dream design projects have replaced Olympic competition dreams for Arbel. A contribution to the built environment in the form of important civic work is among hopes for the future. He uses the career of Arthur Erickson as an example. "I see works like the Law Courts, the Museum of Anthropology, and those to me are really great buildings—they interact with the fabric of the city in a really profound way." In homage to the sublime natural beauty of his West Coast surroundings, he also yearns to collaborate with BC Ferries to make the island-hopping journeys a "more profound experience" for passengers.
To Arbel, beauty is like a "behind-the-scenes force", and it is the investigation of this force, and the search for it, that forms the foundation for all of his work. "The reason why chandeliers, for one, are such a wonderful medium for us is because, in a way, the unspoken motivation of every chandelier is to be beautiful." A romantic idea, indeed.
February 25, 2011
Updated: March 5, 2015