A historic neighbourhood.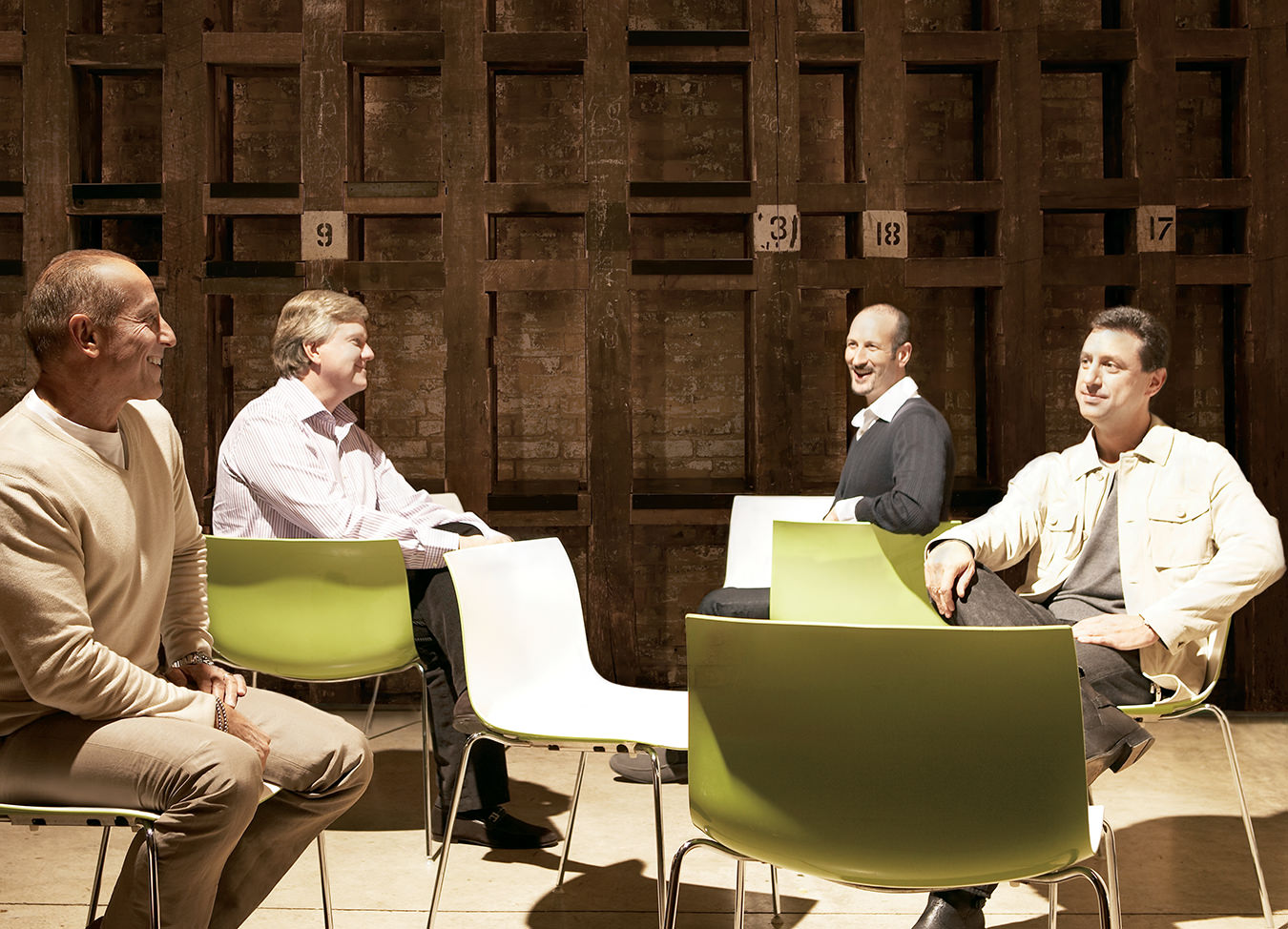 The Rack House of the old Gooderham & Worts distillery complex is directly across the street from what has become the Distillery Historic District in the southeast end of Toronto. Although the building is technically part of the complex, it remains unrenovated. It's cold and dark, except for a few bare light bulbs that hang from the ceiling. Most of the concrete floor is rubble. Massive rows of old-growth Douglas fir run from the floor to the ceiling, remnants from the days when they were used to store barrels of whisky.
The state of the building would scare off most, but the four principals of Cityscape—Mathew Rosenblatt, John Berman, David Jackson and James Goad—saw the potential in other similarly dilapidated structures when they toured the site in 2001. "We would walk into a building like this and say, 'This is incredible. This would make a great restaurant,' or 'This would make a great art gallery,'" says Rosenblatt. Cityscape purchased the 13 acres of land and 44 buildings for just over $10-million from Allied Domecq, the international liquor conglomerate that owned the complex.
Cityscape wanted to create an area for Toronto that would approximate what SoHo is to New York, Chelsea is to London, and Montmartre is to Paris. "SoHo, at least in its myth, was a beehive of activity where filmmakers were talking to journalists, who were talking to artists and sharing ideas—and the sharing of ideas created new ideas," Rosenblatt says.
Until now, Toronto hasn't had a walking district that's also a hub of cultural activity. In the 1960s, Yorkville had some of those traits, but it's grown into an upscale shopping destination. Harbourfront offers a great deal of artistic programming (in dance, theatre, visual arts, courses etc.), but it is exactly that: programming. There's also Queen Street West, with its bevy of hipster artists and progressive retailers—but it's more a stretch of shops and galleries along a major road than a bonafide walking district.
Initial reaction to Cityscape's plan was lukewarm. "I think a lot of people, when we first toured them through the site, thought we were out of our minds," admits Rosenblatt. "I think that maybe they thought we had a few screws loose, and lots of people either didn't understand our concept or they didn't think it could happen."
Undeniably, Cityscape had numerous challenges ahead of it, not least of which were the buildings themselves, which required enormous restoration. Some leaked, the heating systems were antiquated, much of the old distilling equipment was still in the buildings—and except for Trinity Street, the roads were dirt. The area was, in a word, derelict.
But that didn't scare off the principals of Cityscape, who came to the project with a strong track record of developing heritage properties. Some of their previous projects include the Massey Mansions on Jarvis Street, the Stewart Building on College Street, and the Wellington Worx Building on Wellington Street. Though none of those buildings are of the scale of the Distillery District— the largest collection of Victorian industrial architecture in North America—Cityscape was excited about the restoration, and made it a priority to preserve the historical architecture.
As you walk through, it's impossible not to notice the structural aspects of the neighbourhood. The attention to detail is impressive; the architectural consideration is evident in the red-brick buildings that have been lovingly restored, and the authentically painted green wood doors and window frames are a testament to the efforts of the restoration crew.
At one point in the renovations, 350 woodworkers were on-site replacing doors and window frames. Masons were hired to restore the original brick and stone, and their work to maintain the buildings is ongoing. Even the walkways have been restored, and the boots of passersby make a clomping sound against the 150-year-old brick pavers. Instead of just paving the dirt roads with new bricks, Rosenblatt went in search of historically authentic bricks to match those already in place. He found them in Cleveland, and ended up purchasing 650,000 brick pavers that were used for the city's streets in order to maintain the historical integrity of the district.
But Cityscape wasn't creating a museum for tourists to walk through, like a Pioneer Village or an Old Fort York. It wanted to use the historical architecture as a starting point for the future. To that end, the original names of the buildings have been kept as a reminder that the site was previously a distillery that manufactured whisky, hard liquors, and acetone. These historic touches engage visitors, and entice them to explore both the contemporary surroundings and the fascinating past of the district.
The district was started by James Worts, who set up a windmill operation and began milling grain in 1832. Shortly after, he brought on his brother-in-law, William Gooderham, forming Worts & Gooderham. Unfortunately, two years later Worts's wife died in childbirth; he was so distraught that he committed suicide by throwing himself down the company well. (His ghost is rumoured to haunt the site.) Gooderham soldiered on and later partnered with Worts's eldest son, changing the company name to Gooderham & Worts and switching the focus to a distillery business. During the 1880s, the company provided up to half of all the tax collected by the Canadian government.
In the 1920s, the site was purchased by Hiram Walker & Sons Ltd., which continued the operation until 1986, when Allied Lyons (later known as Allied Domecq) took control in a hostile takeover. The distillery was shut down four years later, though afterward the area was rented to film and television productions, including Chicago, X-Men, The Recruit, and Cinderella Man. It was the number one filming location in Canada during the 1990s.
It is a varied history, no doubt, and one that Cityscape hopes to draw on. Rosenblatt explains, "The preservation on a historic level is really meant to be an architectural canvas. … what gets laid on top is today's culture—and tomorrow's culture." This reflects the company's vision that the Distillery District become an authentic community that offers the best of local culture to Toronto residents and visitors. But they faced another significant challenge in creating this: cultural districts such as SoHo and Chelsea developed organically, not through private development. Rosenblatt acknowledges that they didn't have 50 or 100 years for their idea to come to fruition; their strategy was to plant the right "seeds" to create the type of community they wanted. As a result, they started selecting artists as tenants, and began working with Artscape, a non-profit arts organization that leases its space to artists.
One such artist is Robert Akroyd, whose Akroyd Furniture studio in the Case Goods Warehouse includes a glass area behind which furniture makers work on their various projects. Working in sight of visitors requires a certain amount of concentration, says Akroyd, but he likes it; he finds that it engages people in the practice of furniture making.
Akroyd moved into the district in March 2003. At the time, he had a workshop in Halifax and was looking to return to Toronto. The Artscape arrangement appealed to him. "It's not the easiest to find light industrial space. Normally, I'd be on the fourth floor of some industrial building where no one would ever find me, or in an industrial strip mall," he explains. In addition to being downtown, Akroyd loves being surrounded by other artists, and benefits from some of what Rosenblatt was hoping for: the exchange of ideas. He's able to talk with painters about resin surfaces or metal workers and jewellers about trying to get a patina on a piece of copper. "It's really great to be able to bounce ideas off people who have skill sets that complement what it is I do," Akroyd says.
It follows that Cityscape would seek out interesting and unique independents when selecting retailers for the site. A case in point is Balzac's Coffee Shop in the Pump House building. With an enormous chandelier hanging from the 40-foot ceiling, marble floors, little round tables and a picture of French writer Honoré de Balzac hanging on the brick wall, the café looks like it's been transplanted from Paris.
"I wanted to do the antithesis of a North American coffee chain where everything is prefab and there is lots of plastic and shiny signs," says owner Diana Olsen. Cityscape found Olsen in Stratford, Ontario, where she was running her original location, and approached her about opening another café in the Distillery District. Even though she didn't know who the other tenants would be, Olsen agreed. "They sought me out, so I trusted they were going to seek out other interesting [retailers], and not chains."
The site officially opened in May 2003. But even with such careful efforts, not everyone was won over. In 2004, Toronto-based art critic RM Vaughan wrote in his National Post column: "Since it opened in the spring of 2003, the Distillery District has made an admirable effort to portray itself, via everything from jazz concerts to balloon animal twist offs, as Toronto's shiniest 'family friendly' arts and culture destination. But those of us who like our arts scenes cut with something more potent than Christmas decorating lectures and brewery tours have yet to be convinced of the venue's genuine cultural merits."
And indeed, the site has had its missteps. Olsen recalls that the Distillery District hosted an outdoor festival for dogs called Woofstock for a few years, but then realized it wasn't an appropriate event for the district. Recently, the site has hosted more artistic events, including the Distillery Blues Festival, part of the Luminato festival, and a portion of Scotiabank Nuit Blanche.
The site itself has also developed. Today, it's fully leased with a range of galleries, theatres, artist's studios, art galleries, boutique retailers, cafés, and restaurants. In 2006, Soulpepper Theatre Company, in partnership with George Brown College, opened the $14-million Young Centre for the Performing Arts, which combines teaching and performance spaces. The move of the highly respected theatre company into the area certainly added to the district's credibility as a cultural destination. There's no denying that it has found its niche, drawing approximately two million visitors a year, both local residents and out-of-towners.
Of course, the Distillery District's success isn't just about vision; there are also financial considerations. John Berman explains that restoring the site and turning it into a vibrant arts community took money, and a lot of it. "It would have been far, far cheaper for us to start with a big piece of land and build all these buildings," Berman says.
The Commercial Heritage Properties Incentive Fund contributed $1-million—but that doesn't cover a great deal, considering it has cost Cityscape about $40-million to restore the property and the buildings. Other funding wasn't readily available. "The provincial and federal governments weren't quick to assist," says Berman.
Additionally, to stay true to its vision, Cityscape has had to pass up more lucrative leasing opportunities. The developers have turned down offers from large coffee and restaurant chains that were willing to pay up to three times what independent operators could afford. (Berman declines to name the interested chains.) It's policy that no chains or franchises are allowed in the Distillery District, and although it's an added bonus for venues like Balzac's Coffee Shop, it presents another potential financial obstacle.
To help manage the costs, Cityscape took on Dundee Realty as a 50 per cent equity partner in late 2004. Together, they are now developing three new condominiums in the Distillery District. The first, Pure Spirit, is sold out and is currently being constructed, and the second, Clear Spirit, is now pre-selling. The condos are an integral part of the vision, explains Berman, because they help to fund the restoration and maintenance, as well as complete the community.
Cityscape wanted to create an area for Toronto that would approximate what SoHo is to New York, Chelsea is to London and Montmartre is to Paris.
When asked if the condos, with their modern glass design, will clash with the historic buildings in the district, Berman isn't worried. He explains that constructing the condos with new brick would clash, but by taking a sleek, modern approach, the contrast will highlight both the historic and the modern.
One might think the eyesore of the industrial land currently surrounding the Distillery District would be a deterrent to residential buyers. The area to the south includes the Gardiner Expressway and a mass of railway lines, but this hasn't scared off customers. "Both times we've opened these condos [for pre-selling], we've had people sleep outside for a couple of nights to be first in line," Berman says.
Nevertheless, the neighbouring industrial land is a problem. The good news is that Waterfront Toronto is now in the process of revitalizing the West Don Lands area, which runs from Parliament Street to the Don River, and from King Street down to the rail corridor. "We're going to build great schools downtown, great parks, a lot of townhouses and so forth," says John Campbell, president and CEO of Waterfront Toronto.
In the 1990s, the provincial government, which owns most of the land, reneged on a plan to build low-income housing in the West Don Lands because of flood-protection concerns and the cost of remediation of polluted soil. But today, a berm is already under construction to address flooding concerns, and the new brownfield legislation has made the cost of soil remediation more affordable—under $7-million. This year, Waterfront Toronto will issue a Request for Proposal for the redevelopment of the area just to the east of the Distillery District.
Overall, the partners of Cityscape say they've achieved their original vision. "I think we're fairly far along in that. It wasn't our goal to do it [create the neighbourhood] overnight," says Rosenblatt. "Those other neighbourhoods—SoHo, Chelsea—they took decades. We've achieved growth and cultural density much faster." Although it's true that the district seems to lack the same rough edges of an organic neighbourhood, one that wasn't planned as a commercial venture, this effect should be minimized once people start moving in. "It's still a work-in-progress," says Berman, "but when Pure Spirit opens and you have people start living down here…" He trails off, but it's obvious that he's proud, and excited for what the future holds.
Rosenblatt adds that with this kind of project, you're never finished. "It's a process of evolving, and we believe that the Distillery District is enjoyed by the public and the arts community and continues to evolve." In that, it's undeniably an accomplishment. With the Distillery District, Cityscape has pioneered a new kind of development, one that respects historical roots, provides a home for artists to flourish and supports high-quality small businesses. And that makes it a worthy addition to Toronto.