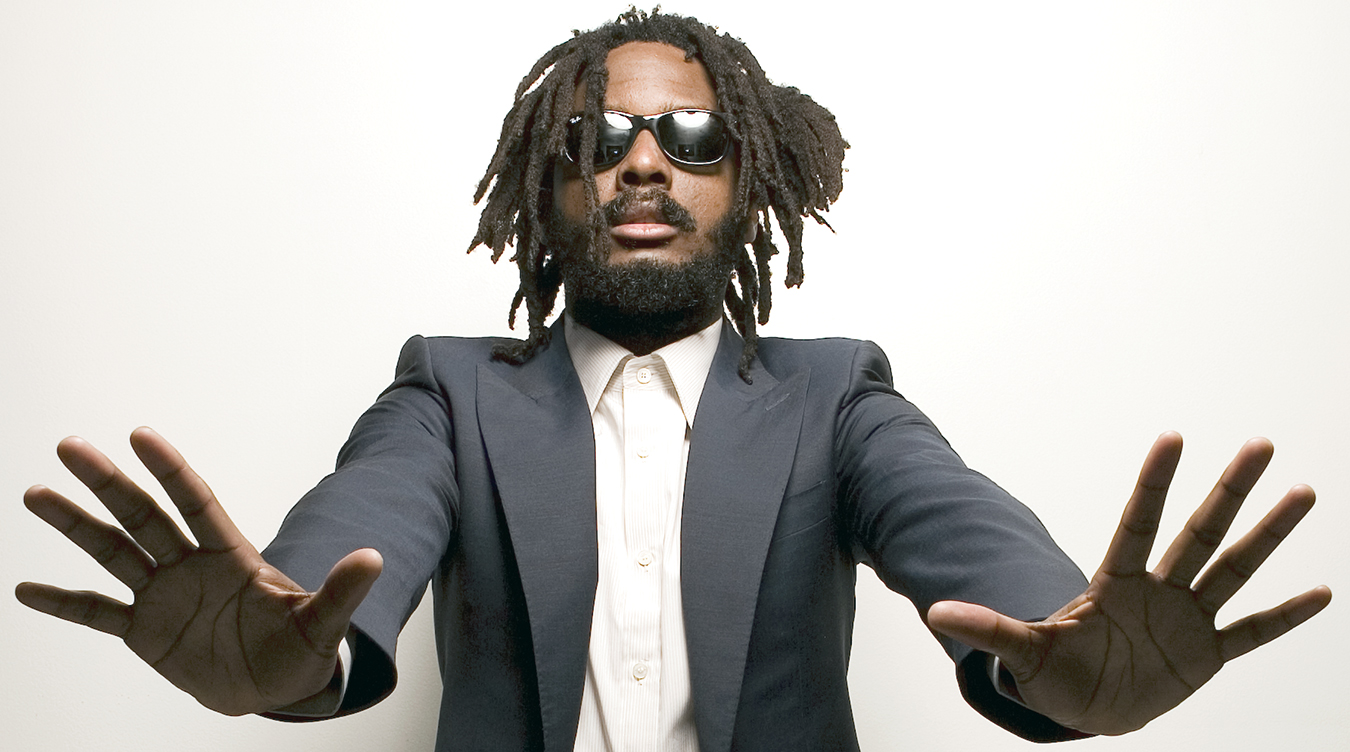 "Maybe Bob Dylan was a rapper," k-os muses, his hand lightly scratching at his goatee. "I mean, he looked like a rapper, he had that crazy hair, that swagger. Like 'Subterranean Homesick Blues'. You know what he's doing there. He's not trying to sing." k-os ends the thought with a sliver of a smile that shows he's certainly aware of the cheekiness of his statements.
Weeks before the release of his new album, at an all-too-early hour on a Friday morning, he is talking about Dylan as part of another group of 20th-century music legends that might just have been the original rappers. k-os, also known as Kevin Brereton, has been mulling over the topic for the past couple of years, and it has all come together on his third album, Atlantis: Hymns for Disco. His previous record, Joyful Rebellion, found him consistently on the Canadian charts with such hits as "Crabbuckit" and "Man I Used to Be". But now, finding inspiration in the past, namely the 50s and 60s, has helped him to create a new sound that is thankfully still the underground beats of k-os, but with a sophisticated and rounded-out sound that has him finding more range in his voice and in the instruments. And, most definitely, in his audience. The soulful ballad "The Rain", for example, is the embodiment of a modern-day Marvin Gaye. Then there's the Elvis-infused "Equalizer", with riffs from "Jailhouse Rock". The radio and Billboard powers that be aren't the only ones taking notice. The week that the first single (the upbeat "Sunday Morning") was released, it became the most downloaded Single of the Week on iTunes. And for the first time, k-os will go America-wide when Virgin Records releases the album later this year.
But he's taking it all in stride ("I'm pretty calm about it") and is focused on the more introspective journey he took when writing the latest album. "After my last record I went away for a while and I decided I needed some life experience. Then Katrina happened, and the story of Noah came up and I thought of all these people being flooded away. And I thought of Canada being the biggest water source in the world, yet we're buying all this bottled water. All this blue water imagery came up and the Atlantis story. And I was listening to the blues. There was something I was really connecting to."
k-os is known for politically-outspoken and intelligent lyrics, so it's fitting that both the issues in society and his own personality are the two driving forces behind the album. "It's really hard because I feel like being positive right now is the wrong thing," he admits. "But then it's hard to figure out what you want the message to be. I'm trying to figure out how to protest in a more intelligent way. My last album, I was really talking at you, and there was a lot of anger there. I'm asking more questions on this album."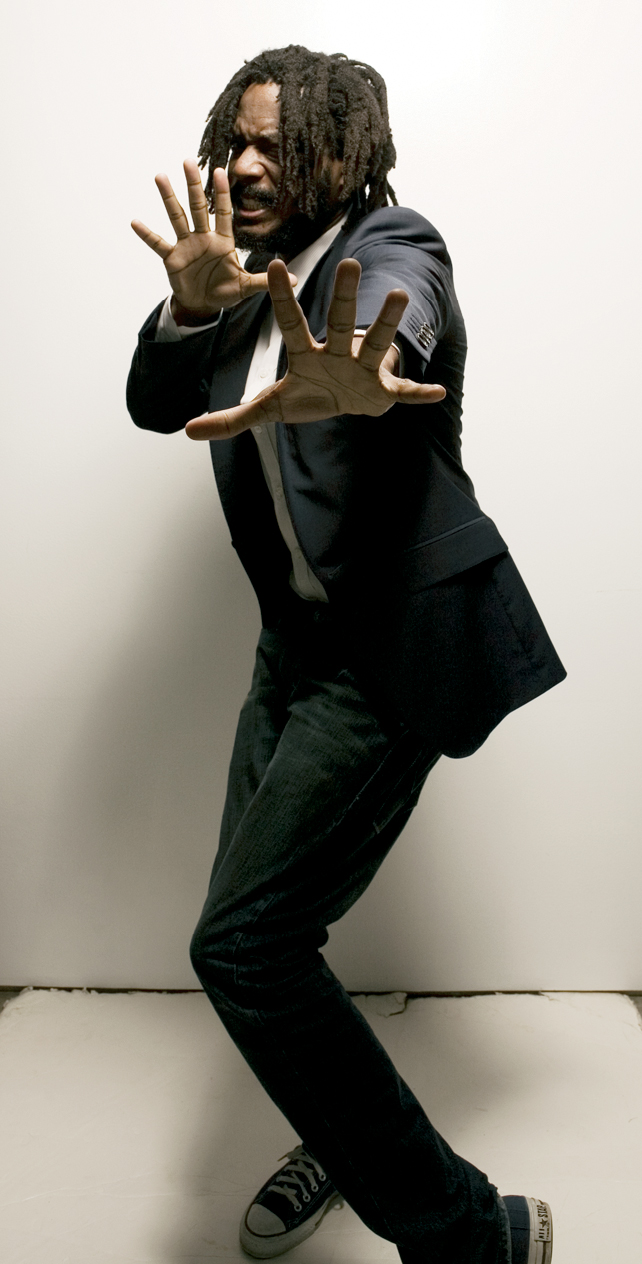 He runs his hand over his dreadlocks, adjusts his glasses. "It's harder to look into yourself. It's easy to say what's wrong with the world, but I'm looking to what I'm really dealing with. It's not weakness, but it's hard, especially as a man, to express that." He has a curiously reserved quality, one you might not expect from the sound of his music. But this album is letting k-os reveal a little more of himself, especially on tour. "My first shows, I was showing up in sunglasses, after drinking a lot, but this time I'll be looking at the people in the audience, engaging," he says with a little hesitation. "But there's a lot of soul pressure to try and connect with so many people." That same night, he performs for a field full of beer-garden-loving students at the University of British Columbia, his sunglasses and hood firmly in place. But this being one of the first shows where he is performing songs from the new album, it's clear he'll find his feet and pull back the shades, when ready.
Whether the American release of the album brings in millions, or he finds a way to connect with his audience and opens up to himself along the way, even with the buzz about Atlantis, k-os isn't ready to give in to the idea of success. "It's still this white rabbit I'm chasing. I'm never happy … I'm always listening to my songs on the radio and I'm like, 'Oh, those drums are too loud' or 'I should have done this'. It's this big soup that is a mix of perfectionism, self-loathing, arrogance and fear." Sounds like a recipe for a long and prosperous career.
Styling: Elisa Kosonen. Grooming: Melanie Neufeld for Lizbell Agency.