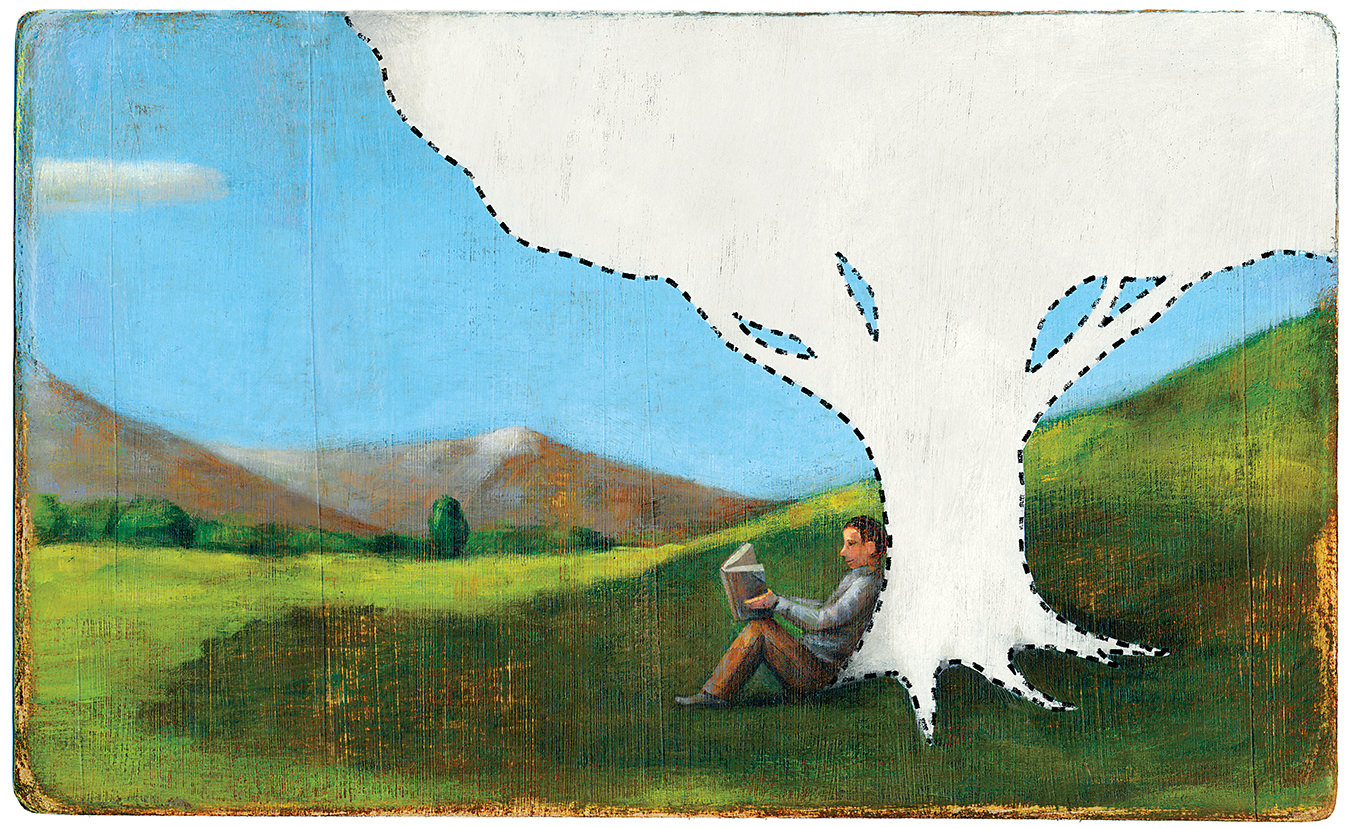 The Canadian book industry is big business. In 2001 publishers recorded revenues of over $2.4 billion, more than all the country's spectator sports combined (NHL included). Every year some 10,000 titles are published in Canada, which is a lot of books, and a lot of paper, too, though some books use up more pulp than others. A typical Canadian bestseller might go through some 30,000 copies, whereas this year's Harry Potter and the Half-Blood Prince, a full 608 pages thick, has already sold over 850,000 copies in Canada alone.
We rarely spare a thought for how many trees are harvested to make the paper in our books, but a growing number of publishers, young Potter's included, are determined to change that. They foresee a time when a bookstore might resemble today's boutique grocers, with eco-shoppers picking over conventional books for the one made from recycled stock, just as conservationists now might favour an organic, heirloom apple. The frontispiece of The Half-Blood Prince, published by Vancouver's Raincoast Books, declares that the book "is printed on 100% ancient-forest-free paper: 100% post-consumer recycled, processed chlorine-free." It reads like a small commitment, but it saved an entire forest: the book's initial print run would have required the harvesting of over 28,000 trees.
The ancient-forest friendly mantra is appearing more and more frequently in Canadian books thanks to Nicole Rycroft. It was Rycroft who convinced Raincoast, along with McClelland & Stewart, UBC Press and New Society Publishers, to become founding signatories to Markets Initiative, a nonprofit organization dedicated to helping publishers source paper stocks made from recycled fibres.
When Rycroft, an Australian-born former physiotherapist and a self-described "professional tree hugger" now living in Vancouver, helped found Markets Initiative in 1999, she started out by approaching progressively minded companies. Mountain Equipment Co-op was her first success: Rycroft convinced them to phase out non-recycled content in everything from catalogues to hang tags. Her attention quickly shifted to publishing, an industry that, like MEC, Rycroft thought could be won over. "We strategized based on what we thought would lead to broader change," she recalls. "Book publishers generally are politically progressive and literate." In early discussions, however, a major hurdle became clear: despite the mountains of paper that get recycled every day, no one was manufacturing a 100% recycled paper stock suitable for books. Even if someone did, it would be more expensive, and printers were reluctant to stock it without guaranteed customers.
The breakthrough came when Rycroft brokered an agreement between Gabriola Island's New Society Publishers and New Leaf Paper, a supplier in San Francisco: New Society committed to buy the entire first run if no other publishers came on board. They didn't have to in the end. "What we found is that the industry, by really jumping behind the initiative and sending a strong signal to their suppliers, [has created] a remarkable change in a relatively short time." The program received a high-profile boost in 2001 when Alice Munro, upon hearing of Markets Initiative through a friend, insisted that McClelland & Stewart switch to eco-friendly stock for Hateship, Friendship, Loveship, Courtship, Marriage, at the 11th hour. "That really resonated within the publishing industry," Rycroft says. "Publishers of the big houses were very aware that Alice Munro had stopped the presses."
Ancient-forest-free paper can cost publishers up to 10 per cent more. The additional cost to Raincoast for 2003's Harry Potter and the Order of the Phoenix, the first Potter title to be printed on ancient-forest-friendly paper, was about $200,000. "It's a lot to pay extra on a printing bill," acknowledges Raincoast publisher Michelle Benjamin, but "it was $200,000 well spent. What we've done as publishers has been huge and significant," Benjamin says, "and the effect is moving around the world." Half-Blood Prince, the latest installment, was printed on paper with recycled content not just in Canada but in the UK and seven other countries as well. When Scholastic, Potter's American publisher, refused to commit to recycled paper, environmental activists in the United States encouraged young green Muggles to purchase their copies on-line from Canadian sellers.
Rycroft's plans include a focus on magazines and newspapers, glossy paper for art books, and, particularly, the western world's best-selling book: the Bible. At 168,000 copies sold or given away each day in the United States alone, it's a natural symbol for the renewal that Rycroft hopes to effect in the industry. Printed in its very pages, Job muses: "There is hope of a tree, if it be cut down, that it will sprout again, and that the tender branch thereof will not cease."