Cabernet sauvignon rules the reds.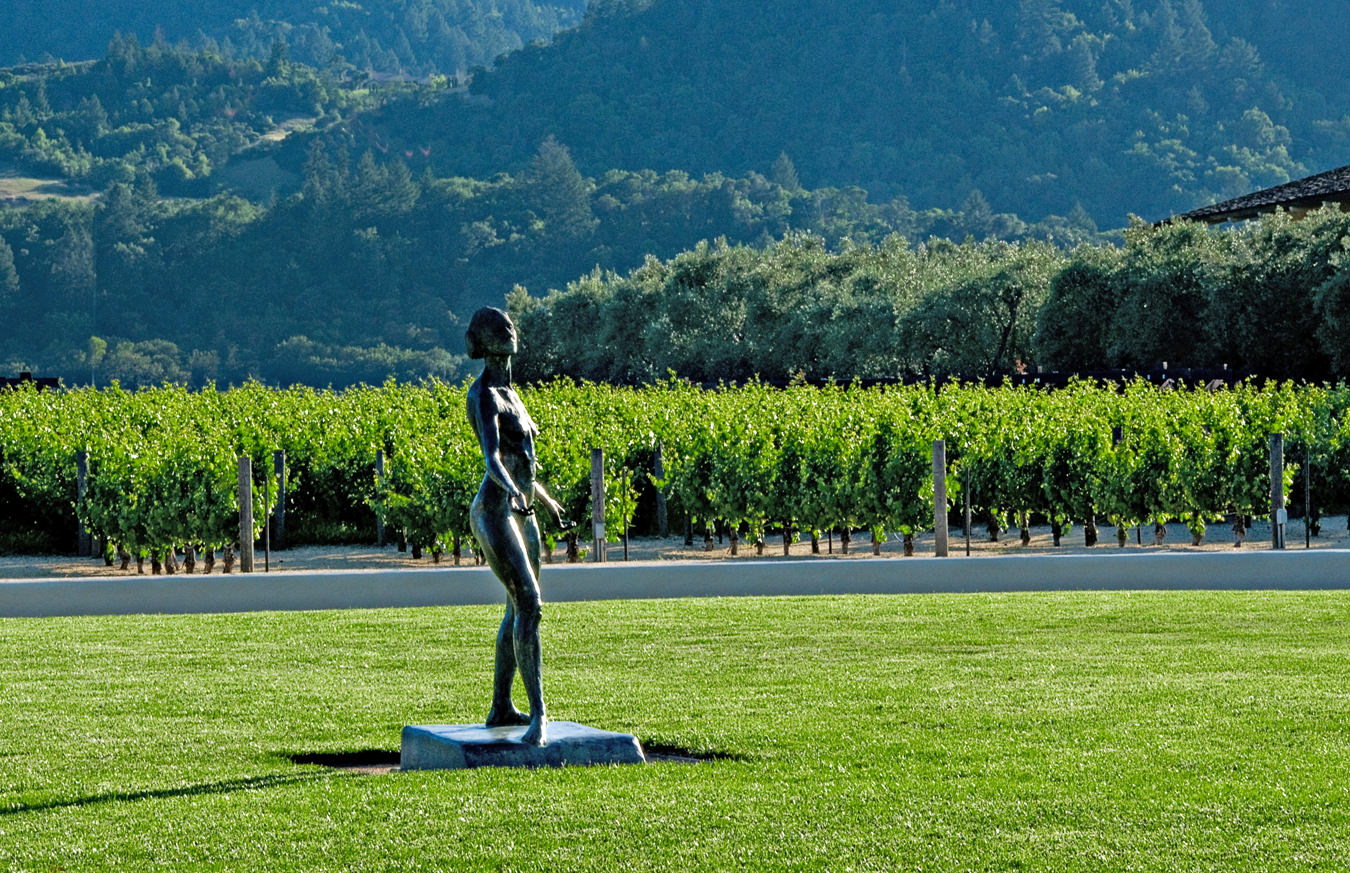 If a competition for top red-wine grape variety were to be held in a boxing ring, there would be contenders in all four corners. In one would be pinot noir, the prestigious variety of Burgundy and the only grape with a movie (Sideways) devoted to it. Also gloved up would be merlot, the variety that survived a vicious blow in Sideways and the grape of Château Pétrus (which has such obsessed fans that one has a Pétrus label tattooed on his arm). In the third corner: syrah, the grape of Hermitage and other prestigious northern Rhône appellations that (as shiraz) makes up almost all of Penfolds Grange.
But despite the pedigree and training of these varieties, the contender taking most of the bets for best red is cabernet sauvignon, long called King Cabernet and still deserving of the title. It is not only the most planted red grape, but it turns up in some of the world's most sought-after Old World wines and in the icon wines of many New World producers.
Cabernet sauvignon originated in Bordeaux, where it is one of the two key red grapes. It is the main variety of the most prestigious Bordeaux reds—the First Growths of the 1855 Bordeaux Classification. These are mainly cabernet sauvignon because the classification was confined to wines from Bordeaux's Left Bank, where cabernet sauvignon is predominant. Bordeaux's blends vary from year to year, but four of the five First Growths (Châteaux Latour, Mouton Rothschild, Margaux, and Lafite) are regularly about 75 per cent cabernet sauvignon, while Château Haut-Brion usually contains slightly more than 50 per cent.
Cabernet sauvignon has long been called King Cabernet and is still deserving of the title.
In Bordeaux and elsewhere, cabernet sauvignon is generally blended with other varieties, especially merlot, so that "cab-merlot" trips off any wine lover's tongue as easily as the wine slides over it. On its own, cabernet sauvignon tends to be sturdy in structure and quite rich in tannins and acid, which can make it ideal for long-term cellaring. But even cabernets meant for earlier drinking are sometimes challenging. Adding a little merlot softens the cabernet sauvignon and adds some fleshy fruitiness. In California, cabernet sauvignons often include cabernet franc rather than merlot, while in Australia shiraz is a common blending grape.
Beyond Bordeaux, cabernet sauvignon is part of some prestigious wines in Italy, where it is sometimes the key variety in the so-called Super Tuscans. These wines have broken with the Tuscan tradition of using sangiovese, either alone or blended with other indigenous Italian grapes, and adopted international grape varieties. Cabernet sauvignon typically represents 85 per cent of the blend in Sassicaia, for example, while in Ornellaia it makes up about half.
Yet it is in the New World where cabernet sauvignon really took off, partly because there were many suitable growing sites. It is impossible to generalize about ideal growing conditions, but cabernet sauvignon is a late-ripening grape that at the very least needs a long, warm growing season to fully ripen. Even when ripe it can give off subtle green notes, but if it does not completely ripen the greenness in the flavours and tannins can be unpleasant. For this reason, growers seek out warmer areas, and many New World wine-producing countries have regions known for their cabernet sauvignons.
California's Napa Valley is so closely associated with cabernet sauvignon that "Napa cab" is almost a brand in its own right. Cabernet sauvignon grows up and down the valley, and winemakers often blend cabernets from different districts that have slightly different textural and flavour qualities—even a 100 per cent cabernet can be a blend in this sense. One high-profile site is Robert Mondavi's To Kalon Vineyard. This property, which was first planted in 1868, produces the grapes that make Mondavi's top-tier wines, notably the Reserve To Kalon Vineyard Cabernet Sauvignon. Typically about 90 to 93 per cent cabernet (as well as cabernet franc and petit verdot), this is both powerful and elegant, a wine that is poised, finely balanced, and has firm tannins that allow for drinking about five years after vintage. It is built, however, for decades of cellaring.
California's Napa Valley is so closely associated with cabernet sauvignon that "Napa cab" is almost a brand in its own right.
Another impressive example from Napa is the Montelena Estate Cabernet Sauvignon from Chateau Montelena. With about 97 per cent cabernet sauvignon, this displays a flavour profile with breadth and depth, supported by clean acidity and ripe, supple tannins. Ready to drink about five years after vintage, it can also be cellared for decades. Stags' Leap Cabernet Sauvignon, another fine example from Napa, tends to have less cabernet sauvignon (but more than the minimum 75 per cent required for the wine to be labelled by a single variety). It delivers concentrated, layered fruit and very good tannic structure.
Beringer Private Reserve Cabernet Sauvignon offers more cabernet than most: in the last few years other varieties have contributed only between 1 and 4 per cent of the blend, and some years the wine is 100 per cent cabernet sauvignon. The smooth, rich texture of this wine is noteworthy; this is a wine that will keep for 20 or 30 years. It is usually sourced from four or five districts in Napa Valley. Beringer also produces a fine cabernet from a single site in neighbouring Sonoma County: Beringer Knights Valley Reserve Cabernet Sauvignon. This is an excellent, earlier-drinking cabernet that shows impressive complexity and structure.
Most of Canada's contributions to the global portfolio of fine cabernets come from the warm, often desert-like conditions in the southern part of British Columbia's Okanagan Valley. Burrowing Owl Estate Winery Cabernet Sauvignon is made entirely from the variety and is a juicy-textured example with well-defined flavours and good tannic structure, making it suitable for medium-term cellaring. Meanwhile, cabernet sauvignon is the main grape in Black Hills Estate Nota Bene, a highly regarded blend that is fruit forward and well structured, with excellent fruit-acid balance and good cellaring potential for a decade.
In Chile, the key cabernet sauvignon region is the Maipo Valley, just south of Santiago, where several mesoclimates experience warm days and cool nights. Some Maipo vineyards are planted at high altitudes in the foothills of the Andes where the temperature range is wider, and one of Chile's finest cabernets comes from there: Concha y Toro Don Melchor, typically about 90 per cent cabernet sauvignon and the rest cabernet franc, is sourced from vines in the Puente Alto area of the upper Maipo Valley.
Of all the red grape varieties, cabernet sauvignon makes more fine wines in more diverse wine regions than its competitors.
Across the Andes in Argentina, many fine cabernet sauvignons come from the sprawling Mendoza region. Mendoza is better known for malbec, but its cabernets are often stellar and deserve greater recognition. Catena Appellation Agrelo Cabernet Sauvignon reflects high-altitude growing, with ripe flavours from the warm days and clean acidity from the cool nights. Gran Lurton Cabernet Sauvignon, a single-vineyard wine from the Uco Valley district of Mendoza, is full bodied and fruit forward, with well-layered and -defined flavours.
Australia's Coonawarra region, famous for its "terra rossa" (red) soils, has such a reputation for cabernet sauvignon that "Coonawarra cab" is the Down Under equivalent of "Napa cab". One of the best is Wynns Coonawarra Estate John Riddoch Cabernet Sauvignon, made entirely from the variety and only in vintages that produce fine grapes. It's a full-bodied, stylish cabernet with a fine, smooth texture and excellent tannic structure. Less known internationally, but no less important, is the Margaret River region of Western Australia. There, Devil's Lair Margaret River Cabernet Sauvignon is a standout. Like the Wynns, it is 100 per cent cabernet sauvignon. It's sophisticated, and it overdelivers in flavour complexity and textural interest.
These are far from the only important regions of cabernet sauvignon production. Other regions worth looking at include Maremma in Italy, Stellenbosch in South Africa, Paso Robles in California, and Columbia Valley in Washington. Of all the red grape varieties, cabernet sauvignon makes more fine wines in more diverse wine regions than its competitors, and the winemakers' strong support for cabernet sauvignon is evident in the number of icon wines of which it is the sole or predominant component. In short, King Cab still reigns, and this is one cab that is unlikely to be dethroned by the grape equivalent of Uber.
_________
Never miss a story. Sign up for NUVO's weekly newsletter.