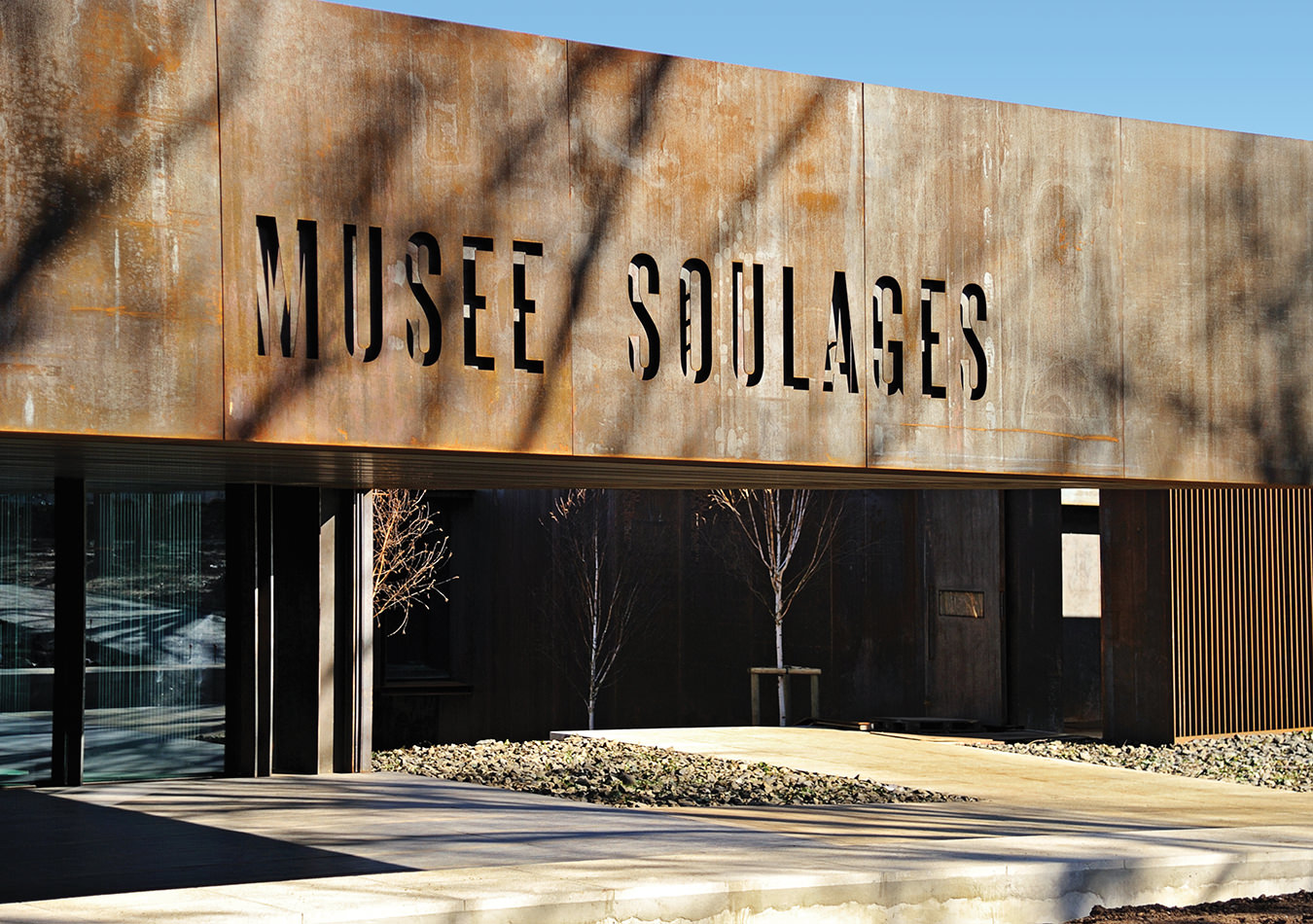 Journey deep into southwest France and you'll reach the town of Rodez, two hours north of Toulouse, the final stretch of the road winding across storybook farmland to the base of a hill climbed by looping curves and crowned by a cathedral. With its narrow medieval streets and Renaissance homes, there have always been reasons to come here. The latest—where 20,000 art lovers visited in its first five days—is the newly opened Musée Soulages, an assemblage of post modern structures that houses the largest collection of works anywhere by abstract painter Pierre Soulages.
He was born not far away, on Christmas Eve, 1919, his father a carriage builder and his mother a seller of fishing equipment. From 1949, when he held his first solo exhibition in Paris, Soulages's career has been on a steadily soaring trajectory. In 2001, he became the first living artist to show at the State Hermitage Museum in St. Petersburg, and today he is represented in 90 museums around the world.
In 2005, and again seven years later, he and his wife, Colette, donated to his community more than 500 paintings, etchings, lithographs, and documents that together were valued at over 50 million euros. To display them, Catalan architectural firm RCR Arquitectes (in partnership with Passelac & Roques Architectes) have, in effect, interpreted Soulages's art in three dimensions. Inside a series of rectangular buildings, their steel intended to weather, their hue shifting with the light, is a setting that, with its lead-coloured floors and walls in dove grey and anthracite, echoes the painter's palette. Excepting the colourful figurative oils that were his first works in the 1930s, Soulages has always dealt in minimal hues, and, in his later years, almost entirely in black. His influences are his surroundings: the trees of his native Aveyron region; the medievalism of Rodez itself; the primitivism of the menhirs, carved standing stones five millennia old, on show in the nearby Musée Fenaille. Prints are displayed unframed with their copper plates, which are works of art themselves. His Brou de noix ("Walnut stain") paintings hint at the move toward the use of black alone.
Soulages is best known for these "outrenoir" paintings, which he first exhibited in 1979, although calling them "beyond black" is perhaps a misnomer. Variety of depth, textures, and thickness of paint create a surface alive with motion and intricacy. Sometimes paint is applied, then scraped off, or combed to create rows of miniature ridges. Referencing the artisans he knew in his childhood, Soulages often uses the handle of his paintbrush or everyday tools such as kitchen spatulas. Punctuating brushstrokes that are as bold as a giant's calligraphy form "open windows," areas of white that create the illusion of light coming from behind a painting.
Also on display are life-sized patterns for the stained glass that Soulages created for the magnificent Sainte Foy abbey-church of Conques, a UNESCO World Heritage village an hour away. Here, in a setting of soaring Romanesque arches, light filters through subtly tinted glass, bounded by straight and angled black bars from the master of noir.