At first glance, it's unclear whether Fobe House is actually a house at all. It has the usual features of domesticity—doors, windows, rooms—but not in the usual places. Outside, it presents itself as a series of blindingly white walls and columns, some of which support a scattering of structures large and small. A man's home may be his castle, but in this case, it's also his desert apparition. The multipart complex, located in an arid two-hectare property 10 kilometres south of Marrakesh, Morocco, is housing reduced to its most basic elements—if not a Corbusian "machine for living in" then certainly a space for living in, a stage set for modern life.
Designed by Paris-based French architect Guilhem Eustache, Fobe House takes its cues from the terrain, the local environment, traditional Moroccan construction techniques, and a designer whose modernist tendencies are informed by antiquity. Born in Nîmes and, having lived in various places in France (La Mothe, Montpellier, Montrodat, and Paris), Eustache's work makes it clear that if nothing else, he is influenced by the sense of order and scale that prevailed in ancient settlements. Unencumbered by the car, imperial cities were dense, compact, and connected.
With Fobe, where Eustache was given free rein, he invented not just a residential compound but a virtual city, a miniature, an epic in short. Implicit in the stark lines of these four buildings are ideas about how we occupy our houses and exist within a landscape and environment.
"The client was a Belgian film producer and director. At the beginning, he wanted to build three houses: one for his mother, one for himself, and one for friends," Eustache explains. "Our first task was to figure out the program with the client. It's quite a desert area, under a veil of heat that conceals the horizon, but between the months of December and March you can see the Atlas Mountains in the distance. The plot where we built was at the very end of the area where you can build. After that, it's pure desert. We experimented with light and shadow and relied on local techniques and materials like clay, tadelakt [plaster], and stone."
As Eustache has said, "There is a narrow link that exists between architecture and cinema; I have to remind you that the client is a Belgian film producer and director. The perception of architecture is mainly achieved through movement. The eye in movement, when the perspective opens, reveals little by little the various elements which constitute the house. In the distance, a white square—when getting closer—becomes a cube, a white wall a tube, then we discover openings. It is quite exciting to captivate the visitor, to suggest a vertiginous rise of steps, a plunging view into space or a panoramic view on the horizon." The visitor's point of view is meant to move dynamically. It can land on a still frame, it can rotate. And finally it can widen to take in everything, zooming "towards the infinite."
Eustache's architectural quartet—main residence, garage, pool house, and guard hut—sit on the ground like so many sculptures, each perfect and perfectly still in its own way. The contrast between the wildness of the terrain and the severe geometry and the unadulterated whiteness of the architecture is absolute. But the site is also close to a major highway and other houses. Privacy is an issue; that's why the front door doesn't face the road but is tucked away behind a wall that protects the house from passing eyes and the endless vehicular roar. A trio of white walls, each longer than the one in front, cascade back from the entrance, reducing the noise and keeping residents hidden from view.
The contrast between the wildness of the terrain and the severe geometry and the unadulterated whiteness of the architecture is absolute.
The house opens up, there is a pool at the back as well as memorable vistas. An expanse of glass overlooks a large watery rectangle with views for kilometres. Although plans included the planting of 500 trees, a total of 703 trees—23 olive, 10 palm, 450 eucalyptus, 200 mimosa, and 20 fruit—were planted, and they are quickly consumed and almost disappear in the hot, dry site. No attempt has been made to prettify the property; the demarcation between house and its surroundings is dramatic, even abrupt.
Inside, Eustache's residence is a crisp arrangement of rooms that suggests a minimalist sensibility filtered through the more informal attitudes of living in the hinterland. The house has the feel of a gallery; ceilings are high and spaces are striking but clearly intended to be a foil and backdrop to the people and objects within. Glass walls and oddly shaped windows allow for visual penetration beyond and connect the house to its surroundings.
"It's definitely not rococo," Eustache jokes.
"There are two different Moroccos: the Arabian and the Berber, who have a very simple way of life. I am in the spirit of the Berbers. My stepfather, who was a pied-noir, gave me all this culture." Eustache's stepfather met Le Corbusier in Algeria in the 1930s, and at the advice of the architect enrolled in architecture studies in Paris. "But I also think that modern architecture is fed by Mediterranean architecture."
If true, it must be because even the inhabitants of the most unfriendly climates now hanker for houses that are open and closer to nature than brick walls allow.
The glass tower has achieved ubiquity—even in Canada, a country with winter—if for no other reason than its appeal to buyers on this very basic level. Think of all those condo dwellers who live in 350-square-foot glass boxes 57 storeys in the sky. Each unit is someone's piece of the sky.
Transparency has been the subtext of architecture for many decades at this point. Going back to Ludwig Mies van der Rohe's Farnsworth House (1945–51), Philip Johnson's Glass House (1945–49), and Richard Neutra's 1946 Kaufmann House, one can chart the growing excitement about the idea of living in nature without being a part of nature. Most of us prefer to sleep in our own beds. The glass wall creates the illusion of closeness, if not the reality.
At Fobe, it's a patch of desert with views of the mountains by day and the stars by night. The house exists in an environment that has little to give in terms of human comfort. Hot during daylight hours, cold when it's dark, this is a climate that must be taken seriously. The white walls, for example, shed heat, and the rectilinear forms help reduce wear and tear of the wind.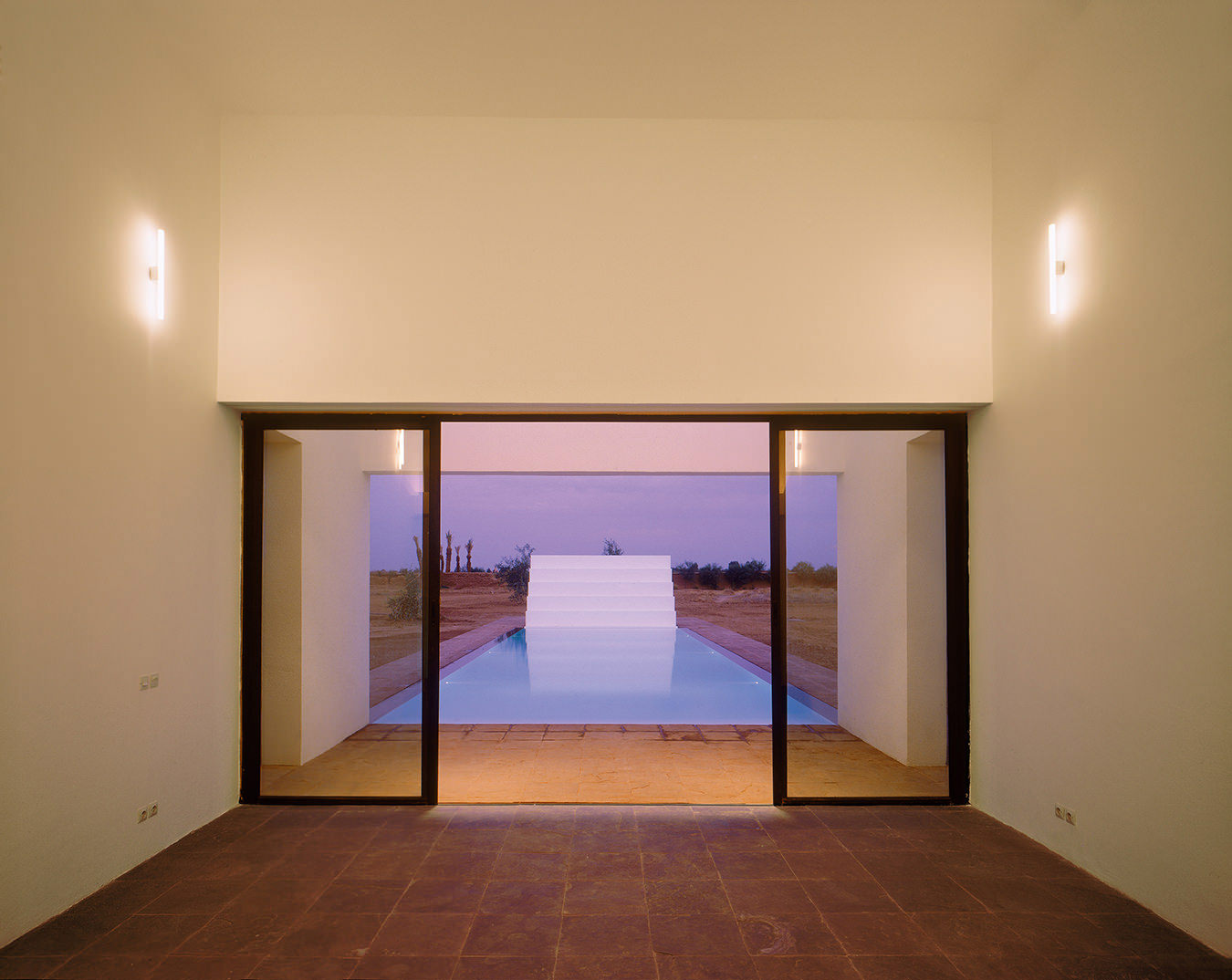 The main house, roughly 1,850 square feet, is modestly sized. Still, it includes a pair of large bedrooms, the master with its own bathroom and walk-in closet. There's also a full-sized kitchen with a large pantry, a powder room, and two living rooms. The results are simultaneously simple and complex: tall windows, calligraphic cut-outs, and special framing make each view a vista.
By contrast, the other buildings (garage, pool house, and guard hut) are basic, box-like structures meant to delimit space as much as provide shelter. It was through the relationship of one building to another that Eustache could play with ideas about the organization of larger units such as neighbourhood and city. "I'm quite different from other architects in France," he says. "Here, everything is directed by the government. I don't like that. Morocco… I felt really free."
Fenced off from its surroundings, Fobe House sits in splendid isolation. But it is also a world within a world, a microcosm, a shorthand description of a set of possibilities that go far beyond the property lines.
Photos ©Jean-Marie Monthiers.
July 31, 2014
Updated: August 22, 2014