The Future Of Ford Design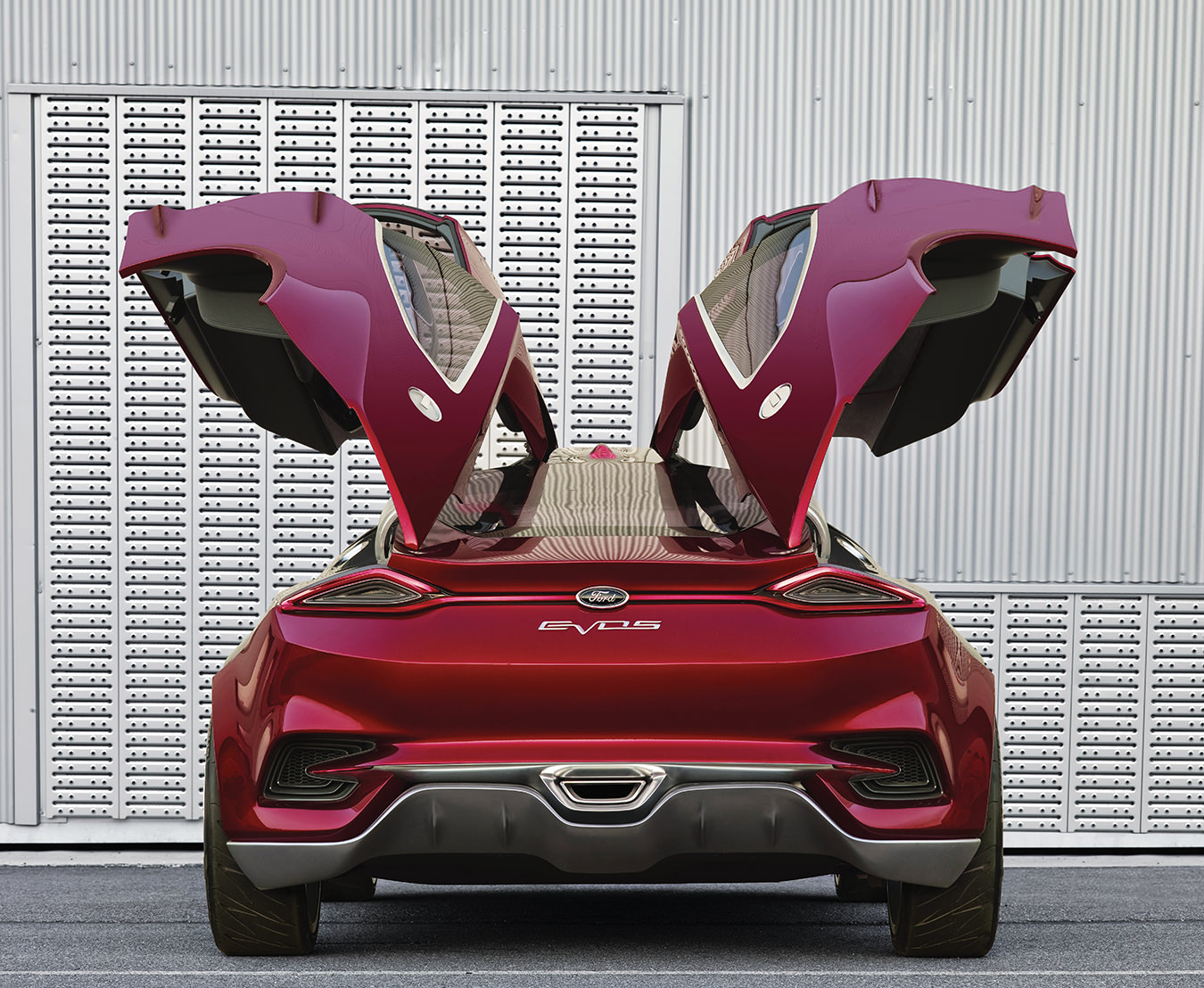 Whether in sci-fi television shows, novels, or films, the manner in which we travel from one place to another seems to epitomize technological innovation. From jet packs to spaceships, no futuristic vision is complete without a unique mode of transport. Perhaps nothing is quite so evocative of the future as the flying car, which has for decades been romanticized and held as a signifier of a time beyond the realm of imagination. Think of The Jetsons, which first aired (unbelievably) 50 years ago. Back then, the show's setting of 2062 seemed eons away, and the concept of a flying car—that iconic flying saucer that George Jetson took to work in every episode's introduction—was as awesome as it was awe inspiring.
Although flying cars probably won't be an option any time soon, Ford Motor Company's Evos concept car is headed straight into the future with an array of technological innovations to make the drive to work that much easier.
This past June, Ford hosted its annual Go Further with Ford Trend Conference, a convergence of leaders, forward thinkers, and innovators at its headquarters in Dearborn, Michigan. Notably, Steve Wozniak, co-founder of Apple and the technical yin to Steve Jobs's visionary yang, was in attendance. Yet there was no room for times past on the Disrupting the Drive panel with Wozniak, Molly Wood (executive editor at CNET), and Jim Buczkowski (technical fellow and director of electrical and electronic systems at Ford Research and Innovation). The dialogue centred on the Ford Evos and the future of the automobile, not only as a tool for transport, but as one of intelligence that can interact and adapt to its driver in a multitude of new ways.
The Ford Evos doesn't fly, but takes the term "concept car" to new heights. First unveiled at the Frankfurt Motor Show in 2011, it's a concept car for future technologies. Powered by a state-of-the-art lithium-ion plug-in hybrid powertrain and using cloud interface and home connectivity, Evos begins assisting even before you get behind the wheel. It can read your e-mail, notify you of a time change for a meeting before you wake, and then send a command to your alarm clock to wake you later, letting you sleep in. Once you're out the door and pulling away, Evos instinctively closes the garage, communicates with the home thermostat to lower the temperature, and suggests a dynamic route for your drive.
Evos is equipped with a malleable application programming interface and infrastructure, in an effort to make the driving experience even more personal. Ford created OpenXC, a combination of open-source hardware and software, allowing developers to extend their vehicle with custom applications and pluggable modules. "All of these things—little things—are going to be fun for developers to develop and play with," said Wozniak. "Some of them will hit with some people and some won't."
Ford has been integrating computer development into its cars for years, and as a result, what Evos does well is process data and learn tendencies. Weather, traffic, road maps, the driver's skill level over time, and vehicle performance data are crunched, allowing Evos to refine breaking, steering, and suspension settings in anticipation of the road ahead. This same data is also used to adjust the vehicle's controls, providing the ideal mix of gas and electric power to take on, for example, extreme elevation changes while still conserving energy.
The analysis of these tendencies, in addition to the connectivity with other computers, devices, and routes in an effort to make life more convenient for the driver, raises the issue of privacy and data protection. "Don't let your spouse take the car, because it may take them some place where you don't want them to go," joked Wozniak. According to Ford, an important piece of the technology is identifying who the driver is when they get in the car. This information is collected and used solely to create a better experience for the person behind the wheel. "Any time you can relieve humans of having to think of something, remember something, follow certain steps—that's what technology does," said Wozniak.
With this new age comes radar, optical, motion, and ultrasonic sensors that can see in the dark, around corners, down the road, and behind to keep the driver informed of activity all around the vehicle. This improved awareness can help make driving less stressful, and it may eventually be able to even control the driving process altogether.
The benefits of technology and the smart intuitiveness of Evos allow the driver to share control and put more trust in their vehicle. Although it may be 2062 before the first flying car takes off, emerging developers offer options within driving distance. "Sometimes ideas that are so far out there actually lead to better ideas," says Wozniak. "It's just when you start to work on them that you actually build something that has value."