An Image of the Self, Constructed at the Venice Design Biennial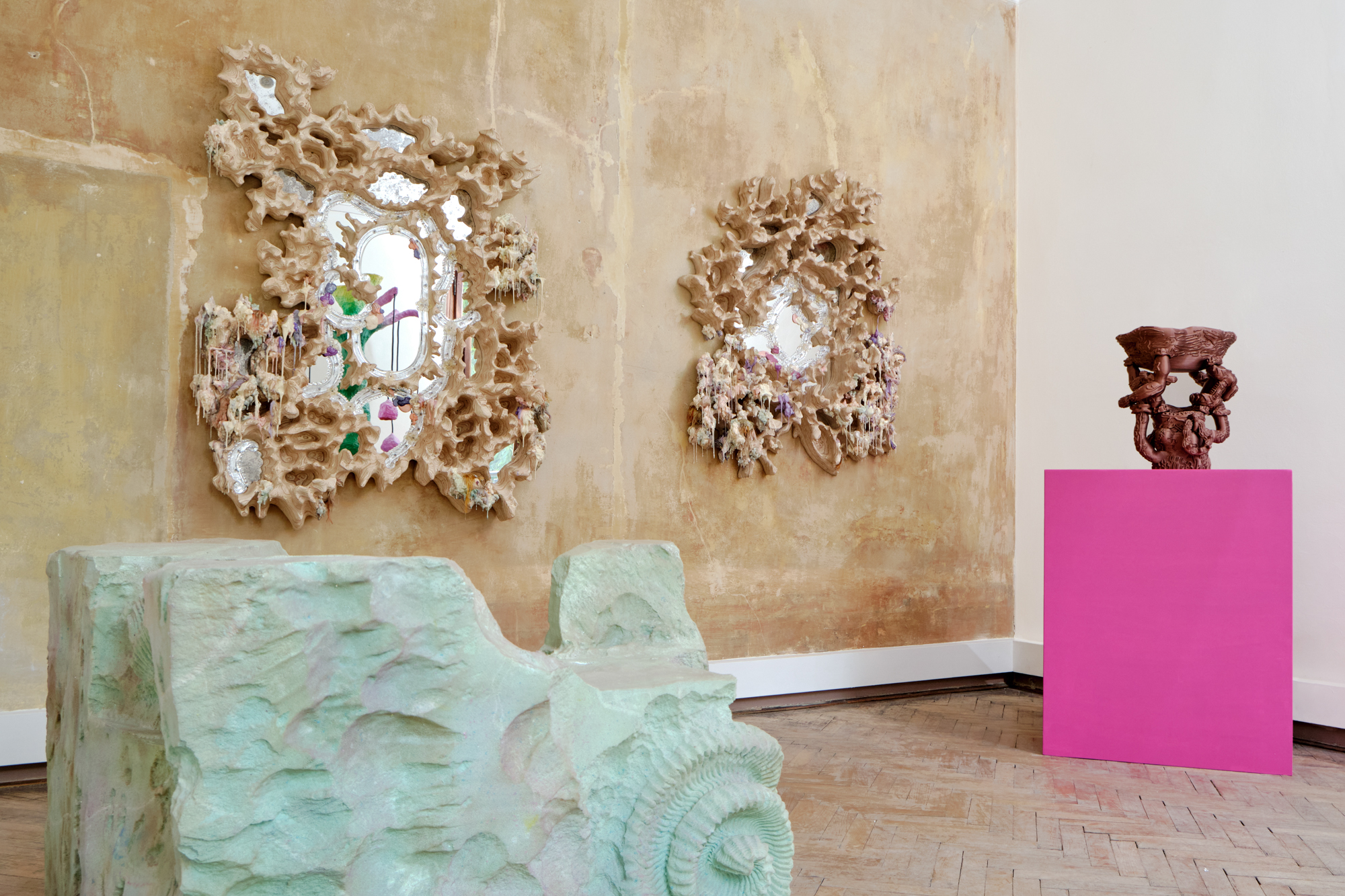 In Venice, design is everywhere you look, and as the city wakes up, dusts itself off, and welcomes visitors once again, you can also find it in some unlikely locations. Now in its third iteration, the Venice Design Biennial, founded and curated by Francesca Giubilei and Luca Berta, focuses on contemporary international design, hosting a series of exhibitions throughout the city. Projects appear in a contemporary art gallery that was once an apartment, in a recently reclaimed commercial space, interspersed among artifacts at the National Archaeological Museum, and in a darkened chapel surrounded by an elaborate cycle of 16th-century paintings.
The complexity of Venice and its architectural heritage, not to mention the strong tradition here of artigianato or master craftsmanship, can make the city a difficult place to consider contemporary design—we feel the weight of history. But a smartly curated program where designers are both contextualized and encouraged to interact with local artisans makes this biennial a unique and welcome addition to the Venice cultural calendar. The curators—unlike those of the ever-expanding art and architecture biennials—live year-round in Venice, felt in their attention to detail in siting the work and in the integration of the program into the fabric of the city.
Identity as Design Object
The main exhibition stretches across two venues, bringing together more than 30 international designers who responded to the Biennial's theme, Design as Self-Portrait. "We are all self-designers," the curators write, "expressing ourselves through the consumption of products or experiences of our choosing and through the ways in which we communicate these choices to others." The concept of our selves as design product, and design products and the way we use them as an expression of identity, remains an interesting lens through which to consider a wide range of work.
At SPUMA, a new gallery in a former brewery on Giudecca, the repeating, simplified forms of marble bookcases and LED lighting bars by Israeli-born Arik Levy harmonize with the clean lines of a console and ring light mirror by France's Victoria Wilmotte and the angular profiles and technical study of tensions in Konstantin Achkov's chairs. These contrast with the work of several designers such as Danish-born Anna Aagaard Jensen who show a tendency toward organic or natural shapes and a shift to more malleable materials. Other designers explicitly express their engagement with environmental issues, as in the mirror inspired by an iceberg that is known to have melted and a table in the shape of the shrinking land mass of Antarctica by Francesco Maria Messina or OrtaMiklos' skeletal European Buffalo chair, from a series based on species of flora and fauna thought to be on the verge of extinction.
At SPARC*, a residential space turned art gallery in Campo Santo Stefano, Italian architect and designer Elisa Ossino explores form in a room filled with sculpture, tables, vases, a lamp, and carpets; and uses materials such as brass, copper, wood, wool, ceramic, and Carrara marble that together gives a kind of abstract self-portrait. A number of functional art objects can be found there, from Touche-Touche's armchair carved from polyether foam and polyurethane that looks like a half-excavated postapocalyptic archaeological find to sculptural tables by legendary Jimmie Durham, winner of the Golden Lion for Lifetime Achievement at the 2019 Venice Art Biennial.
Designer in Residence
Another highlight of the Biennial is new work by Czech designer Tadeas Podracky, created as part of the inaugural residency program. Giubilei and Berta launched the residency last fall, in uncertain times, putting out a call to designers and selecting one who spent November in a very sleepy Venice. The artist was given support and introductions to local artisans, with the only deliverable being a concept for a new work at the end of the month.
Podracky chose to work with master mirror makers Ongaro e Fuga in Murano. Flat, non-convex mirrors were perfected in Venice in the 16th century, the curators note, linking Podracky's project both to a long-standing Venetian tradition and to the Biennial's overall theme of self-portraiture and the portrayal of the self through design.
Podracky's final project, two unique pieces titled Fading Reflection, produced between Venice and his studio in Prague, explodes the materiality of traditional mirrors. The wood that normally serves as the support extrudes from the frame, taking on organic shapes that contain mirrors, both antiqued and not, with traditional glass embellishments and pins, while dripping resin and fragments of Venetian textiles nod to the baroque.
Design Meets History
At the National Archaeological Museum in St. Mark's Square, the exhibition Past Forward. Designers from the Land of Venice presents the work of designers from Venice and the area. It's a provocative juxtaposition, questioning both what we choose to preserve of cultural history and what the curators have identified as the bi-annual expectation of hyper-contemporaneity in Venice. Hanging lights by Venice-based Kanz Architetti, made by applying the Japanese kirigami technique of folding and cutting to thin sheets of steel, illuminate Roman busts from the turn of the first millennium A.D., and Murano glass lamps inspired by 1960s TVs by Matteo Zorzenoni stand between cases of ancient coins.
The most interesting strategy in the museum may be the placement of contemporary ceramics by Zaven and Gaetano di Gregorio in display cases of Greek, Southern Italian, and Etruscan pottery. A red-figure Attic lekythos from the fifth century BCE lives beside Zaven's red-and-black interlocking glazed ceramic vases, making us think about the persistence of forms and the history of objects intended for everyday use. Di Gregorio's material research into the qualities of clay, exploring sedimentation, mixing, and aggregating, takes on new meaning alongside a ninth-century BCE Etruscan funerary urn.
Keeping It Local
The most hidden venue of the Biennial is the dark and intimate Oratorio dei Crociferi in Cannaregio, a chapel in which 16th-century paintings by Palma il Giovane fill the walls and ceiling. A small, dramatically lit exhibition guest curated by Pretziada brings together works produced during a residency in Sardinia that paired designers with local artisans. The three works exhibited—a chair by Chiara Andreatti, ceramics by Maria Paola Pires, and a stone-and-bronze vessel by Studiopepe—are the result of the designers' direct engagement with Sardinian tradition and craft.
This smaller exhibition within the Biennial seems perfectly in sync with what is currently happening in Venice: a resurgence of interest, emphasis, and support for local fine craftsmanship from glass to textiles and even fashion. The Venice Design Biennial thoughtfully brings together international design but also encourages engagement with local artisans by forging links and actively promoting collaboration. If the much larger Architecture Biennial had as its theme this year How Will We Live Together? the Design Biennial, with its smaller footprint, seems to be partly answering that question: by fostering dialogue among local curators, producers, designers, artists, and their international counterparts, with an eye to developing a vibrant community and keeping it sustainable. Let's hope this Biennial grows—but not too much.
Photography by Federico Floriani.