World-Leading Installation of Living Architecture Comes to Canada
Meander at Tapestry Hall.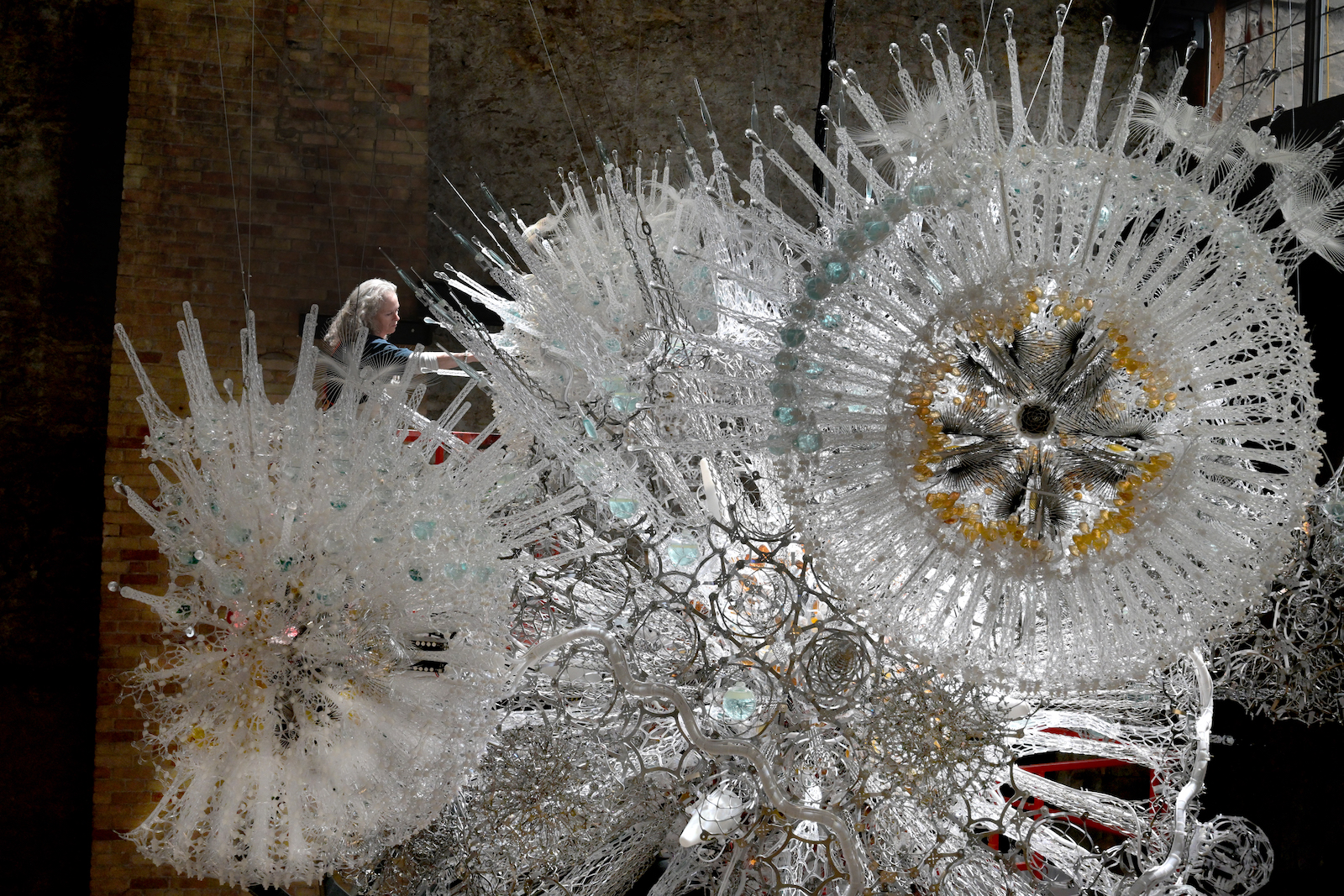 A former 19th-century foundry transformed with a 21st-century sculpture is fuelling the fascination in the Southwestern Ontario city of Cambridge.
Tapestry Hall, a renovated limestone Victorian building, is now the permanent home of Meander, the world's largest living architecture sculpture, created by Philip Beesley. This hybrid of art and architecture is located in the Gaslight District, a new mixed-use project by HIP Developments in Cambridge's Galt neighbourhood.
"It's a hopeful time to start to talk about architecture and how it can be intimately coupled with the world," Beesley says. Inspired by the always shifting Grand River, Beesley describes his sculpture as cloud-like, a combination of spheres and water-like creations made from metal and recycled polymers, suspended from the hall's cathedral ceilings. Half-a-million individual objects were fabricated and combined with the latest technology in Meander, including 100 embedded motion sensors. The sculpture's tendrils and fronds react to light, sound, and movement without the need for the viewer to touch—giving the sculpture its aliveness.
A professor at the School of Architecture at the University of Waterloo and Professor of Digital Design and Architecture & Urbanism at the European Graduate School, Beesley is a leading proponent of living architecture, a community of futuristic creators, committed to architecture's ability to work within interconnected sustainable environments.
A soothing soundtrack created by Dutch sound artist Salvador Breed, one of many collaborators tapped by Beesley, envelops viewers in an intimate experience. And this installation is more than an artistic endeavour; it also focuses on sustainability with the use of 3D printing and laser cutting.
Unveiled last year, this permanent installation was prompted by Beesley's partners at Living Architecture Systems Group (LASG), six thinkers who have engaged with a consortium of artists, architects, engineers, and scientists to answer questions such as "Could future buildings think and care?" or "How do humans respond to evolving interactions?"
Meander's use of computers relays a continuous stream of data from interactions, an ongoing research project for the University of Waterloo and for the living architecture community. The interactions help the sculpture to learn and inform future projects.
"When I was taught about architecture, the view was the opposite of living; being not alive was a virtue. There was beauty found in a heavy, silent, stone floor," Beesley explains. Focused on living architecture, Beesley's endeavours have led to connections with a myriad of disciplines, including fashion. For the last 10 years, he has had an ongoing collaboration with innovative fashion designer Iris van Herpen, known for pairing technology with haute couture.
Meander is an artsy lure for the curious as much as an ongoing experiment for living architecture's followers. But even with this momentum, Beesley is already focused on his next project for the 2021 Venice Architecture Biennale, aptly themed: How will we live together?
Working with Toronto-based arts curator and producer Sascha Hastings, Beesley and his team are creating Grove, to be constructed within the Arsenale, a traditional site of La Biennale since its inception in 1895.
"It's an international project–digital fabrication at my studio in Toronto, digital modelling in the UK, lights assembled in Italy–all with the hopeful belief we'll start shipping components from Canada to Italy this spring for installation in this historic space," Beesley says. The installation will be similar to Meander with high-tech components creating an installation based on a natural landscape with sound and film.
On top of that, Beesley is forging a new addition to his long list of collaborations, working with W+N Studio, award-winning UK photographers/filmmakers Warren du Preez and Nick Thornton Jones, for a film component for Grove. And to continue with the spirit of the living architecture community, Beesley promises to make the systems and digital patterns he's created open source.
As Beesley asks himself "How are we linked together in this world?" his collaborative pursuits are redefining what art is now and for the future.