62M by 5468796 Architecture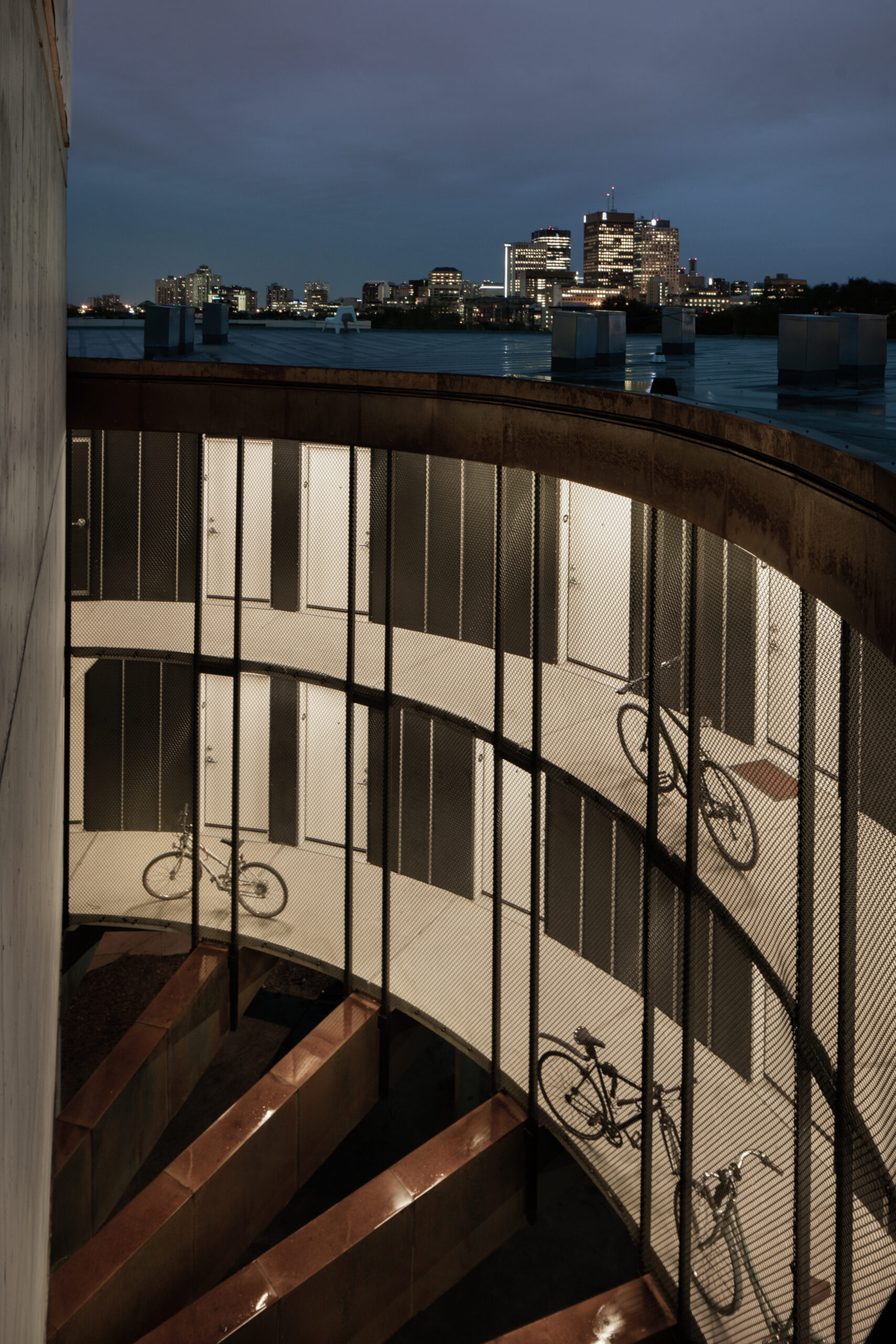 Before you ask, no, the title of this week's home is not a piece of misplaced code or some generic chemical. Winnipeg-based firm 5468796 Architecture works in experimental and parametric design. Here, for 62M, it has created a postindustrial circular structure based on rational, geometric forms that utilizes a neglected piece of land in the city. By elevating the structure, the architects literally lifted it out of decay and into a conversation with the surrounding area and cityscape beyond.
Concrete columns 35 feet high support this circular design, variously dubbed "flying saucer" and "UFO" by locals. Because of the shape, each of the 40 studio-sized units and the presiding penthouse, have views into the distance. Two floors with 20 pie-shaped units circle a central core where the entry and elevator ascend to the rooms.
Interestingly for Winnipeg, which has winter temperatures as cold as -40° Celsius, the corridors are partially open. This design reduces the atomization of "nondescript corridors" and opens up the central well of the building into a more agora-like arrangement.
The core of the building was cast-in-place, whereas the radial columns and wood-and-steel living apartments were prefabricated and brought onto the site. Weathered steel cladding and fins on the facade of the circle create resistance to the harsh winters and also provide more privacy between the dwellings.
The penthouse of the structure is particularly unusual. With a sauna, a sunken living room, and a glass box that protrudes from the top like a jewel, the structure sits on top of the central elevator and extends onto the roof to a generous deck.
Part of our Home of the Week series. Read more HERE.