Wooden Cities on the Rise
Architects are embracing timber as the building material of the future.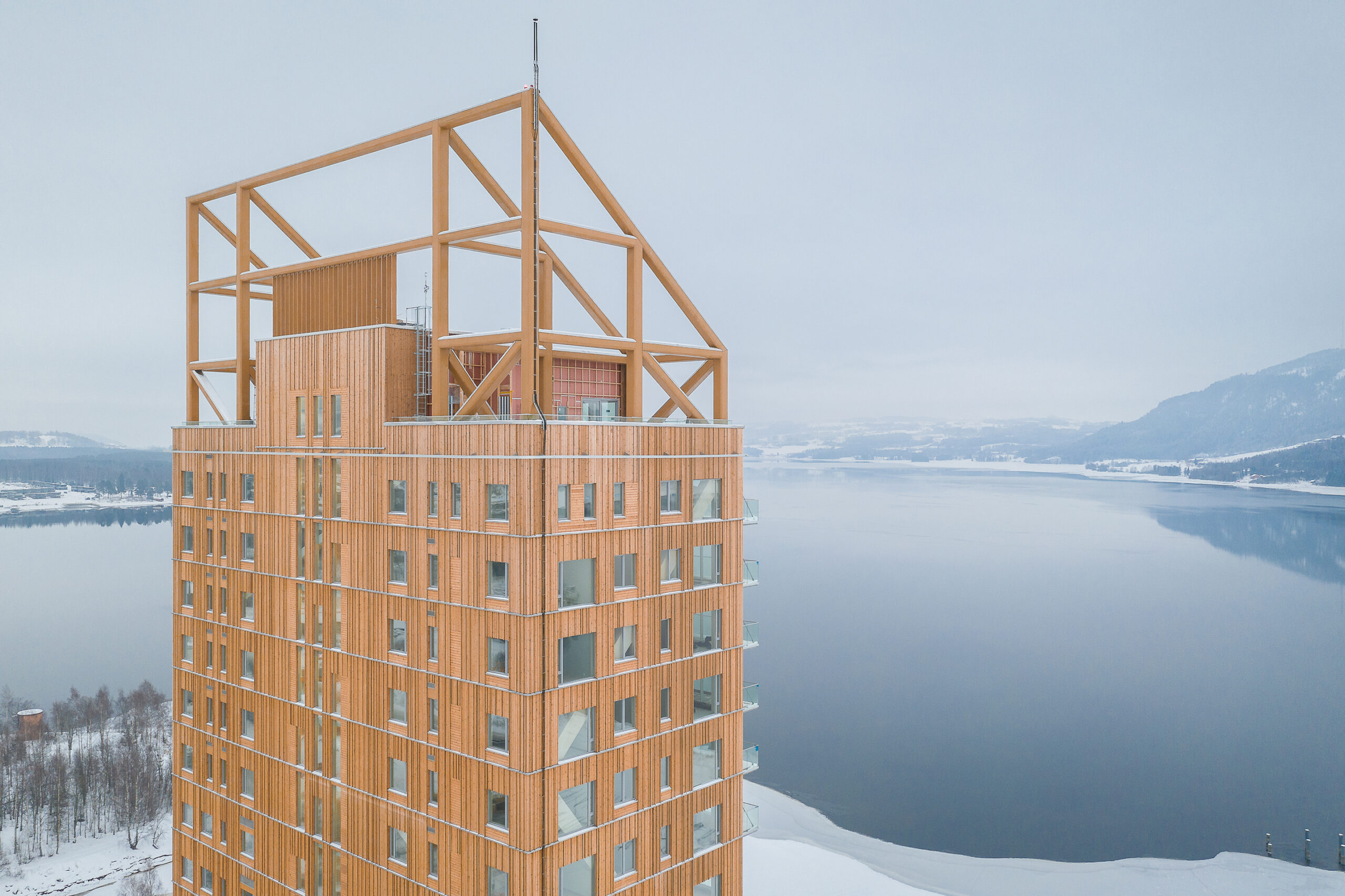 Stone, brick, iron, concrete—the building blocks of monumental architecture are strong, but they're losing ground to a material with a softer side.
It's called wood.
Sure, it's odd to hear that such a well-known material may reshape our future, especially one that couldn't weather even a puff from the Big Bad Wolf. By association, wood recalls the kind of material that's kindling to great fires, the type of potentially wobbly architecture we build with our own hands (try log cabins).
But today's wood, known as massive timber, is engineered to be stronger. Comprising several layers (from pine, spruce, and fir to ash) of wood stacked perpendicular to one another, it's rendered in fortified slabs strong enough to create all-wood buildings. And shockingly, these hunks of wood—the most common of which is CLT, or cross-laminated timber—is far more difficult to ignite than you'd think.
Entire wooden structures, from roofs to floors and ceilings, can rise from tomorrow's skylines with confidence. But that's just scratching this surface. The reason timber is truly catching on, especially amongst forward-thinking architects and builders, is because the stakes are rather high: conventional building methods and materials, like steel and concrete, account for nearly 11 per cent of global GHG emissions.
Conversely, pivoting to mass timber has the potential to counter production by absorbing carbon dioxide; a new study from Yale University and Germany's Potsdam Institute for Climate Impact Research suggests that engineered wood, when sourced from sustainably managed forests, could increase a city's carbon storage by 25 to 170 per cent. It's about balance, and creating structures that counteract carbon emissions.
Not to mention, there is comfort in wooden environments, warmth in their grains. Within the forest of steel and concrete cities, the prospect of all-wooden buildings is quantifiably soothing.
Some of the proposed projects on the horizon are staggering. Here are just a few more ways timber is making a low impact in architecture across the globe.
Ariake Gymnastics Centre, Japan
Timber is the signature of Tokyo 2020's communal spaces. And while the focus lands on the Athletes Village plaza, constructed from 40,000 pieces of timber, the locus may well be Ariake Gymnastics Centre: located in a former timber-storage district, the cedar-clad stadium features a larch roof (sourced from Japan's Nagano and Hokkaido prefectures) that's among the largest wooden roofs in the world.
HAUT, Netherlands
In tandem with the city's ambitious sustainability goal—reducing CO2 emissions by 55 per cent within 10 years—HAUT is set to become the tallest residential wooden building in the Netherlands. Designed by Team V Architecture and Arup, its cross-laminated timber walls and floors will rise 21 storeys (73 metres) on the River Amstel while making room for more than just residents: there are built-in boxes along the facade for the likes of birds and bats.
Mjøstårnet, Norway
Although it's built to last, its superlative title as the tallest timber building in the world (on the edge of Norway's biggest lake, no less) is only temporary amidst a raft of increasingly larger towers on the horizon. Nevertheless, Mjøstårnet stands 85.4 metres high in Brumunddal, Norway. It is constructed from over 11,000 trees. Designed by Voll Arkitekter, the mixed-use building includes a public lobby, residential units, offices, and even a 72-room hotel that doesn't beat around the bush (it's named Wood Hotel).
The Arbour, Canada
While its profile is more compact at just 10 storeys high, an upcoming building at Toronto's George Brown College is a boon in the architecture of academia. The Arbour is pegged to become Ontario's first mass-timber, low-carbon institutional building. Aptly envisioned as the college's new mass-timber research hub, it's designed by Canada's Moriyama & Teshima Architects along with Acton Ostry Architects as a building that breathes; dividing walls expand and contract to create flexible learning spaces, while two solar chimney systems harness light and air for natural ventilation.
________
Never miss a story. Sign up for NUVO's weekly newsletter here.