This Organization Is Using Art in Some Unexpected Ways to Fight Climate Change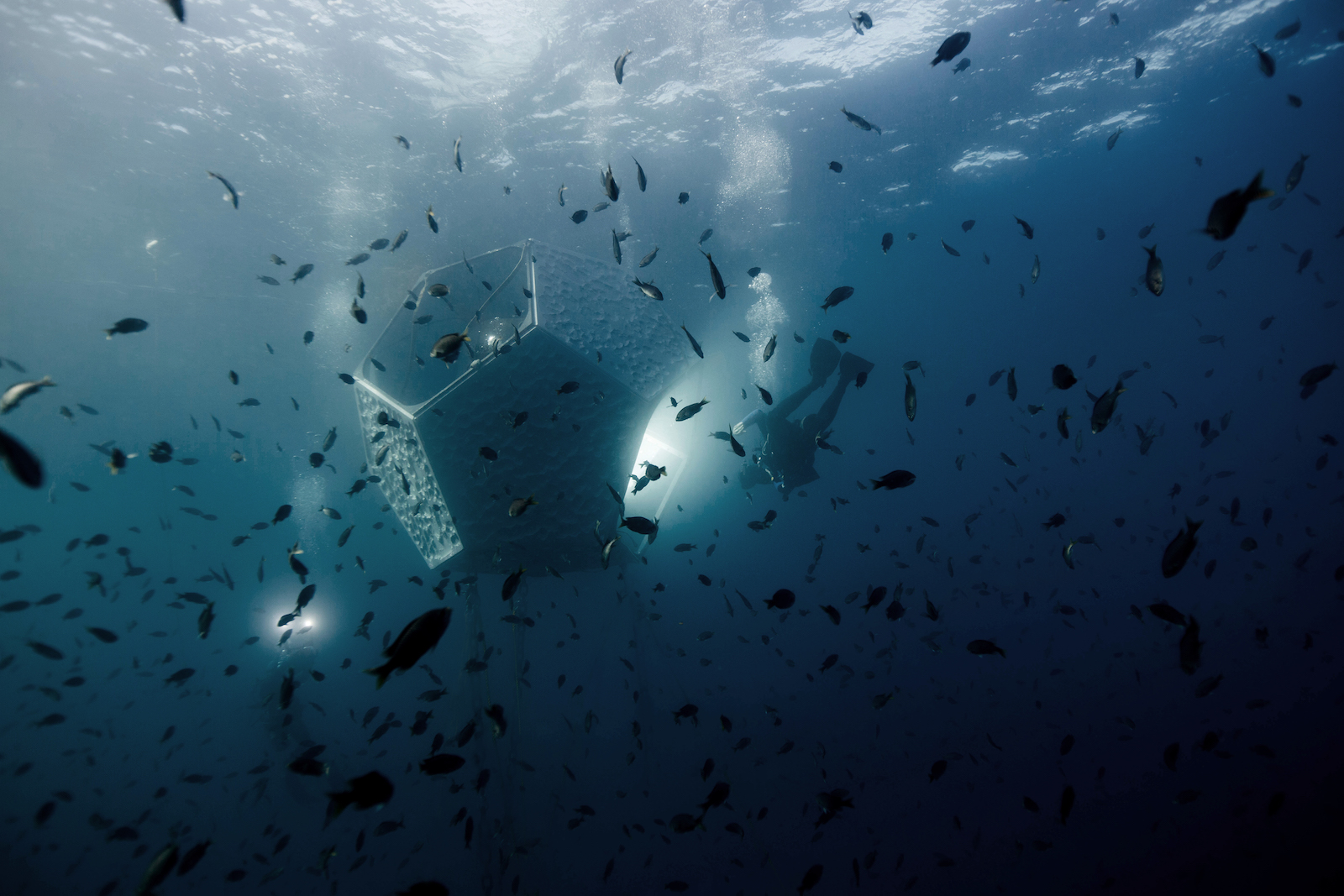 The conservation of marine ecosystems has been top of mind in recent years. With climate change and pollution causing dire threats to the world's oceans, industries are stepping forward to promote awareness and enact change. Canadian-based fashion brand Holt Renfrew has a sustainable product line to support ocean conservation, and the luxury eco-travel sector has boomed in the past decade, causing initiatives like andBeyond to join Oceans Without Borders' efforts to improve marine health in East Africa.
Creatives are also in on the conversation.
The environmental organization Parley for the Oceans is a think-tank-style organization whose innovative projects have included major partnerships with Adidas and Stella McCartney to actively reduce the amount of plastic around the world. Founded in 2012 by current CEO and German-born designer Cyrill Gutsch, Parley has enlisted thought leaders, creators, photographers, and athletes to find direct solutions to solve environmental crises in communities across the globe. Most recently it worked with Nagami Design to develop 3D printed face shields with upcycled plastic to battle COVID-19.
"With the current fragile state of the world and moment of uncertainty, we see this as a time to reflect and recalibrate," Gutsch says. "There is still an urgent need for action, for a collaborative effort to create change and end this era of destruction and begin a new era of creativity. This is the moment to make that plan: think big, think abstract, think conceptual."
Parley's mission is to invite everyone to be a co-collaborator in defending the health of the oceans. This movement includes reoccurring workshops and events in various international cities, inviting activists to host screenings of educational documentaries and films, contributing to global beach cleanups, and taking the A.I.R. pledge to reduce single-use plastics.
Perhaps its most captivating project yet is Underwater Pavilions, an interactive aquatic exhibit forged by art and activism. The kaleidoscopic observatories were first built in 2016. The pavilions were designed in collaboration with the American mixed-media artist and filmmaker Doug Aitken, whose installations have been featured in the Serpentine Gallery in London and the Museum of Modern Art, gaining him recognition for his contemporary perspective and tendency to turn viewers into participants.
"He loves to push boundaries, and to take the viewer out of the ordinary white walls of a gallery, and make the impossible, possible," Gutsch says of Aitken's design approach, which in this joint project is meant to "create a door beneath the surface of the ocean."
His contribution to the pavilions was an ideal fit, amplifying Parley's ambitious environmental efforts with the artists' mesmeric designs. Presented in partnership with the Museum of Contemporary Art in Los Angeles (MOCA), Underwater Pavilions opened to the public between 2016 and '17 off the coast of Catalina Island in Southern California. Using well-researched materials to withstand the powerful currents, the final design resulted in three 12-sided polygons lined with mirrors and poised five, 10, and 50 feet below sea level, all fluidly moving with the rhythms and life cycles of the ocean. The crater-like surface of the exterior offers a more natural aesthetic while glittering reflections inside and out heighten the experience to ethereal.
Teeming with vibrant marine life, the geometric sculptures moored to the sea floor allowed swimmers, scuba divers, and snorkellers to swim through the artwork suspended in nature.
Aitken asks, "how can artwork function in a completely unorthodox way, but also how can it be a way of sharing ideas with different communities: ecologists and ocean activists?"
Monitored closely by a marine biologist, the project has already shown to have piqued the interest of a species of sea slugs that has not been seen in the area for years; a small victory for the projects' creators and the ecology of Catalina.
"Both aesthetic and scientific, the pavilions put the local marine environment and the global challenges around ocean conversation in dialogue with the history of art, inviting the viewer to write a contemporary narrative of the ocean and to participate in its protection," Gutsch says.
Slipping beneath the ocean's surface is that moment of serenity that comes with underwater exploration, and the pavilions offer the chance to weightlessly process one's immersion into nature, and perhaps how we can be of better service to it; becoming a modality to permeate passivity and inspire action.
Because experiencing the artwork firsthand will not be an option for most, a virtual swim-through is available to see just how strangely captivating the experience can be. But these initial prototypes of the Underwater Pavilions were only the beginning. Parley, Aitken and the UP team are currently working to launch their sea sculptures in new oceanic locations around the world.
________
Never miss a story. Sign up for NUVO's weekly newsletter here.