The Pathway to Zen in Laguna Beach Guides Visitors to Their Own Inner Artistic Peace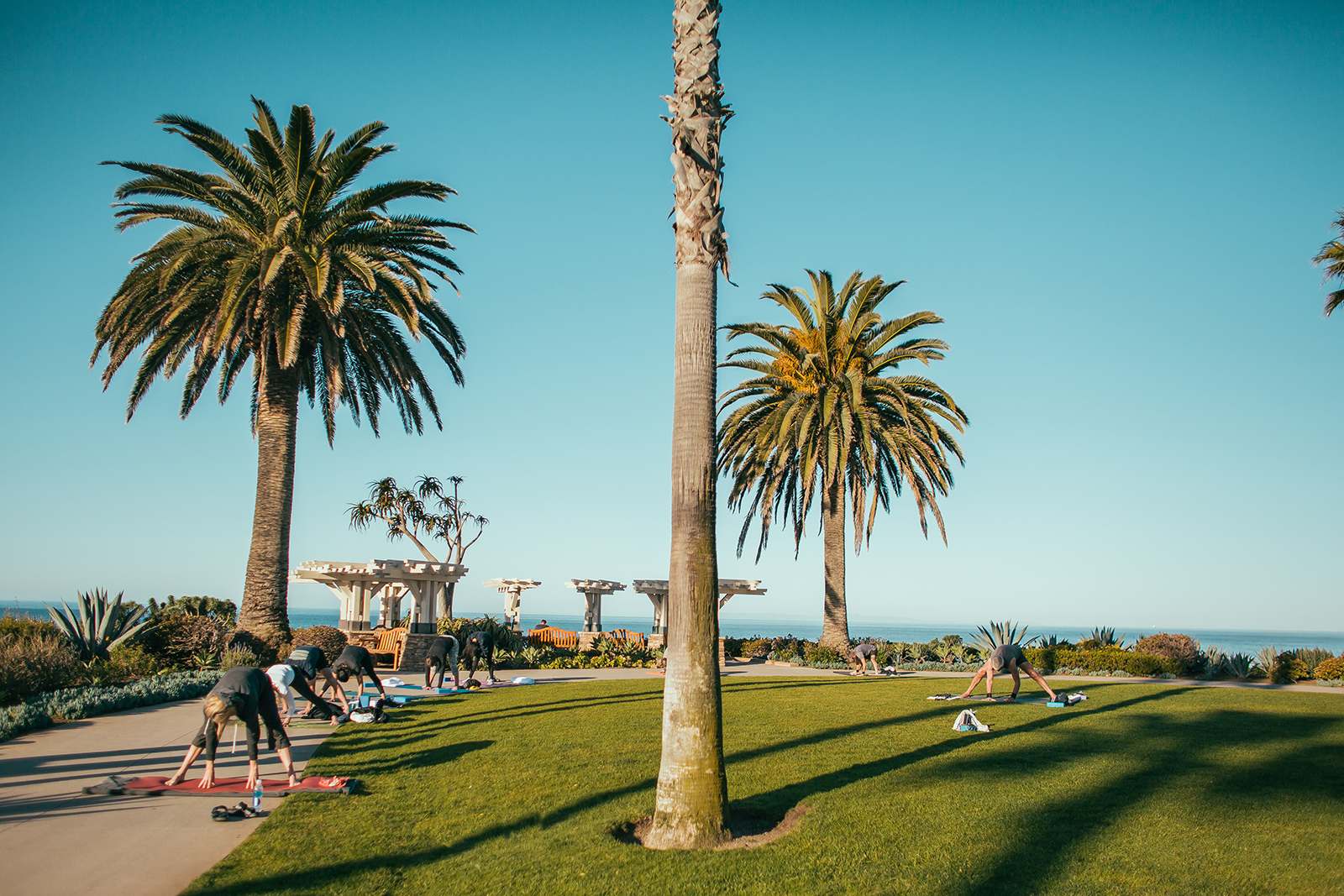 A small crowd gathers on a sunny morning in Laguna Beach to watch a plein air artist paint the spectacular scene before them. With rapid strokes she captures the jagged cliffs, cloudless blue sky, and sparkling water far below, where surfers in black wetsuits await the next big wave.
Founded by artists who migrated south from San Francisco, this Southern California town stays true to its bohemian roots more than 100 years later: indoor art galleries and outdoor art displays abound.
A few kilometres away, in a manicured park overlooking the Pacific, a dozen or so people stretch their arms to the sky during an intense 90-minute yoga class.
On sandy Main Beach, between where the artist paints and the yogis stretch, half a dozen people are laughing and giggling as if they've just heard the funniest thing in the world. Surreal scenes like this, brimming with happiness, are common here.
So what's going on?
It's the place.
"I didn't do research, but the moment I walked into Laguna Beach, I said, 'The energy here is amazing,'" explains Stacy, a seventh-generation psychic who moved from LA to open Chakra Spa and Gallery. "You can't be upset… There's this calm."
And it's the people.
Along with an artistic sensibility and possibly because of it, locals have a zest for healthy living that they satisfy in any number of ways, from attending free classes in natural outdoor settings to seeking five-star treatments in luxurious resorts.
To help visitors enjoy the same experiences, the town recently produced a guide called Pathway to Zen, with a dozen stops.
Those people laughing on the beach are with Laughter Yoga, the first laughter club in the Western Hemisphere that meets daily. Why? Because laughing is good for you. It boosts endorphins and relieves stress. And it's just plain pleasant.
More unconventional wellness options include the Beauty Drip at Thrive Vitamin Drips and Shots, where a licensed registered nurse administers a blend of biotin and other minerals and vitamins intravenously. At Chakra Shack, place your hand on a biofeedback machine, and sensors measure and analyze your emotional and energetic state.
A California Wildflower massage with heated herbal poultices is one of the treatments at Spa Montage, a 20,000-square-foot spa in the Montage Laguna Beach resort, overlooking Treasure Island Park.  And it is just as lovely as its namesake.
And tucked between canyon and coastline, Sycamore Spa at the Ranch at Laguna Beach offers a Wellness facial using mineral-rich French green clay from Immunocologie that leaves us glowing.
Pathway to Zen also gives guidance on where to eat.  At the Stand Natural Foods, a simple red shack that's been serving vegan-only fare for more than 40 years, hearty and healthy bean and rice tostadas smothered with guacamole and salsa are on offer.
Downtown, Zinc Café & Market is inspired by food activist Alice Waters of Chez Panisse in Berkeley and is known for its nourishing breakfasts and tempting baked treats. Be sure to try the turmeric latte.
After you're sated, the path keeps upfolding.
Hike or bike through a landscape of sage, chaparral, and oak trees in the town's 20,000-acre protected wilderness. The Pathway to Zen winds to the Top of the World, a scenic lookout that takes in the stunning coastline and Catalina Island.
Like any holistic journey, other options abound. Kayak with La Vida Laguna on a guided tour and look for orange garibaldi swimming in kelp forests and sea lions lazing on rocks.
Or venture deep into the Alison and Wood Canyons Wilderness Park for a nine-hole game of golf at Ben Brown's, beloved by locals and part of the Ranch at Laguna Beach. It's easy to find your Zen in this dramatic landscape with cliffs rising on either side. Here, a missing ball warrants nothing more than a shrug.
Wellness seekers will also feel good about staying at the Ranch, California's only National Geographic Unique Lodges of the World. With environmentally friendly practices such as crushing glass water bottles into sand, the property is doing its part to keep Laguna Beach a desirable destination.
________
Never miss a story. Sign up for NUVO's weekly newsletter here.