The World's 12 Best Food Halls from Six Continents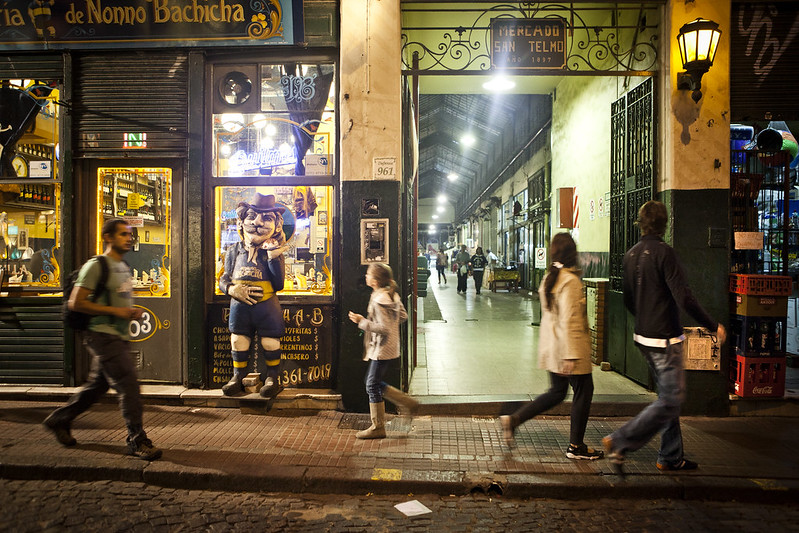 Food halls—destinations where food producers, self-professed artisan bakers, and budding chefs come together in one district, often under the same roof—are more than just a trend and are here to stay.
Popping up all around the world, food halls cater to those who are compelled by food on an aesthetic level or want to experience culinary discoveries without the restrictions of sitting down in a restaurant with stiff table service.
Sprawling markets featuring mini-restaurants, gourmet food shops, and fabulous eateries offer all kinds of food— homestyle or fine. You can find home-cooked Mexican food or dine under the banner of a Japanese sushi master; offering a variety of smells and moods, food halls are cosmopolitan markets that bring in ingredients from Taipei to Brooklyn and beyond.
DeKalb Market Hall, Brooklyn
The United States of America has food halls in almost every state now, especially given the many different cultures represented there. DeKalb Market Hall is one of the best on the East Coast. The standout vendors include a mix of new startups, as well as old-school New York favourites. Legendary pastrami sandwich Katz's Delicatessan has a branch here, as does Queens' famous  Arepa Lady. Also noteworthy is the Gowanus BBQ spot, Fletcher's BBQ. The venue has a performance space for comedy and concerts accompanied by a bar, so that you can enjoy yourself after eating in this microcosm of Brooklyn.
Mercado La Paloma, Los Angeles
Mercado La Paloma is one of the special food halls with more than just a mission to feed hungry foodies; its sales and initiatives benefit the people of the great Figueroa Corridor, particularly the community in Esperanza. Strong Latin American flavours fill the mercado day and night with the sharing of not just good food but also cultural activities. The most popular include Oaxacalifornia for its Oaxacan-style sandwich platter, as well as Chichén Itzá, owned by chef Gilberto Cetina (go for the slow-roasted pork, cochinita pibil). Other vendors offer shark empanadas and vegan stew, plus there is a phenomenal juice specialist.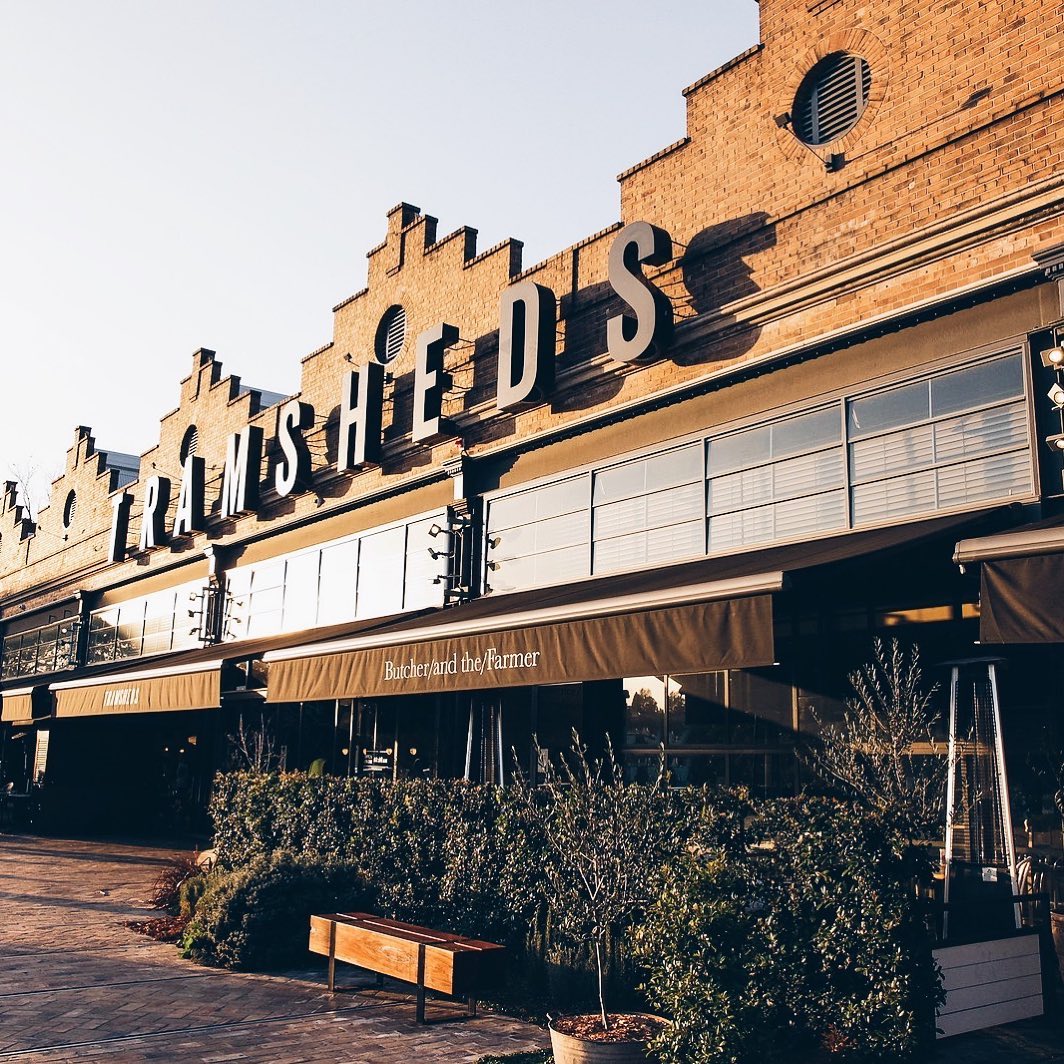 Tramsheds, Sydney
Tramsheds is located in a historic building dating back to 1904; the old tram depot,now home to seven community-based retailers, and 11 restaurants and cafés, is a vibrant culinary hub.  Butcher and the Farmer has standout homemade sausages and cured meats which can be enjoyed in a vintage stationary tram, while Garçon is the spot for French classics. Gelato Messina is the perfect way to finish off your day with artisanal Italian sweetness.
Barangaroo, Sydney
High-end and sustainable, Barangaroo is Sydney's best spot for dining if you are craving beautiful panoramic views of the harbour and great food. Its 22 hectares of land are positioned between the city and the Barangaroo reserve, creating not just a hall but also a civic focal point honouring the Aboriginal leader  for which it is named. An open-air junction hosts eateries, restaurants, small Aussie cafés, and dessert spots. Often buzzing with people, Cirrus Dining is a must for its sustainably-caught fresh fish, – Lotus  offers contemporary Chinese and dumplings, and Verd serves plant-based dishes to keep you—and the planet—happy. The best one on the block has to be Anason for authentic Turkish fare: homemade bread, smoked salmon, and dips by local chef Somer Sivrioglu.
Keelung Fish Market, Keelung
The Keelung Fish Market is where all Taiwan's best chefs shop for the freshest locally caught seafood. You won't find much online about this market; you have to go yourself. Early in the morning, before the sun rises, watch more than a dozen boats bring in the best seafood and enjoy a fresh bowl of fish on rice for breakfast with chefs and locals alike. For late-risers, the street-food stalls at Miaokou Night Market open up earlier these days and offer some of Taiwan's best food. Walk around and stop at any of the vendors with long lines, but be sure to get local delicacies like the fish and noodle soup or the steamed fish paste, as well as the bubble tea and shaved ice.
Depachika and Commune 2nd, Tokyo
Japan's infamous Depachika, which loosely translates to department-store-food-court are everywhere. Before you turn your nose at this concept, there is nothing stale about them, and they often offer upscale cuisine and charming decoration. They are found in all high-end department stores in Ginza, and deserve a mention.
For those looking for something more eclectic and definitely more Tokyo cool, Commune 2nd is a great food hall to visit. This bundle of food stalls, shacks, caravans, and farmer's market is an ambitious open-air experiment. Fresh fish at Fish Coop, vegan food at Cori, and even Hawaiian food are on offer.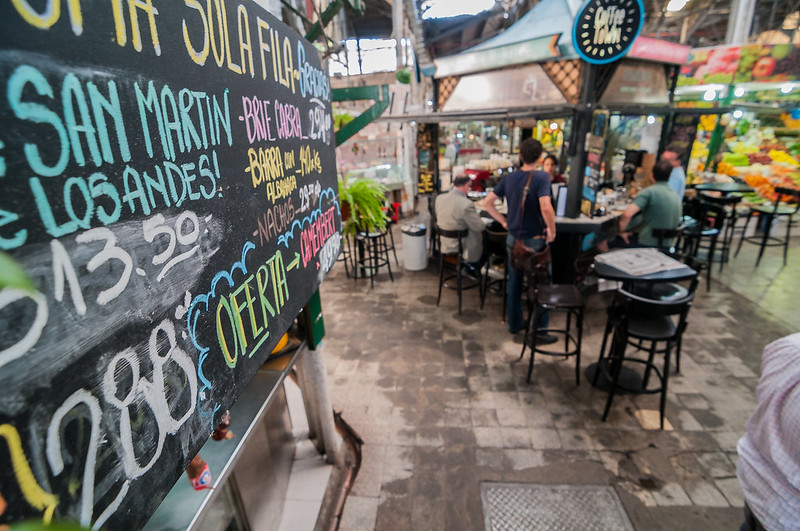 San Telmo Market, Buenos Aires
The San Telmo district of Buenos Aires dates back to the 17th century and is known for its eclectic vibe. On weekends, the neighbourhood comes alive with an expansive flea market, but during the week, the area is best enjoyed with strolls to the pop-up art galleries and San Telmo Market. With a decidedly old-world façade, the market is not as bustling as others around the world, but it does have pillow-like empanadas, a specialty coffee roaster, andan old-school Argentinian steak hut, which is directly outside the market's main entrance. The whole San Telmo area is full of small eateries surrounding the market, offering plenty of opportunities for the adventurous traveller.
Mercado de Produtores (Uptown Market), Rio de Janeiro
By taking a short drive out of downtown Rio and bypassing Ipanema beach you come straight out into the more residential but equally charming beach town known as Barra da Tijuca. Mercado do Peixe, one of the last surviving food markets in the area, has now been brought back to life as Mercado de Produtores.
It is a lively place for small family-run eateries to share their culinary dishes. There are vendors selling ceviche at Ceviche da Fabi, Middle Eastern eats, and Argentinean empanadas at La Empanadera. Artisanal beers at Tio Ruy Beer House draw in a big crowd on weekends. For food souvenirs, Delícias da Canastra is the perfect place to buy cheese and cured meats, as well as wine.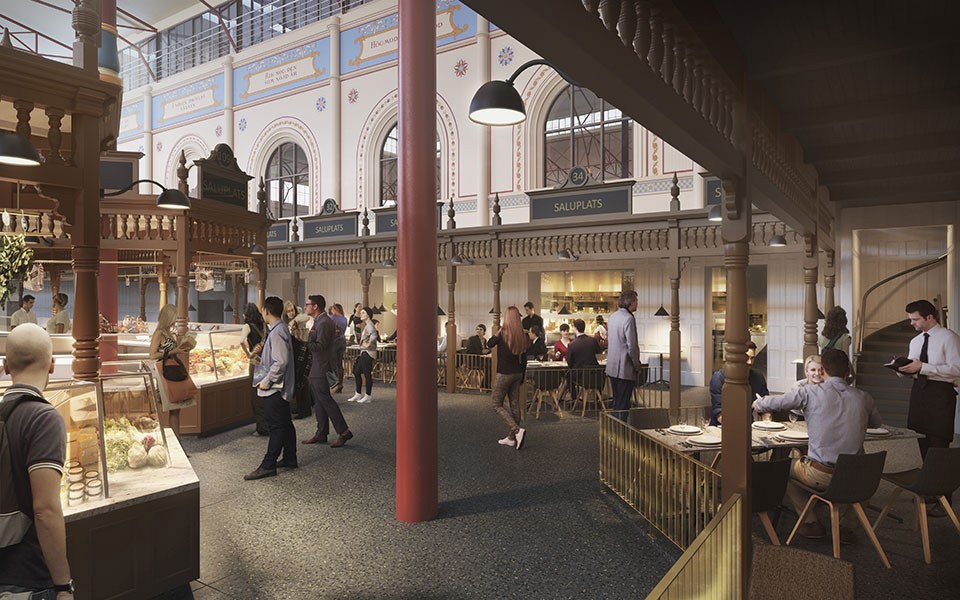 Östermalms Saluhall, Stockholm
Östermalms Saluhall is one of the country's best food halls and where all the great gourmet chefs of Stockholm go to shop and eat. Built in the 1880s, the food court has undergone recent renovations and is now  better than ever with traditional Swedish dishes for both locals and tourists to enjoy. All vendors focus on fresh, local produce. Lisa Elmqvist and Melanders Fisk are great for seafood lovers with grilled fish and raw fish salads, while Hussmans Deli is the perfect spot to design your own sandwiches with locally produced cheeses and cured meats.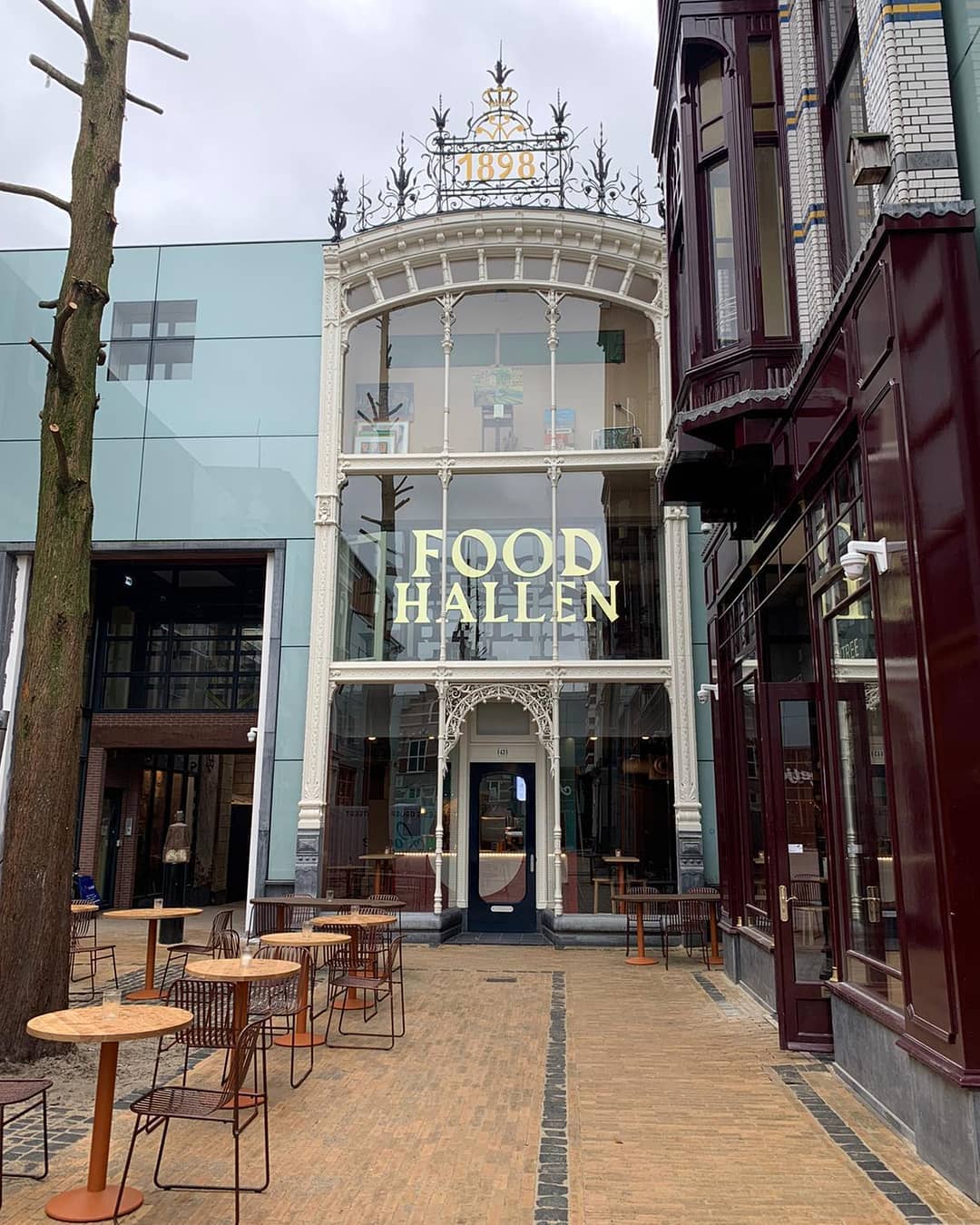 Foodhallen, Amsterdam
Founded in 2014, Foodhallen has since expanded to two other cities in the Netherlands with a strong belief that good food strengthens a community. Why not? With 21 artisans and food vendors in this Amsterdam location, there really is a lot to choose from, including mezze at Maza, Asian-inspired steamed buns with fried fish at Le Big Fish, and Spanish charcuterie plates at Jabugo Bar Iberico.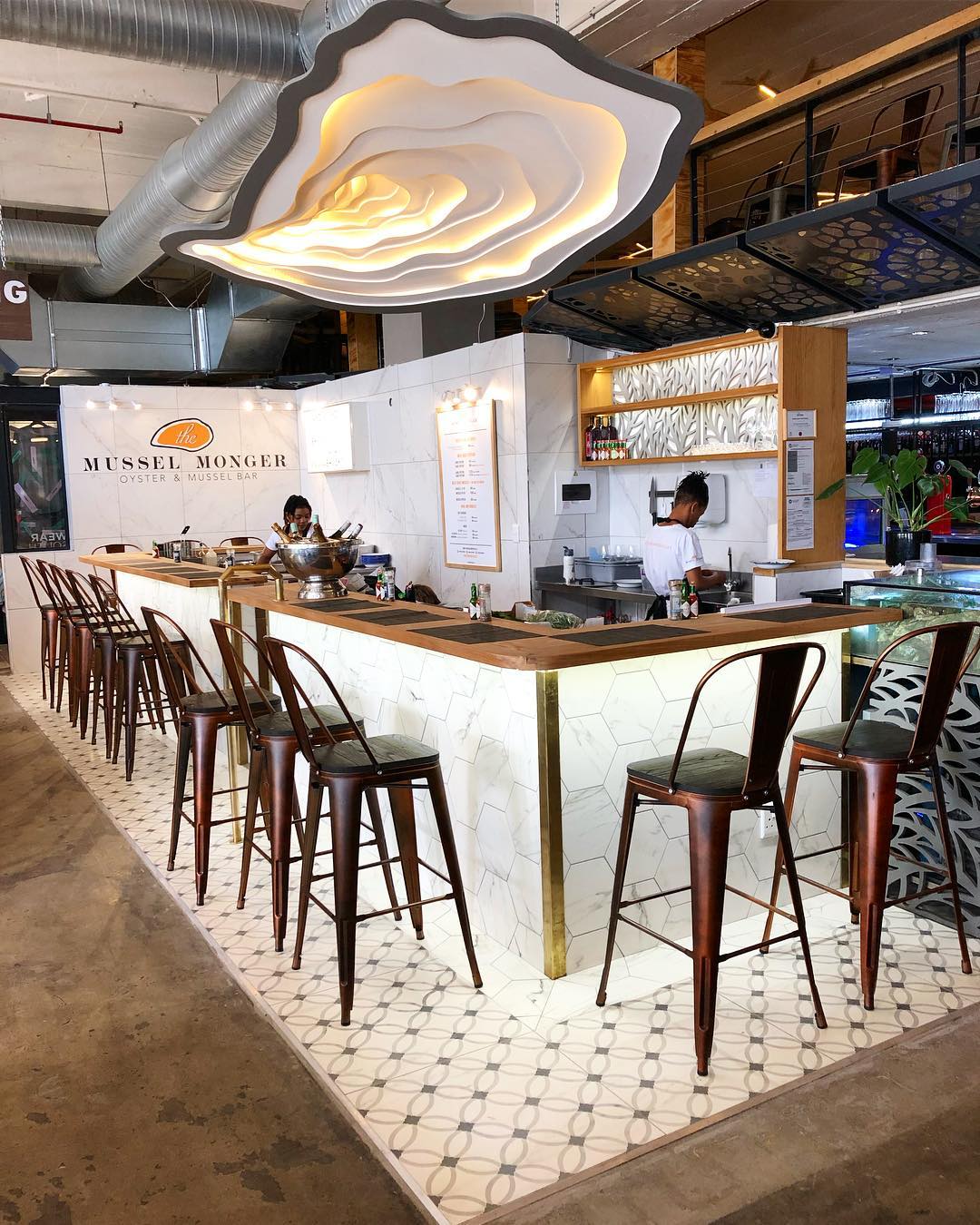 Mojo Market, Cape Town
Open seven days a week, the Heart of Sea Point has become a place of congregation for food enthusiasts because of the inventive combination of cuisine and live music. With 30 food stalls, four bars, and a rotating list of artisan retailers, it is easy to lose track of time among cuisines ranging from Thai food with African accents at All Thai'D Up to a detox juice bar called Beetbox RX and mussels at Mussel Monger & Oyster Bar.
Arts on Main, Johannesburg
Arts on Main is in Johannesburg's famous Maboneng Precinct, known as a hub for creatives including but not limited to musicians, artists, and emergent chefs. Located in a converted warehouse and surrounded by artists' studios, galleries, and curio shops filled with goods by undiscovered designers, the Sunday market with food by local stars keeps the whole affair running, deliciously. Start out with an Ethiopian breakfast of injera and stewed vegetables from the Little Addis market stall, chase it down with a beer from Smack! Republic Brewery and finish off your day with a cheesecake or organic chocolates with coffee from Black Coffee.
_________
Never miss a story. Sign up for NUVO's weekly newsletter here.