Crafting bespoke wallcoverings in rural America.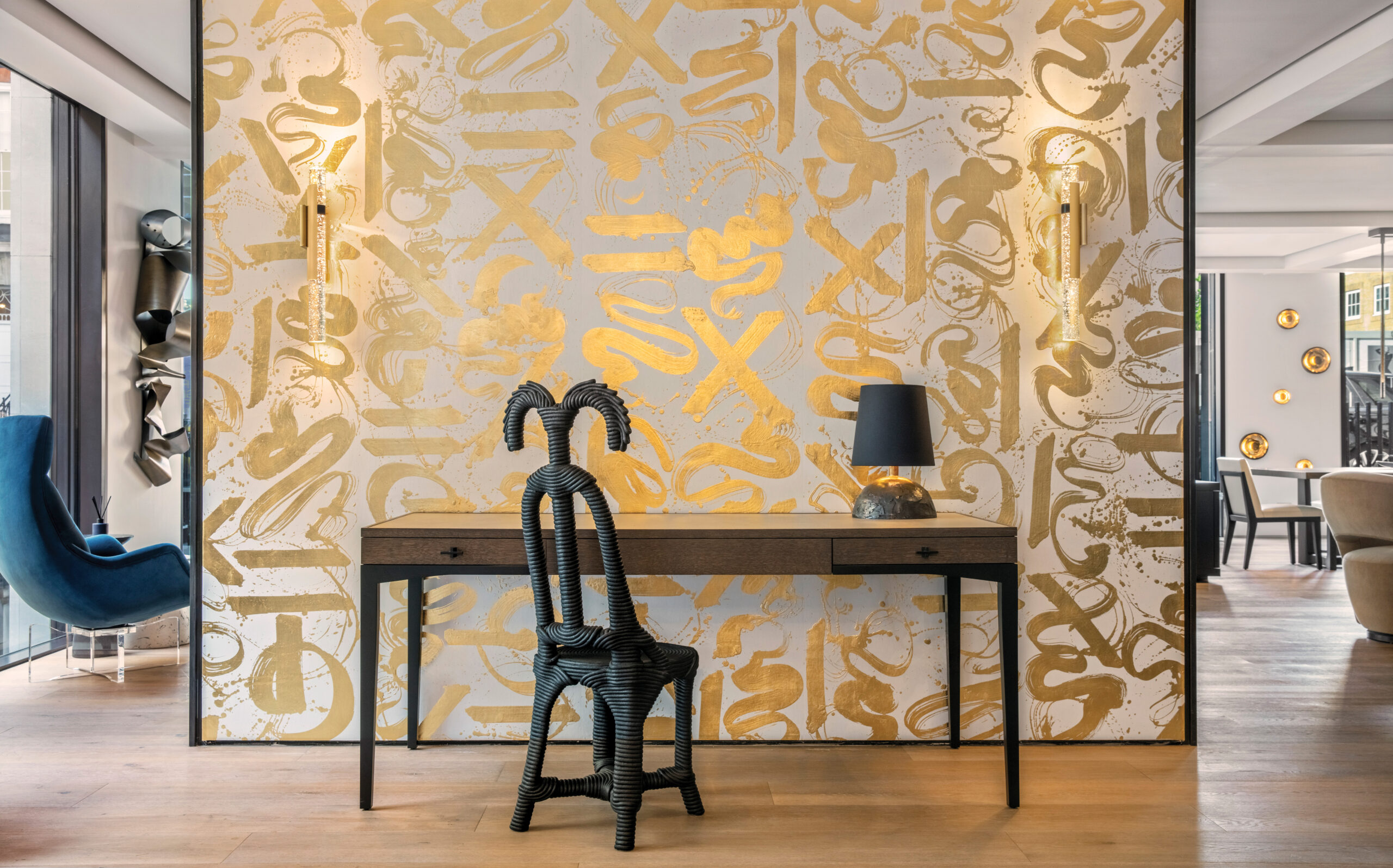 Working in the pastoral countryside of the deeply forested Ozark Mountains, the design alchemists of Assemblage are on a mission to create the most exquisite handmade wallcoverings on the market.
Founded by husband-and-wife team Christian and Heidi Batteau in a repurposed seed mill in Witter, Arkansas, in 2013, Assemblage is an award-winning wallcovering manufacturer whose products are in museum collections.
The couple met while studying at the Kansas City Art Institute, where Christian supported his education by learning the ancient art of Italian plaster craft by working on decorative painting and restoration projects. After a stint in New York, where Heidi produced textile designs for the hospitality market and Christian worked in the studio of art superstar Jeff Koons, the couple decamped for Witter, Heidi's childhood home, to fine tune wallcovering products for sale to their network of luxury clients and architects. "For the luxury interior designer and hospitality market, custom wallcoverings have always been a go-to option," Heidi notes. She says it can add an extra layer of interest and warmth to a space without having a decorative painting crew on site for weeks at a time.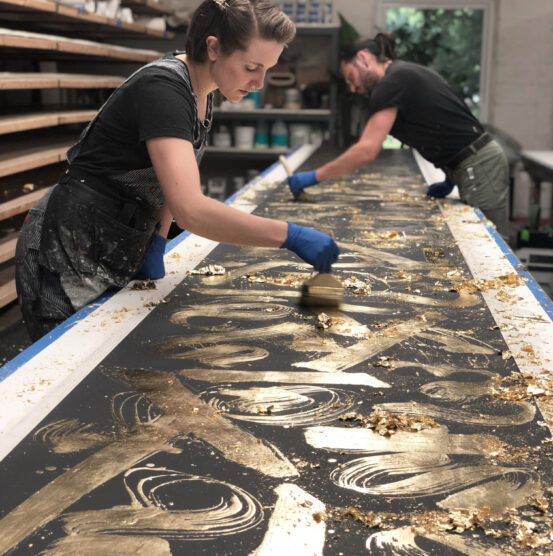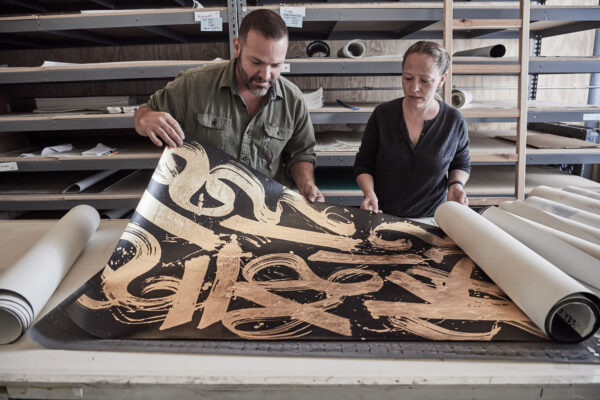 Transferring his mastery of decorative plaster techniques to a horizontal surface, Christian fashions luminous and tactile designs on large, flat, swaths of paper that would be impossible to produce on a vertical wall. "We use traditional Italian trowels and spatulas as well as handmade tools and brushes to apply marble dust plaster, micaceous powders, and precious metal leaf, all by hand," he says. As Italy, where the same techniques have been used for thousands of years, no machines are used.
Working in the large, airy studio space allows him to control the environment and to produce more than 30 hand-crafted patterns that can be customized by colour for clients.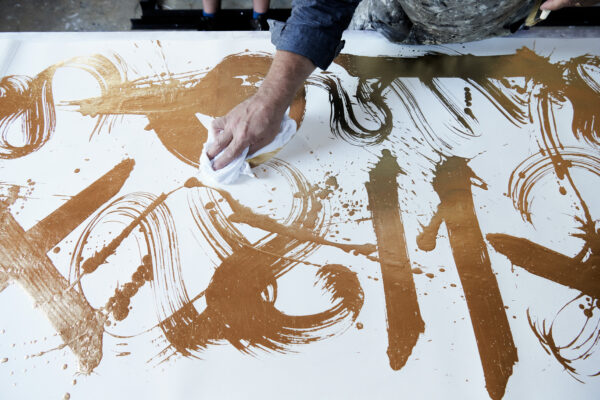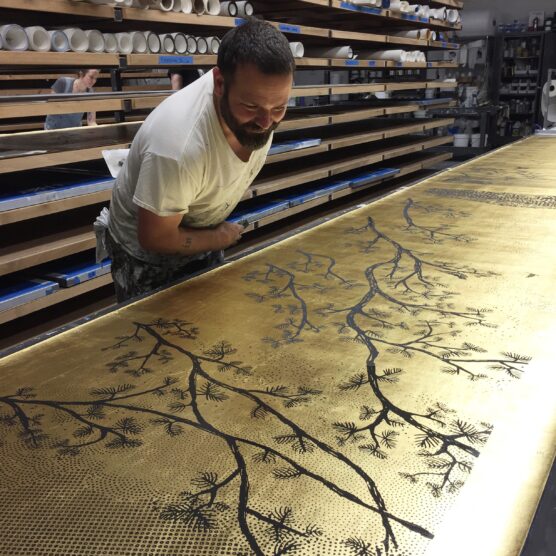 All the wallcoverings are made by hand to order. The time-consuming, labour-intensive manufacturing process takes years to master: the work is an alchemy of fine art and science. Christian and his team spent years formulating the company's Bast wallcovering, reinterpreting Coco Chanel's iconic bouclé textile as a luxurious tactile wallcovering made with marble plaster, mica, and beeswax.
The Batteaus have been fortunate to attract like-minded skilled artisans who share the couple's vision of craftsmanship and care in the production of sumptuous handmade wallpaper. Such expertise is coveted by luxury clients like Tiffany & Co., Chanel, Louis Vuitton, Dior, and Saks Fifth Avenue, as well as architects and interior designers.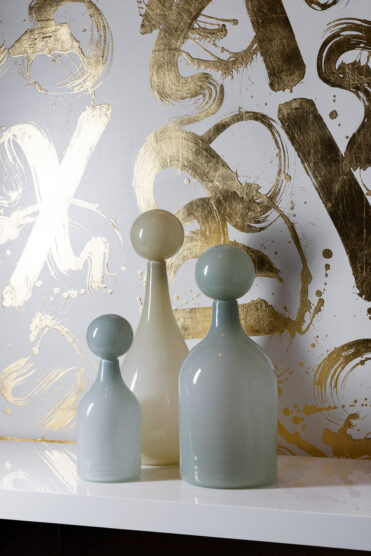 And while Assemblage is used in the highest end of the industry, Heidi is quick to note that its products are available to anyone. "We treat each client project with the same care as every project we work on."
Customized wallcovering products demand client patience as much as an artist's skill. After design approval, the order may take up to 16 weeks to ship. An investment in such wallcoverings also merits hiring professionals. Assemblage maintains a list of suggested installers who can ensure successful mounting of the elegant wallcoverings for appreciative clients' lasting enjoyment.
In Canada, Assemblage wallcoverings are available through the Primavera showroom in Toronto.