Home of the Week: Achilles House by ConForm Architects
Hampstead is widely considered one of London's most desirable neighbourhoods. With direct access to Hampstead Heath, a vast public space made up of rolling hills, forests, meadows, and ponds, it has the bucolic appeal of nature even though it is centrally located. Lined with brick Victorian townhouses, its streets are leafy and walkable. Though that architecture makes for charming streetscapes in aggregate, the interiors of Victorian houses can be cramped, with outmoded layouts and room sizes.
Such was the case with this property. A brick townhouse in a quiet part of Hampstead, it was desirably located and had Victorian charm, but its interiors needed to be coaxed into the 21st century. The clients turned to ConForm Architects, a London firm known for its considerations of existing and historic architecture and for its inventive use of materials.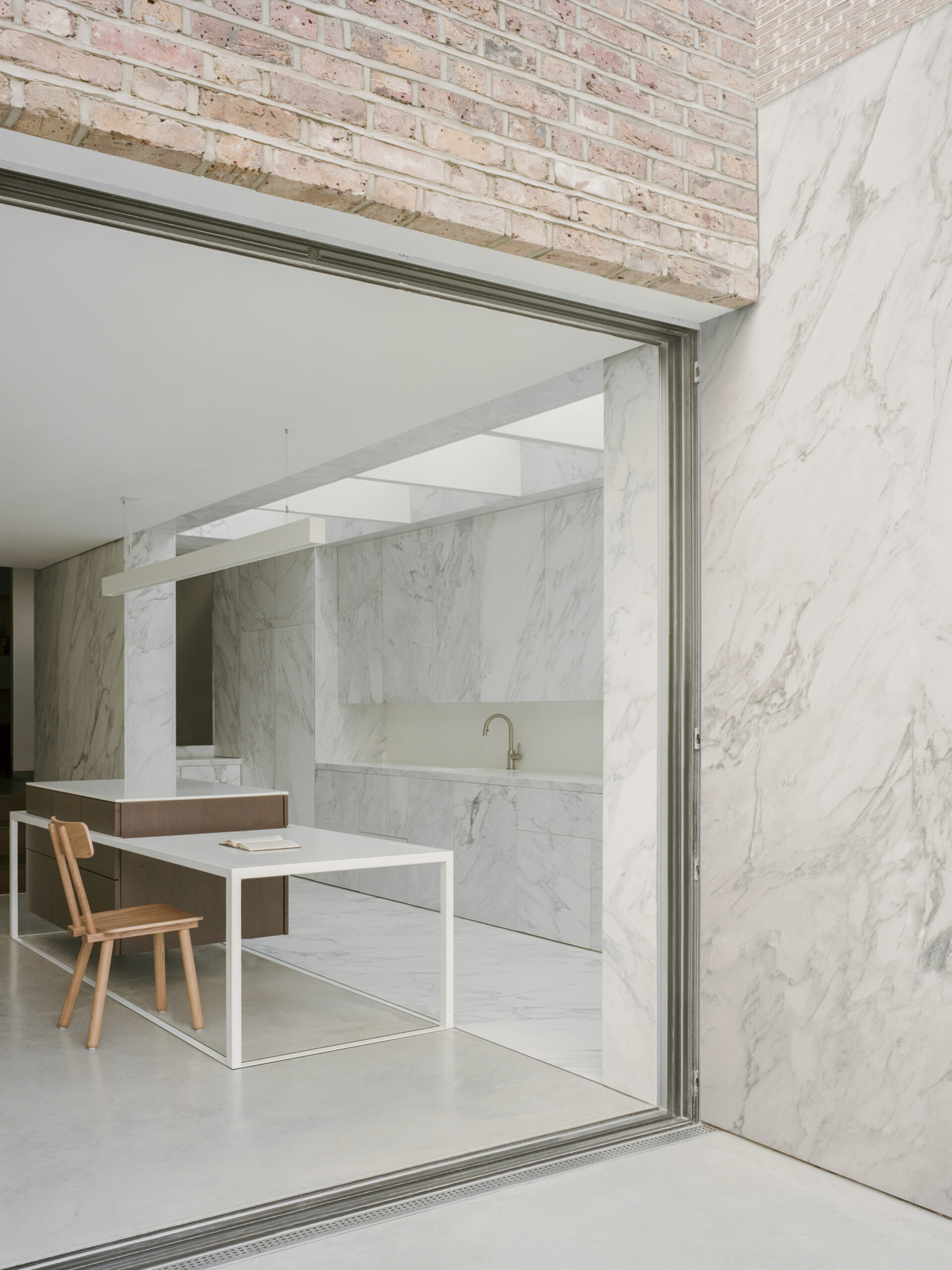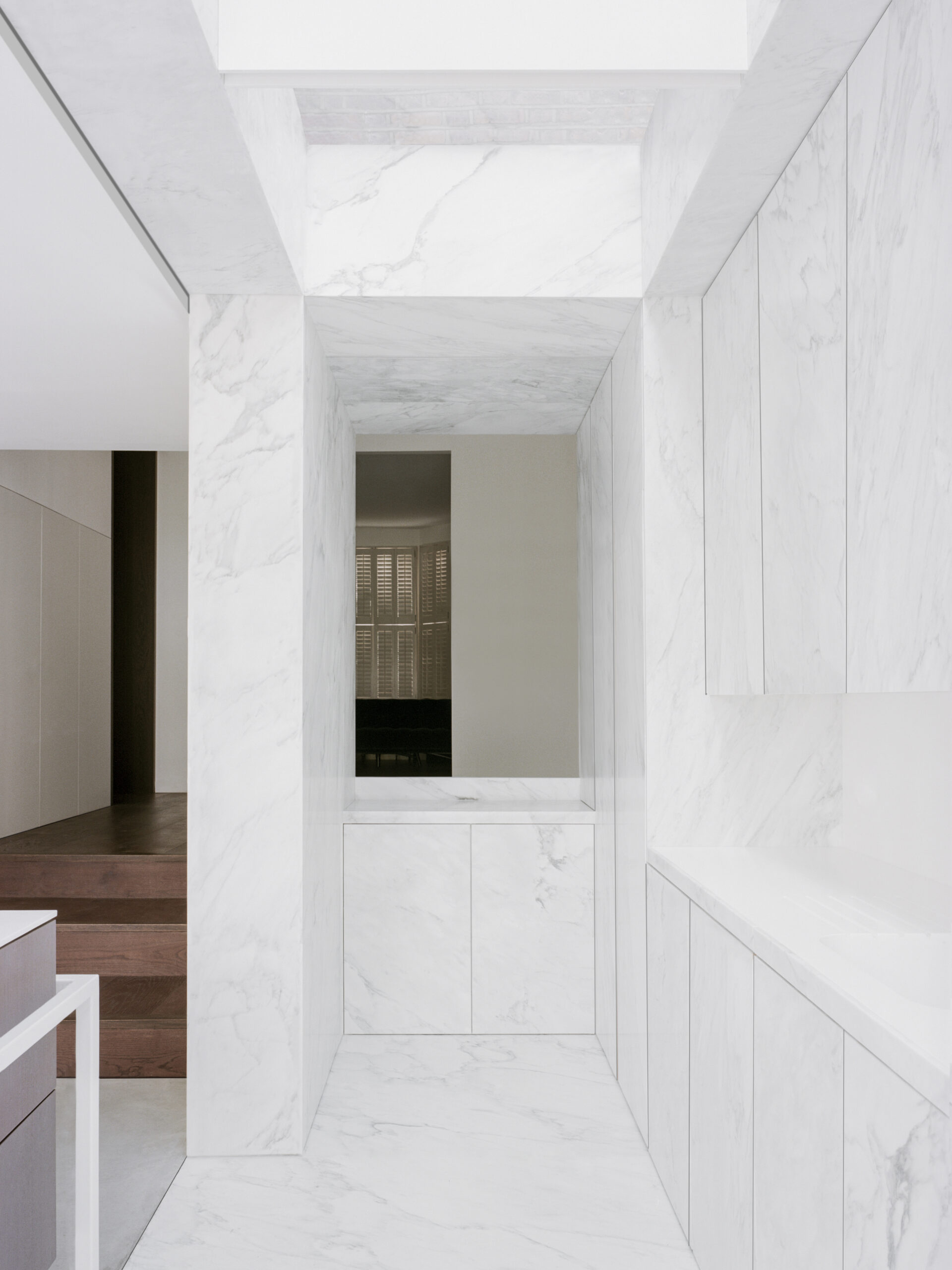 The footprint of the original house had a wedge of open space between it and its neighbour. It was there that ConForm proposed an extension, which would let the clients add more interior space while simplifying the layout and circulation. To create a clear distinction from the textured red-brick walls of the old house, the architects made the extension out of light white-grey marble—but not just marble accents here and there. Instead, they clad it entirely in marble, making it seem the new extension was carved from a solid mass.
Though the marble creates a striking contrast between old and new, one of the design intents was to create continuity between interior and exterior. On either side of the extension—seen from the outside and inside—the architects created a clearly articulated form, its angular lines tapering into chamfered edges.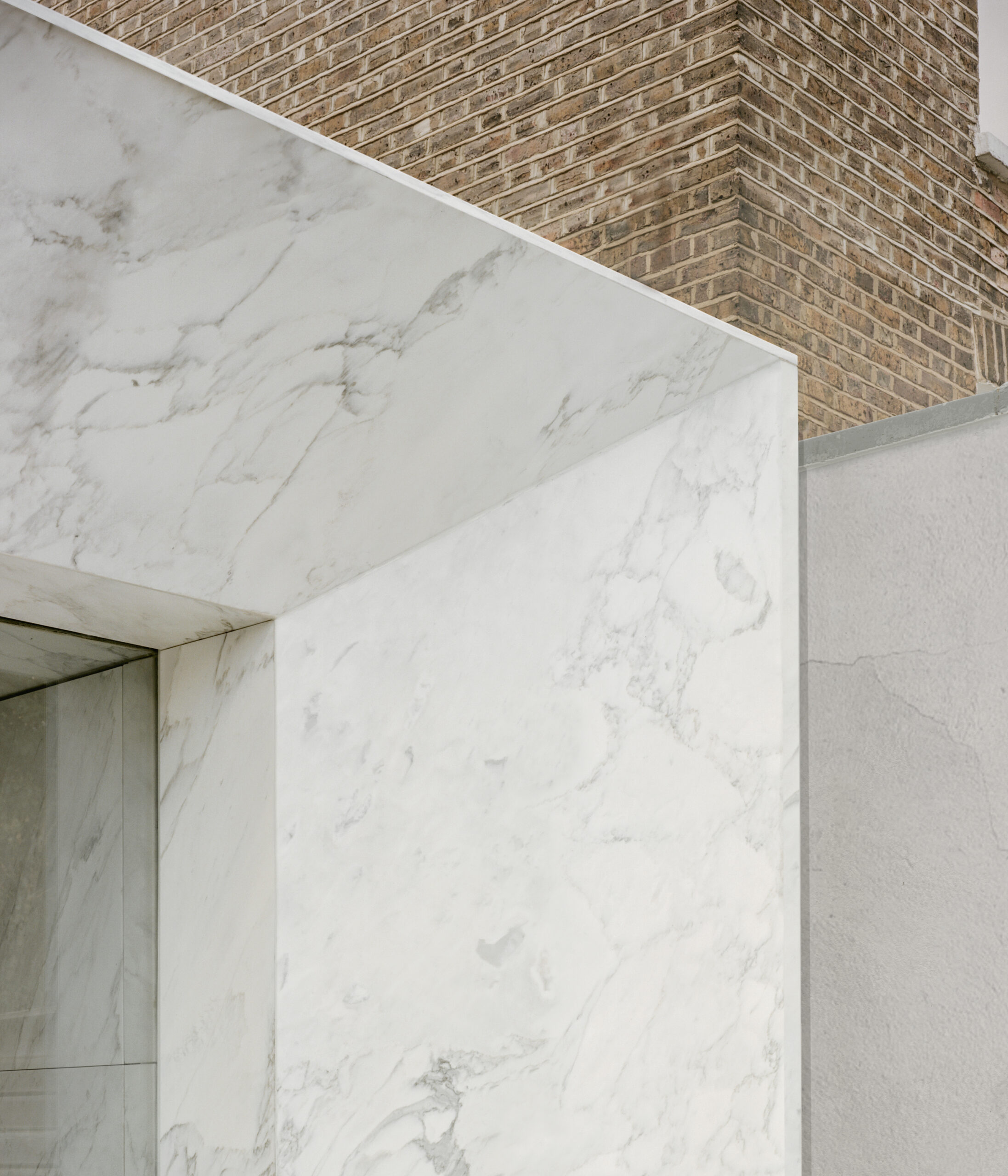 Working with Nida, a marble specialist, ConForm devised a solution that would allow marble on surfaces that couldn't handle much weight, including doors, drawers, appliances, and soffits. On these surfaces, the material is a mere six millimetres thick. For the countertops, they turned to Corian quartz for its durability and to avoid marble's porosity, which can result in stains. The stained-oak kitchen island has a sense of lightness when set against the marble environment. Though the form has the meticulousness of a sculptural object, it also works as a house. Cooking and dining are favourite pastimes for the clients, who say, "The result is a beautiful and unique home that functions easily for our busy day to day, and that we enjoy living in as a family."
Photography by Lorenzo Zandri.