Casa Angelina on the Amalfi Coast
Sleeping by the sea in converted fishermen's houses.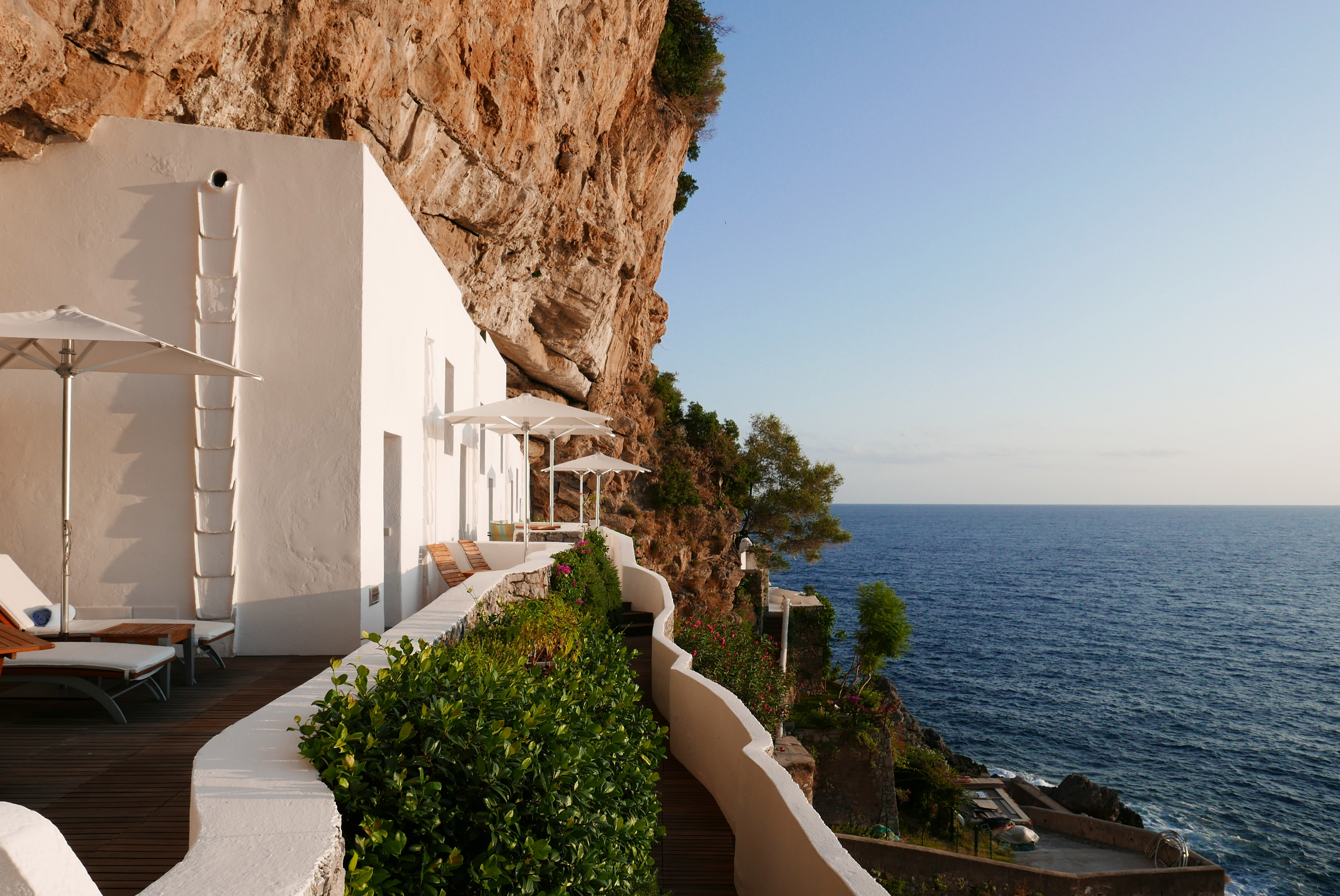 It is a vista of unmistakable Italian eye candy: the cascading hills of the Amalfi Coast, its pastel buildings teetering on the edge of the Tyrrhenian Sea. If Sorrento is considered the gateway to the Amalfi region and Positano its beating heart, you might say Praiano, just beyond, is its lungs—a breath of fresh air. With a population of just 2,000, this beautiful fishing town feels removed from the frantic bustle of Positano, a 25-minute drive away.
To get to Praiano, you must first navigate the narrow, twisting two-lane Highway SS163, the famous Amalfi Drive, brimming with roadside olive and lemon trees, and flowers cascading over stone walls. Beyond, the ocean is cut with the sparkle of speeding yachts; this is also the view from Casa Angelina, perched cliffside, one of Praiano's most coveted boutique hotels.
Named after owner Tonino Cappiello's mother, Casa Angelina is a five-star oasis with an art gallery aesthetic (it's filled with colourful paintings and bold sculptures) and excellent cuisine (including a regional specialty, Nerano-style pasta, tossed with Parmigiano-Reggiano, zucchini, and basil—here prepared with a flourish, tableside). The view from the hotel suites is sublime, of course, but the most unique accommodations are a 200-step trek down a winding staircase carved into the rock face. Here, close to sea level, are the Eaudesea Experience rooms, built into the cliff in a place where fishermen would take shelter from the beating sun.
These slightly remote, ultra-romantic abodes are perched on a ledge above La Gavitella Beach, accessible only by foot or boat and dotted with orange sun umbrellas in the summer months. The four Eaudesea Experience rooms are rugged-luxe—think exposed rock accents to break up the whitewashed walls, and Amedei chocolates resting on the pillows. They're serviced by two dedicated butlers, on hand to set up al fresco meals whenever needed; a private patio breakfast with strong Italian coffee, fresh pastries, charcuterie, and cheeses is highly recommended.
After a late afternoon swim in the sea below, it feels extra luxurious to take the quick 30-second walk to an Eaudesea Experience room, rather than hiking the 200-plus steps up to street level. The only thing left to do? Order a spritz and take in the sunset, which bathes distant Positano in an Aperol-coloured light. Cin cin.
_________
Never miss a story. Sign up for NUVO's weekly newsletter, here.