Savouring it all, Italian-style.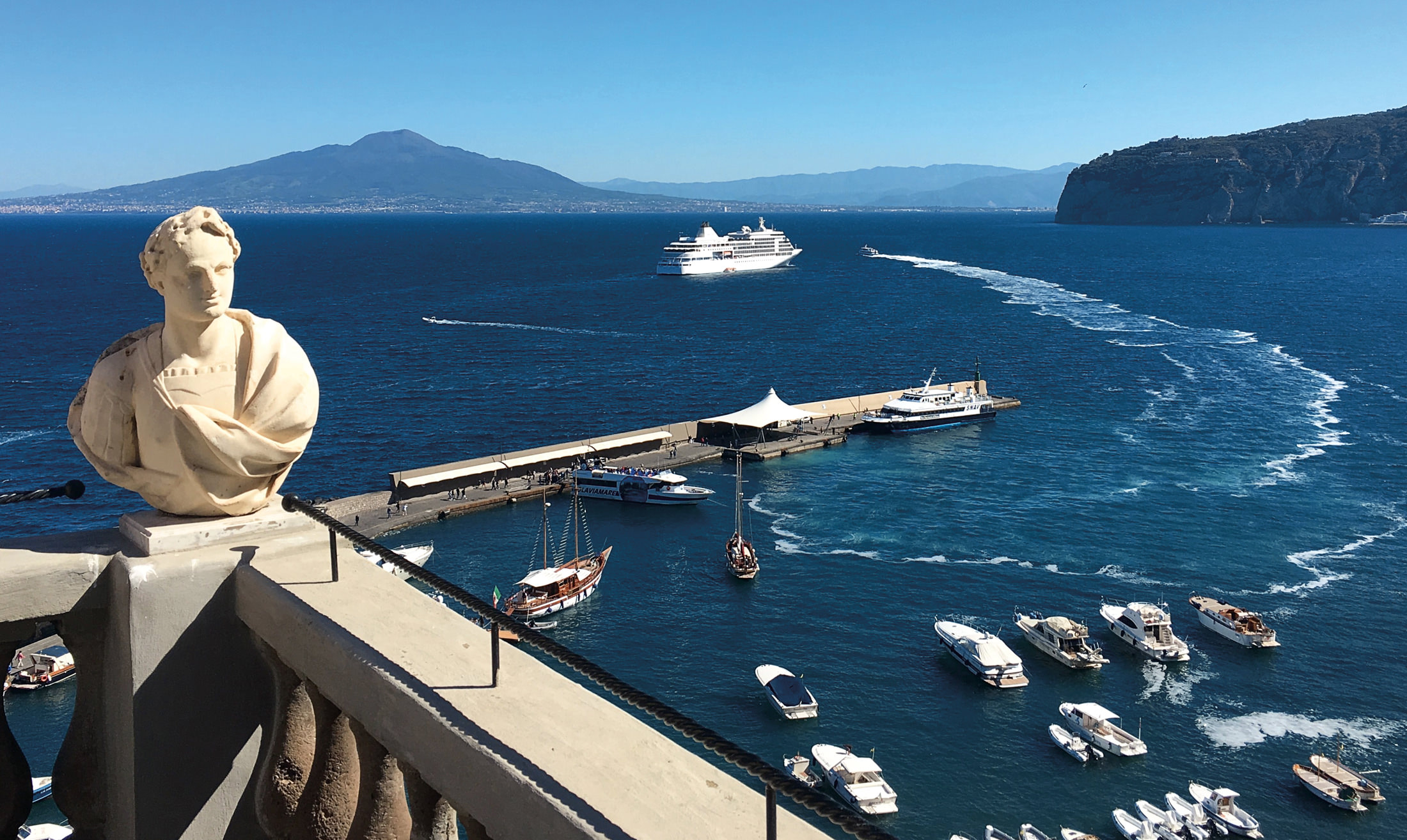 One of the most famous citrus fruits on the planet is the Sorrento lemon. Thought to be the result of a spontaneous lemon mutation from the 16th century, its flavour strikes a wonderful balance between sugary sweet and tart. Thick skinned, fragrant, and juicy, with a slightly bumpy rind, about 60 per cent of annual production goes straight into bottles of limoncello. At the Grand Hotel Excelsior Vittoria, the grove of limone di Sorrento is a star in its own right.
These vibrant orbs are plucked and used for their zest, rind, and juice in meals served at on-property Michelin-starred restaurant Terrazza Bosquet. They grow upon royal ground, widely thought to be the location of Roman emperor Augustus' villa (preserved ruins can be spied near the outdoor pool). The likes of Claudia Schiffer and Marilyn Monroe have walked amongst these trees, as have Luciano Pavarotti and Sophia Loren. And the fruits have made repeated appearances on the silver screen. "Pierce Brosnan played a lemon grower in Love Is All You Need, which was filmed here," recalls the hotel's fifth-generation owner, Guido Fiorentino, as he walks me through the garden on a warm afternoon. "He returned with his family for his 60th birthday and loved sitting out here, painting the lemons."
It's easy to picture them all wandering through this cliffside garden perched mere metres from the Gulf of Naples. Here, boats whisk guests down the neighbouring Amalfi Coast to places like Positano, where fishing boats share the water with flashy yachts. This coastline is widely celebrated, and scenic Sorrento (population 16,500) acts as a gateway to it all. The Excelsior Vittoria stands upon the town's most coveted five-acre plot, as close to the water as can be; expansive patios give 180-degree views of Capri and Mt. Vesuvius. Leaving the property's front gates is like exiting an Italian fairy tale: from a Mediterranean garden oasis, the air infused with the perfume of flowers, you walk straight into Sorrento's busy town centre. True to feel, the hotel is not of this era.
Leaving the Grand Hotel Excelsior Vittoria grounds is like exiting an Italian fairy tale: from a fragrant Mediterranean garden oasis, you walk straight into bustling Sorrento.
Opened in 1834 by the Fiorentino family, the Grand Hotel Excelsior Vittoria was part of the Grand Tour rite of passage taken by many upper middle-class Europeans when they came of age. In its early days, being the only residence in Sorrento with electric lights, fishermen used its glow to locate the town at night. Today, general manager Tiziana Laterza runs the hotel, and owners Guido and his wife, Ornella, oversee the grand vision for the family property.
The Fiorentinos took over in 2010 and immediately reduced the number of rooms from 97 to 84 within the property's three 19th-century buildings, and restored the Terrazza Bosquet restaurant, which was later awarded a Michelin star in 2013 for its seafood-forward plates—think branzino with saffron marinated in fish broth, handmade parsley tortellini with tuna, and whimsical tomato gelato. The on-site garden supplies the kitchen with fresh vegetables and herbs, including lemon balm, basil, local pomodoro tomatoes, and artichokes; the vast stone wine cellar boasts 6,000 bottles.
A stay here feels much like being lifted from real life and dropped headfirst into an alternate reality. This ambience is pronounced at the outdoor L'Orangerie terrace, canopied with wisteria blossoms and bordered by rosemary bushes. Margherita and citrus-marinated shrimp pizzas, made in an outdoor oven, are the order of the day; with Naples, birthplace of pizza, just around the corner, they are impeccable. (Fastidious chefs at L'Orangerie have been known to remove—and swiftly remake fresh—a pizza that has sat untouched for too long while the diner was caught up on a phone call.)
The attention to detail at Excelsior Vittoria is legendary. Chairs in the solarium were designed by art nouveau architect Ernesto Basile, purchased at auction in Paris by Fiorentino's mother. She had wanted the full collection, but lost a few to the Musée d'Orsay; here, you can sit on them with an Aperol Spritz in hand.
A stay here feels much like being lifted from real life and dropped headfirst into an alternate reality.
One morning, Fiorentino leads a small group of us down the guest-access-only elevator to his private boat in the bay below. We pass through a walkway decorated with blue-green art deco tiles, originals from the hotel that were salvaged years ago. "Nothing here is thrown away," says Fiorentino as we set off down the Amalfi. "The ruins of Pompei are just a day trip away. Sorrento is really the best place from which to explore this part of Italy."
Skimming across the Tyrrhenian Sea, we scope out the dolphin-shaped archipelago of Li Galli—which Russian ballet star Rudolf Nureyev used to own—before docking at Positano, a busy tourist village with maze-like streets and stalls overflowing with limoncello, handmade sandals, and Ceramica Casola ceramics. Returning back up the coast toward Sorrento we anchor near the town of Nerano. Bronzed bodies lounge on the pebbly beach, but we are headed to lunch at Ristorante Maria Grazia, an unassuming spot dating back to 1901. Julia Roberts is a regular, as is Diego Della Valle (chairman of Tod's Group). On this particular day, diners fill the patio like sardines, chairs placed slightly chaotically as patrons wearing peppery cologne sip on white wine and feast off large platters.
As soon as we sit down, dishes begin to roll out of the kitchen: stuffed eggplant and fresh ricotta with smoked provolone, creamy spaghetti alla zucchini (the star dish) and fresh mozzarella with sliced tomato. "This mozzarella was made not far from here," says Fiorentino, cutting into a glistening slab of cheese. "If it was made longer than 12 hours ago, we only cook with it."
Back at the hotel we are led upstairs to glimpse its most coveted accommodations: the Caruso Suite, vacant for just a few rare hours. It is a tribute to famous opera tenor Enrico Caruso, who booked in for a length of time in 1921. Beneath high ceilings, Caruso's own piano and letters are all preserved. Prosecco is poured as the sun sets behind Ischia, a volcanic island nearby, and we revel in the dolce vita moment—as many more will do for generations to come.
_________
Never miss a story. Sign up for NUVO's weekly newsletter, here.