Anastasia Tabarovskaia Brings International Flair to Her Queen East Studio
At Anasta Jewellery on Toronto's Queen Street East across from Moss Park, Anastasia Tabarovskaia's fuses Russian art nouveau design and Japanese minimalist principles to create handmade pieces of high jewellery. With five generations of creativity in her genes, and a patient, technical approach to design, she produces sculptural creations that bring to light her artistic coming-of-age story.
"I grew up in a family of artists in Moscow during the Soviet era of Russia," she explains in her eclectically appointed studio bathed in warm afternoon light. "Moving between studios and visiting art exhibitions heavily influenced me as a child. I was like a sponge, absorbing creative ideas."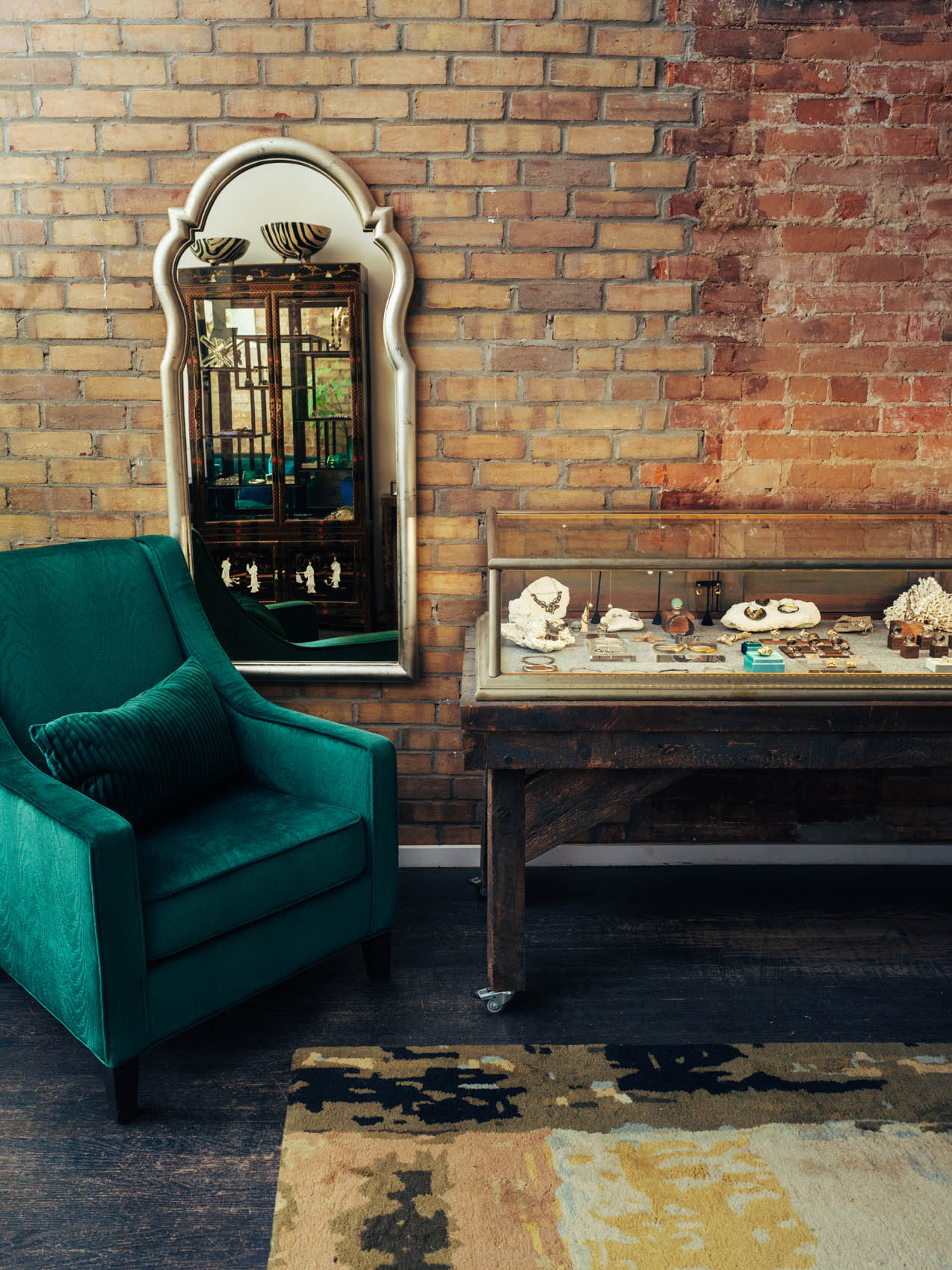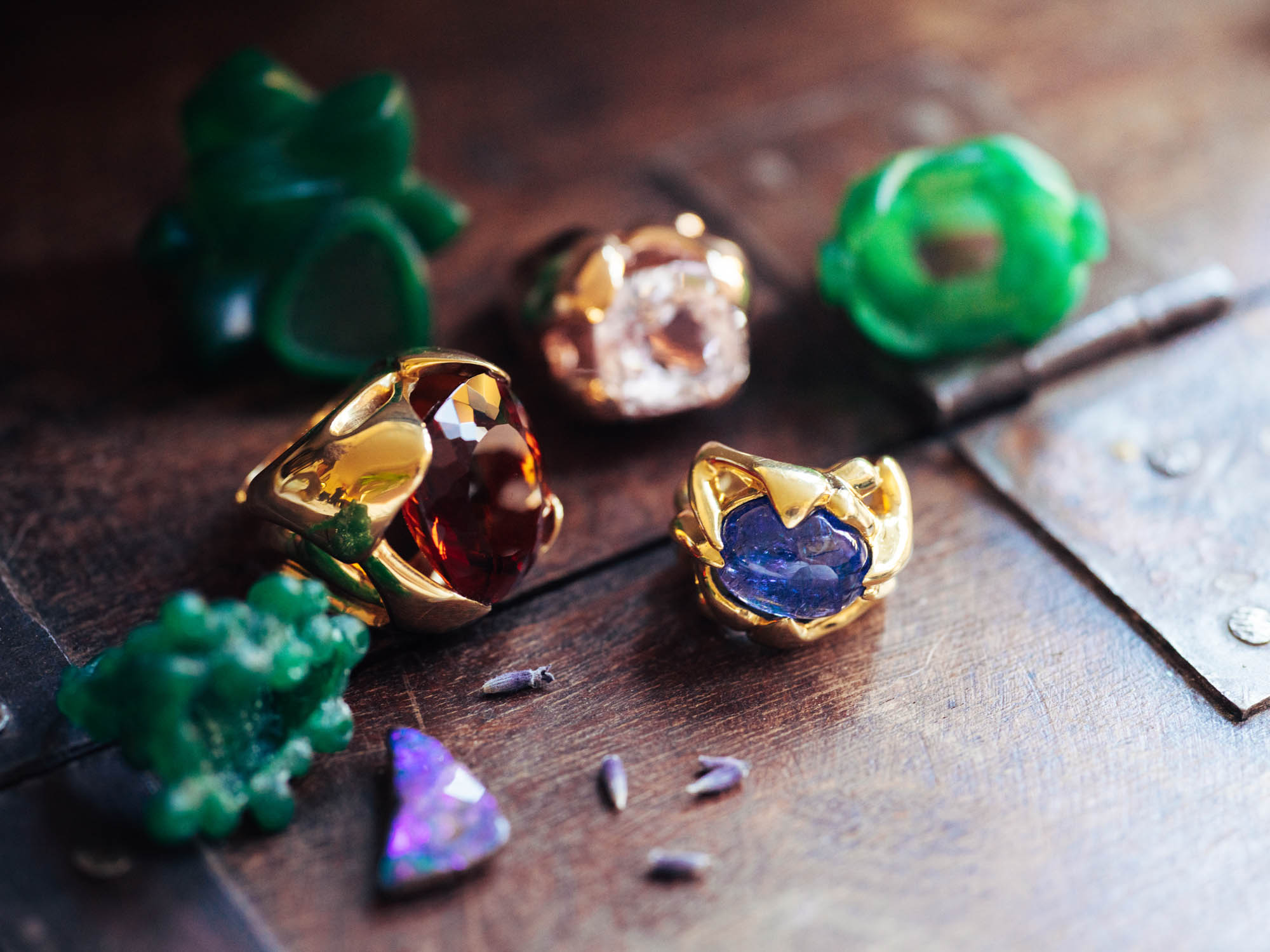 Taking a seat on an emerald-green-velvet couch nestled between lacquer cabinets displaying a menagerie of jewels, she sets out a tray filled with golden, organically formed statement rings, each crafted to accentuate its luscious, solitaire-coloured stone, and continues: "My ancestors' creativity is embedded in my DNA. I remember my father, a painter, mentioning that I shared the same lines as him and my grandfather, an architect, in my carvings."
Trying on a raw, oxidized-silver bangle, hand-carved with balanced cutouts reminiscent of an ikebana arrangement, she describes how her journey began. "Ever since I was five, I knew I wanted to be a jeweller," she says. "My grandmother, who was a jeweller before the government ban on the trade, used to take me shopping with her, and I could never leave the fashion stores without her buying me a little ring. Of course, you couldn't own real jewels back then, so all we could have was costume, but it was precious to me."
Tabarovskaia continued collecting small jewels throughout her childhood. Eventually, after perestroika, the 1980s political movement that led to the dissolution of the Soviet Union, she received her formal education at the renowned Stroganov Moscow State Academy of Arts and Industry. However, because of continued bans on the jewellery trade and a government monopoly on precious materials, she followed her ancestral footsteps, studying sculpture, painting, and drawing to earn a master's degree in fine arts.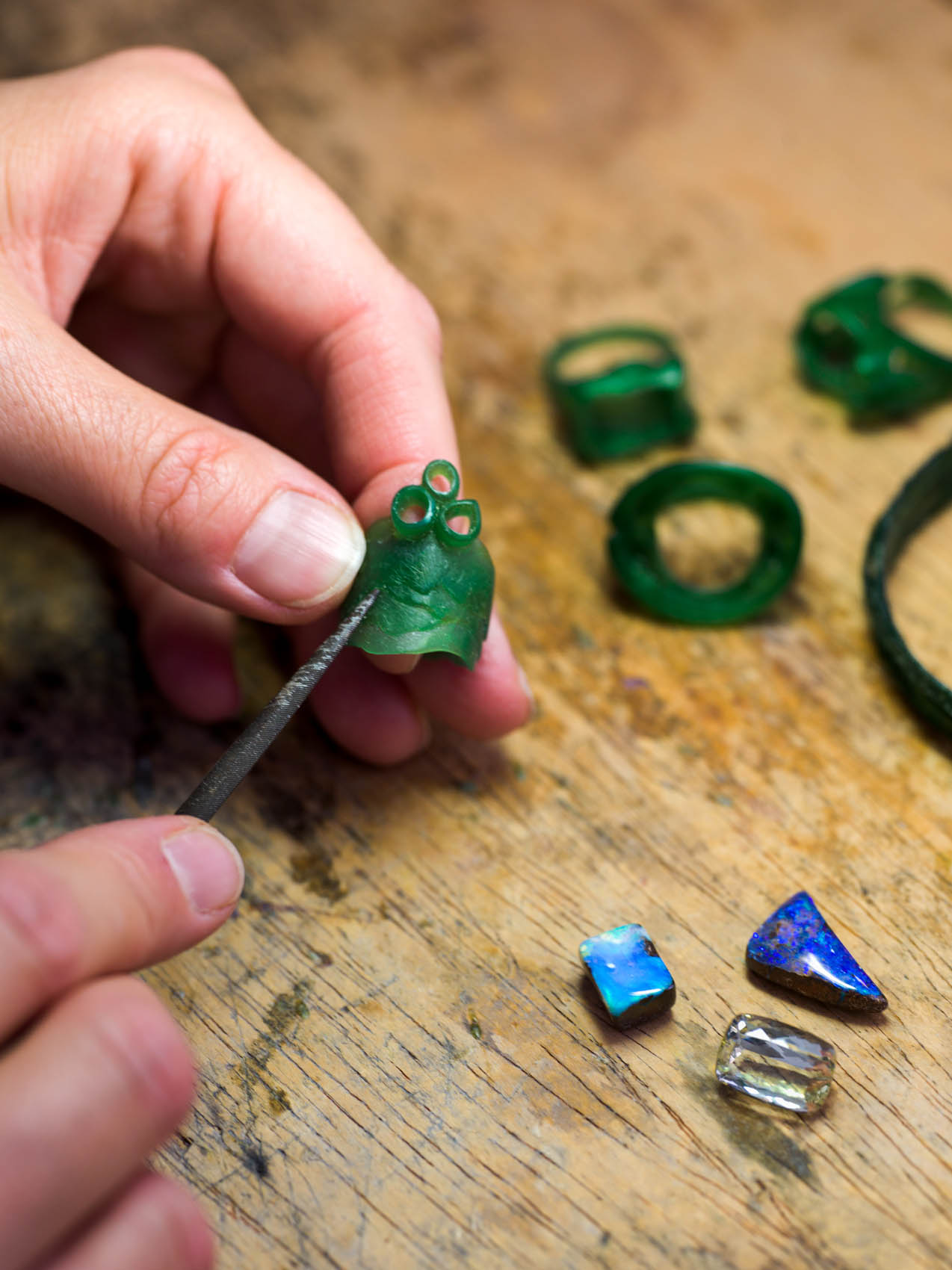 While displaying a voluminous green wax model of a soon-to-be ring, hewn in a motif reminiscent of carefully arranged garden stones, she notes that she began a jewellery career despite no formal training. "I left Russia and immigrated to Canada in 1997," she says. "It was here I began carving jewellers wax. It came to me naturally, like I had done it before." Realizing that she could finally work with the materials she dreamed of, like gold, natural gemstones, and oxidized silver, she embraced her new-found freedom of expression and rebuffed the traditionally delicate Russian jewellery design principles to create her own vision.
Pulling over several binders of hand-drawn renderings, she elaborates on her creative process. "Sometimes I draw what's on my mind or to help explain my concept to a client. Still, I often just remove the excess wax from a block to reveal what I see."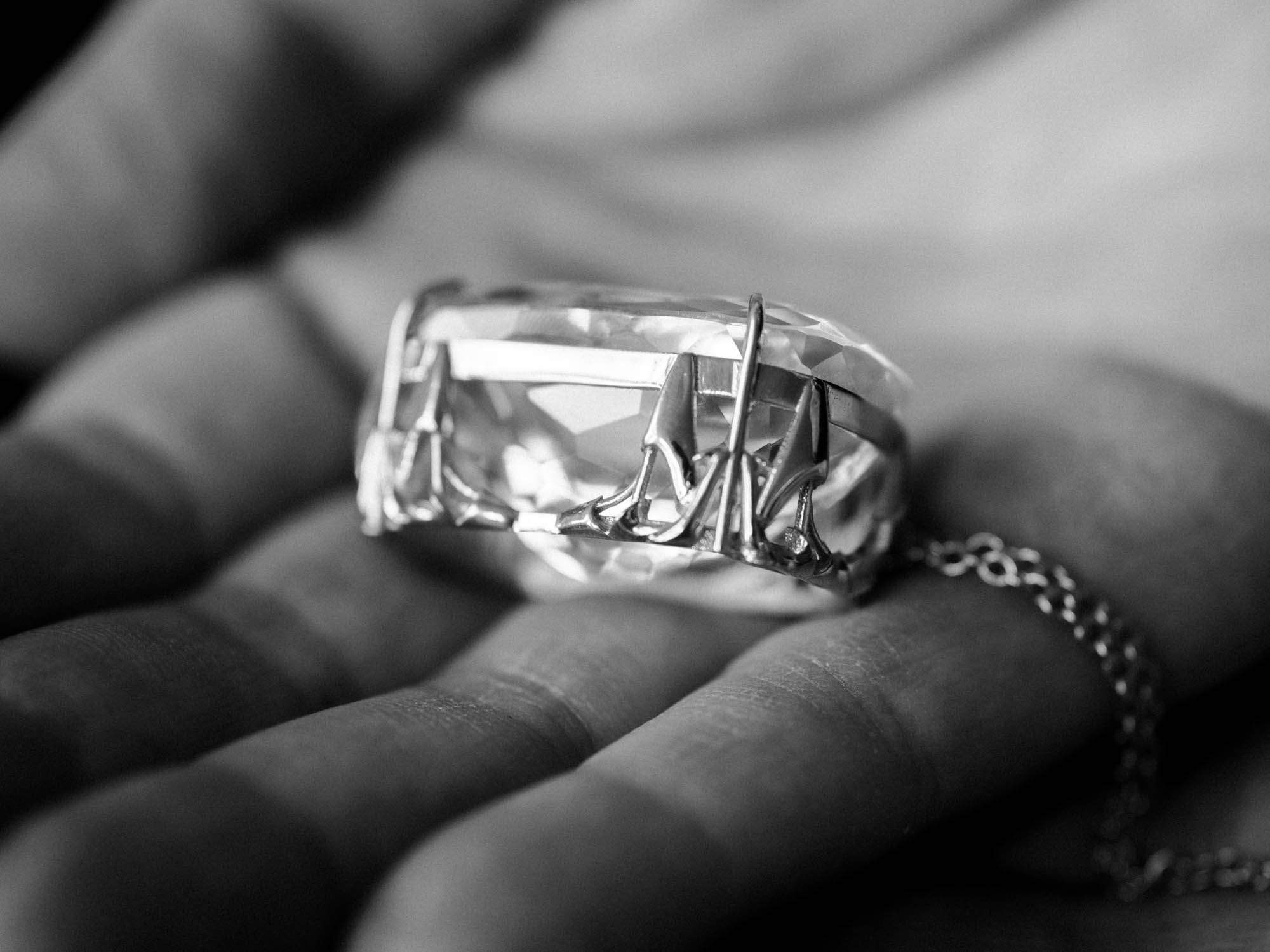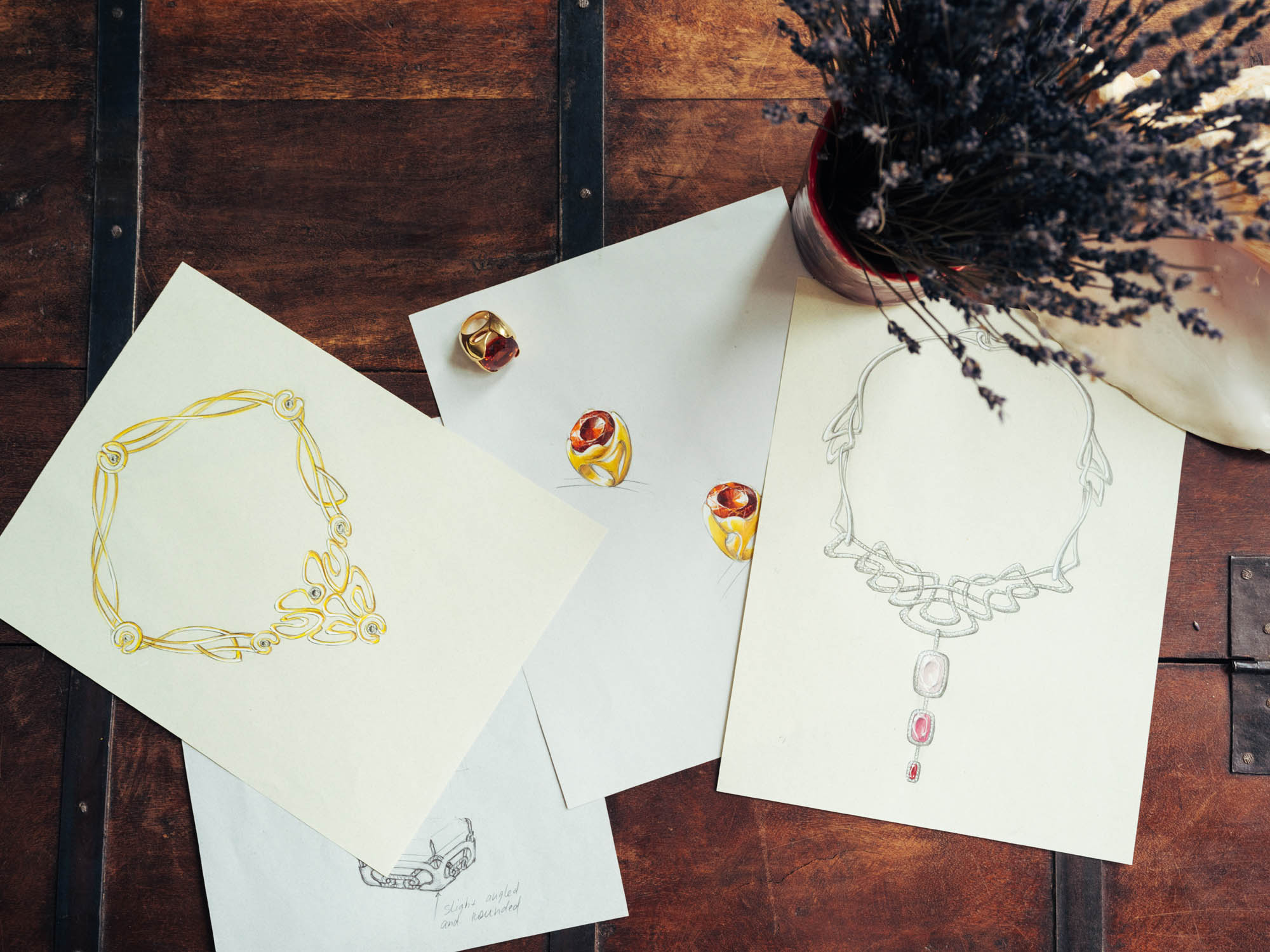 She worked as a ghost designer for several Toronto firms until the birth of her children ushered in a new era of creative opportunity. "I had a lot of time on my hands," she explains. "I started working in the basement of my house while babysitting, filling a small cabinet with my jewellery creations and selling it out of our home. But one cabinet turned into two, then three, and finally, we decided to sell the house to find a space where I could fulfil my creative vision." In 2013, she and her husband purchased a place on Queen Street East. After extensive renovations, she opened the doors to her childhood dreams, a showroom filled with creative freedom and coveted jewellery.