Sara Waisglass on Acting in Canada, Progressive Characters, and Netflix's Ginny & Georgia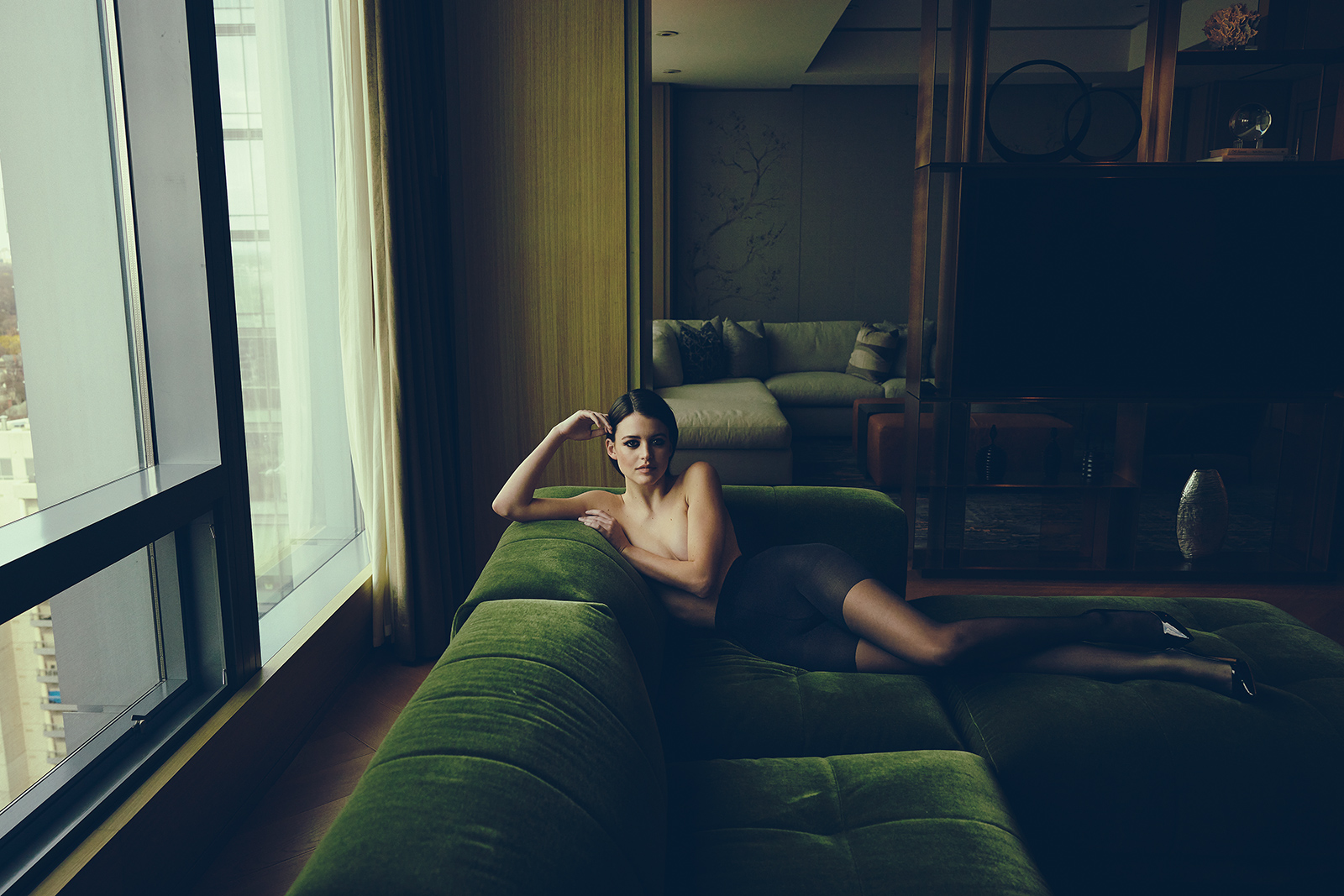 Sara Waisglass, like many young Canadian actors, knows how tough it is to break onto the global stage. Bright, charismatic, and steeped in success, she's best known for her role as Francesca "Frankie" Hollingsworth on the iconic Canadian teen drama Degrassi, for which she received a Young Entertainer Awards nomination in 2016. With an acting career that spans 15 years, the 22-year-old recently rose to new-found fame portraying the spirited Maxine "Max" Baker in Sarah Lampert's new 10-part Netflix series Ginny & Georgia.
"I started acting when I was really, really young. My mom is in the industry, so she was my in, and I sort of just fell into it," Waisglass explains. "I took a break for a while because I was missing so much school—every time I went back, my friends would have new friends. I just needed time to be a kid and enjoy that period of my life."
But two years later, she realized how much she missed being on set and returned to acting. "That's when I booked Degrassi," she says. "I got to fall in love with it all over again, and this time it was really my decision—I really knew it was what I wanted to do."
Waisglass may be young, but she's definitely not green—she's comfortable and confident, and her poise, positive outlook, and noteworthy resumé convey the wisdom of a seasoned professional. Even so, she's just getting started. She recently graduated from York University with a degree in screenwriting. And she has every intention of pursuing a future both in front of the camera and in the writer's room. She's got her sights set on Hollywood.
"With acting, I really have to give up control and let other people take the wheel," she says. "Writing and acting give me completely different things, and I'd be happy to do both for the rest of my life."
After Degrassi, Waisglass appeared in shows like October Faction and Holly Hobbie, along with a few other roles. She may have ample experience playing charming high-school girls like Frankie and Max—but she credits Ginny & Georgia for catapulting her toward her dreams.
"When I initially read the script, I fell in love with it immediately—not only because it was super hilarious, but I felt like all the characters were really well written. They all had something deeper to them. It wasn't just a surface archetype," Waisglass says. It's true. Ginny & Georgia features a collage of complex yet widely relatable characters—even those with hyperbolic idiosyncrasies verging on the absurd (looking at you, Georgia).
Max is especially enchanting. From her very first appearance in Episode 1, we understand her as a fiercely loyal friend: an outspoken, proudly gay, effervescent well of energy clad in neon and sarcasm. But throughout the series, Waisglass' stellar performance offers a peek into the softer, quieter corners of Max's heart. We realize that, as Waisglass said, she's far from the two-dimensional bubble-gum teen stereotype. And while nuanced characters are always central to great film and television, their believability relies on an actor's intuition and skill; Max might not have been as lovable without Waisglass' brand of verve. According to Waisglass, though, they actually informed each other.
"Max came across as confident, happy, and super exuberant, but on the inside she's just desperate for love like everyone else," Waisglass says. "She had a very specific voice that I hadn't ever read before. Max is fearless, and I'm someone who's very scared, so to be able to open myself up and be a little more like her was not only amazing for the show—it was amazing for me on a personal level."
As a burgeoning writer, Waisglass was taken by the technical aspects of the Ginny & Georgia script: the seamless dialogue, the sensitive depictions of a wide range of experiences. Ginny is biracial; Max is queer; Max's father is deaf, and their family speaks American Sign Language. "A lot of scripts are very cookie cutter, but this was clearly its own thing. It was created by a woman and show-run by a woman—there was an awesome female team behind it, and you could tell."
Ginny & Georgia was just renewed for a second season, and Waisglass is eager to continue honing her craft throughout Max's next chapter. "They told me they were renewing for a second season, and I cried," she laughs. "It's literally getting me through the year."
"I love Canada so much and would be happy to work in Canada for the rest of my life, but part of me does want to venture out and work in Hollywood."
Until then, Waisglass plans to continue the schedule she established during lockdown: lots of bubble baths, leading workouts for a local spin studio, and tackling a few writing projects, the details of which she kept close to her chest. "I haven't written anything that's been made yet, and I feel like that won't happen for a long time," she says. "I've never had my scripts read by anyone other than my parents, so I don't know what it sounds like to hear my words come out of other actors' mouths. I feel like that's going to be an extraordinary feeling if it ever happens for me."
Her day-to-day routine will surely change when she's back on set, but Waisglass is content not to travel for work (Ginny & Georgia was filmed in her hometown of Toronto). Still, with both screenwriting and serious acting ambitions, she knows she may someday end up in Hollywood, even if the path there is anything but smooth.
"It's something that people don't talk about enough. I have many peers in this industry doing the same thing I'm doing, and our biggest struggle is trying to book American work. There's a lot of logistics involved," she says. "From my experience, there's a complete disconnect between Canadian work and American work … but obviously America is where it's at. I love Canada so much and would be happy to work in Canada for the rest of my life, but part of me does want to venture out and work in Hollywood. We'll see where things go."
As her promising creative career continues to blossom, she's not just excited for the next professional phase—she, like the rest of us, is ready to be free from COVID-induced stasis and screentime. "I don't want to look at my phone. I just want to connect with the people around me and dance to some really good music. That would make me so happy."
Fashion Direction: Zeina Esmail
Hair: Melanie Guille
Makeup: Julie Harris
Styling Assistant: Brandon Laughton
Photography Assistant: Alexander Karlov
Location: The Four Seasons Toronto