Festival du Voyageur Promotes Manitoba Culture: 5 Tips for Enjoying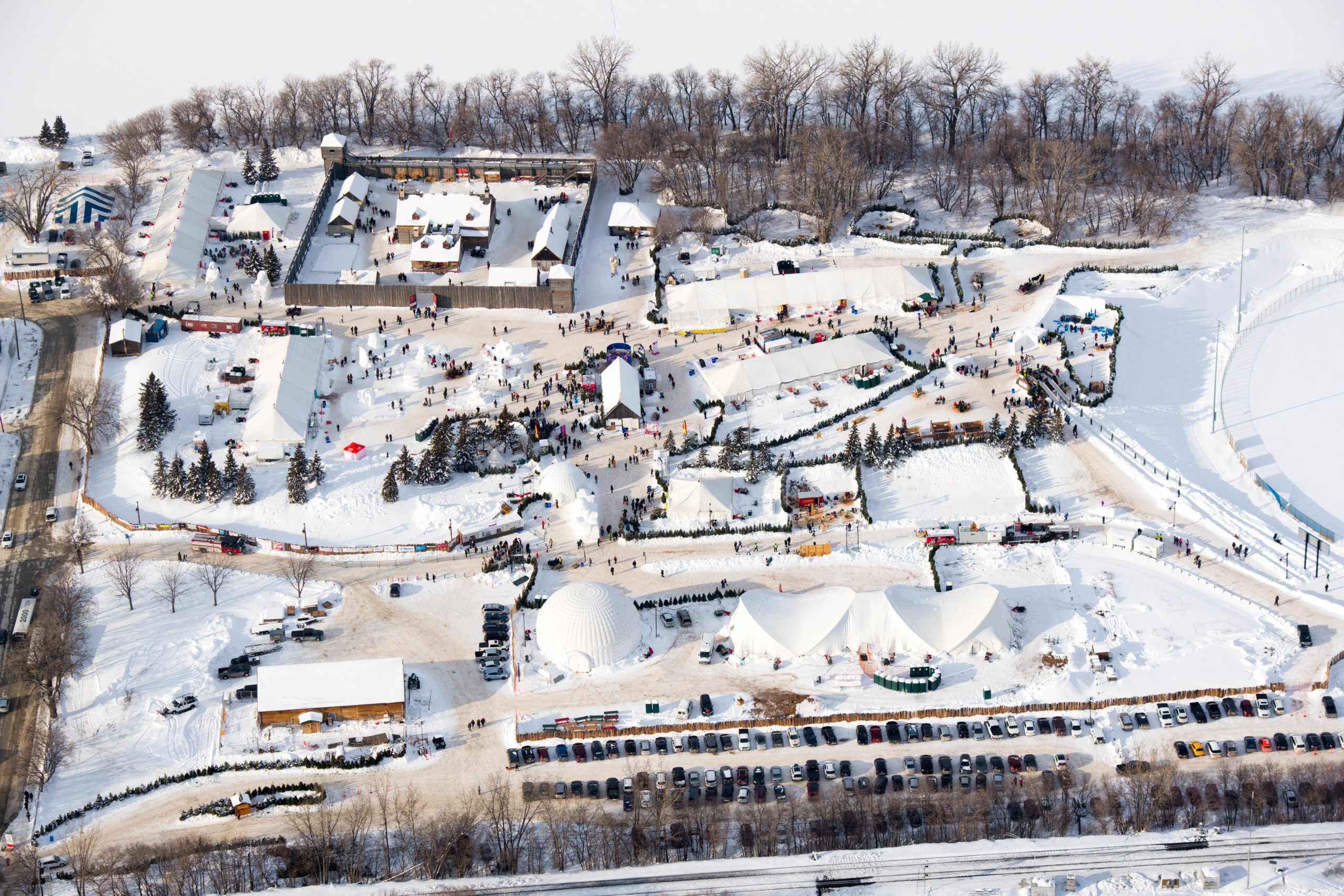 For half a century, winter-loving Winnipeggers—and a whole lot of non-Winnipeggers—have been embracing the lifestyle of the voyageurs during a two-week celebration in the dead of the season. It's a time to practice your dance moves in mukluks, cheer on your fave fiddler, and slurp up some piping hot pea soup. Because in Manitoba, they don't hibernate, they celebrate.
This year, Festival du Voyageur has a renewed commitment to the role Indigenous peoples played in the fur trade era and still play today. Look for more Indigenous musicians along with presentation in the visual arts, storytelling in the unique Michif language, and an Indigenous Makers Market.
Enjoy Locale Fare
You're sure to get peckish after hauling your toboggan up the hill for the eleventh time, and you need not go far to find festival favourites like poutine, tourtiere, sugar pie, and the must-have maple syrup taffy on a stick. But for something really special, grab a seat at one of the Ishkode dinners where Indigenous cuisine featuring traditional plants and wild game is presented in six delicious courses. Chefs will share traditional knowledge under this year's theme, The Métis Nation—A Journey in Time.
 The festival wraps up in belly-warming fashion with a competition to determine just who makes the best pea soup in these parts. Dried peas and salted pork are just the beginning for local restaurants and chefs to stretch the boundaries of the traditional soup in their creative cauldrons. Take for example a winning entry from years past that was finished with a drizzle of paprika oil, thyme foam, a bacon-ham crumble, and popcorn seasoned with black peppercorns. Festival goers sample the offerings to determine a people's choice award while food writers and media crown a judge's selection.
Dance the Snowy Night Away
Your fingers will start to tap, then your knees will start bouncing up and down, and before you know it, you're on stage in front of the band sweating through your long underwear. The Mascot Dance Party on opening weekend brings out all of the province's friends—and provides Instagrammable moments aplenty. Pow Wow 101 nights include drum songs, dance styles, and regalia; and everyone is invited into the circle to participate in a friendship round dance. Don't worry, you'll get the hang of it pretty quickly. On Cajun night, it's close to impossible not to get up and shake your stuff to the sounds of a rippin' washboard and energetic harmonica. And if you feel you're skills are up to it, enter the jigging contest for big bragging rights.
Warm Up With Drinks
It's cold outside. Hot drinks are mandatory. And no visit to Festival would be complete with at least one shot of caribou. The drink. Not the mammal. This made-in-Canada concoction consists of three parts red wine and one-part whisky plus a generous splash of maple syrup. The brews are going local at Festival with Fort Garry Brewing and Farmery Estate Brewery working together to provide Manitoba-made beer and other beverage selections to festival goers.
Manitoba Style and Crafts
There's a right way and a wrong way to wear a ceinture fleche. And the vendors at the markets will gladly show how this iconic sash should be tied. While you're there, pick up some gorgeous goodies crafted from wood, leather, furs, and beads at the Indigenous Makers Market. Or try your hand at making your own at an afternoon workshop: woodcarving, Indigenous pottery, tinsmithing, or Métis beading.
To stay in step with Festival fashion, you'll need a capote. These wraparound coats are crafted from Hudson's Bay Company point blankets and were worn by fur traders, voyageurs, and Indigenous peoples starting way back in the mid seventeenth century. You'll see endless customization on capotes throughout the festival grounds, some in deep scarlet and others in the recognizable multi-stripe colours on white. But it's the Métis style that rules with its ample hood, fringing at the shoulders and neck, and a bright sash.
The Sculpture Tour
It all starts with a block of pure white snow measuring roughly three metres by three metres by three metres. And within a week, dozens of mind-bending, gorgeous glowing snow sculptures signify that this festival is in full swing. Inspirations span from the traditional—including voyageurs, canoes, wolves and York boats—to the fanciful featuring charging stallions and snails on the move. Teams from around the globe including France, Germany, and The Netherlands have journeyed to Winnipeg for the competition. There have even been sculptors from South America and China —some had never seen snow but practiced with sand. In the first week of the festival, onlookers are welcome to ask questions about the tools and process used.
Festival du Voyageur runs from February 14 to 23, 2020 in Winnipeg, Manitoba.
________
Never miss a story. Sign up for NUVO's weekly newsletter here.