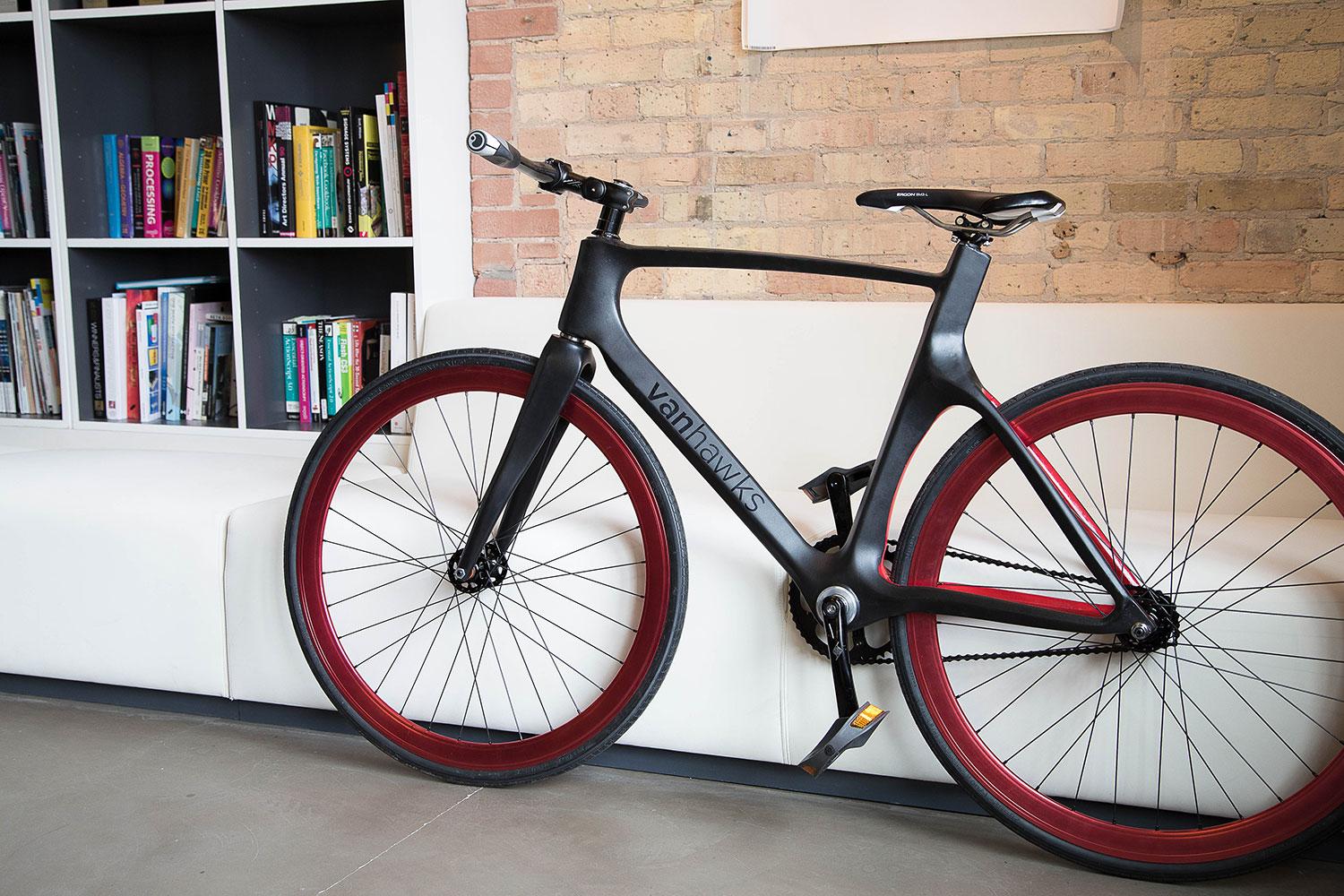 The Valour, by Toronto-based Vanhawks, is likely the smartest bike you'll ever ride. Poised to improve how and where you cycle, this is one of a new breed of smart bikes that collects data from your phone, your bike, and from other riders to create the best (and safest) cycling experience possible.
Vanhawks' innovators know cycling can be a wonderfully freeing, liberating experience—that is, if you've painstakingly planned out your route. So they've added a hands-free navigation system. Riders put their destination into the bike's smartphone app, and, when wirelessly connected to the bike (outfitted with Bluetooth 4.0), receive turn-by-turn directions via handlebar mounted LED signals, allowing their attention to stay on the road.
The tech toy also touts an industry first: a blind spot detection feature. Using ultrasonic sensors, the Valour creates an invisible bubble, which, when encroached upon, alerts you with handlebar vibrations in the direction of the potential threat. It's the smart bike version of a rear sensor.
Data-collecting devices also monitor every aspect of a rider's trip: a GPS module, a gyroscope, an accelerometer, and a magnetometer track speed, acceleration, distance, route, and the roughness of your ride. This data, in concert with the data collected from other Valour riders, compiles a composite of your ideal route. The app also provides the usual suspects where exercise metrics are concerned: calories burned, distance travelled, speed, time, elevation gained. The bike even has a port so you can charge your phone while you ride.
That's not all. The Valour is also a security force unto itself: if a Valour rider reports their bike as missing, he or she will be notified of its precise location when fellow Valour riders pass by.
While these features may be hidden, all this tech is neatly packed into a lightweight, aerodynamic carbon frame that makes absolutely clear you're riding the smartest bike in town.
See more from NUVO's Summer Cycles series. 
Jul 16, 2014
Updated: May 20, 2015