Artist-blogger Jeff Hamada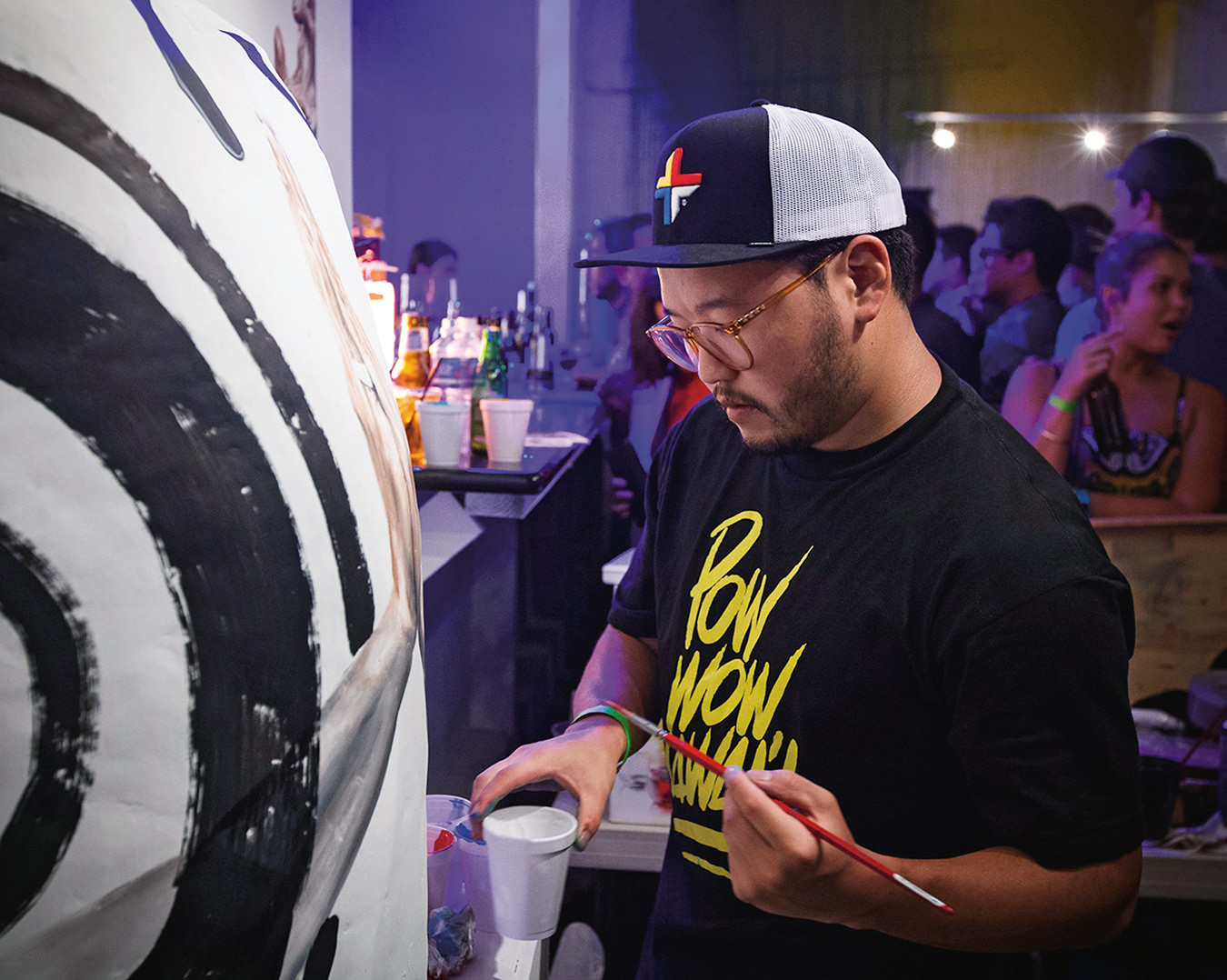 If anybody were to call Jeff Hamada a square, they would have it almost all wrong. Yes, the glasses he wears are more right-angled than spherical. Certainly, many of the drawings he showcases on his blog sit comfortably within the parameters of straight-edged borders. But as the founder and editor-in-chief of the highly successful site Booooooom.com—a daily curation of art, film, photography, music, and design—Hamada seems much more drawn to the non-linear.
The blog is an ever-changing smorgasbord of creativity. On any given day, visitors can scroll through work as varied as cut-paper animal artwork by Calvin Nicholls, cinematic still-life photographs by Mustafah Abdulaziz, a pop-up typography book by Iwona Przybyla, or a collection of rings by Noga Berman, crafted out of found pieces of cracked porcelain in Israel.
"I like hand-drawn work, paintings, anything analog, collages—I'm not opposed to digital stuff," says Hamada. "That analog feel is something that runs through a lot of content on the site." On his blog and in conversation, Hamada grabs onto and then links back to ideas much later on. It's a curved train of thought, and it works like a charm.
"There's a lot of work I like that I won't even post on there, because there are certain things that just don't fit," says the 30-year-old. "But it's not a high art–low art thing. I don't differentiate that stuff." His particular penchant is for handmade pieces by little-known artists and works of craft that are too often shunned from the realm of conventional art.
The Booooooom story goes back to 2008, when Hamada went down the familiar bloggers' path of posting personal photos. "After a month, I got completely bored talking about my own life," Hamada admits. He began to highlight other people's artwork and soon realized that talented artists were often friends with other talented artists—and he was curious. "Anyone whose art I liked, I would just go to their little link bar and click on every link in their 'friends' bar, and go off on a little adventure of finding that person's friends and that person's friends."
As soon as the blog took on an entity of its own, Hamada was hooked. "I don't have a kid, so to me the next thing to a kid is a blog, which is pretty pathetic," he says, laughing. "When I'm not working on it, like right now, something is happening on it. It's growing and people are interacting with it—it became a living thing."
Within two years of launching, Booooooom.com became one of the largest blogs on the Internet, with three million pageviews each month and readers from all over the world. Hamada's self-made media empire now has a presence on Twitter, Pinterest, Vimeo, Instagram, Facebook, and Tumblr, all of which are orchestrated almost entirely by the blogger himself (a friend helps out with music posts, and his sister lends a hand from time to time). And that is exactly the way he wants it. Forming genuine connections and correspondences has been key to his success in the highly competitive, unpredictable blogosphere; Hamada even takes the time to personally respond to social media conversations. For a single person—whose Twitter tally is fast approaching 57,000 followers and who sometimes tweets 15 times a day—that is no small feat.
"All this SEO stuff—it's vague, it's a myth," he says. "You can't be so on top of stuff that is constantly changing. There is no magic code. The secret to Booooooom, I'll tell you—it's how I e-mailed one person." Three or four times a night, for the first three years, he e-mailed every single person whose work he highlighted. "Not just as a Good Samaritan–type thing, but because I genuinely enjoyed meeting them."
Today, onomatopoeic branding aside, Hamada's baby is more than just buzz-worthy. In addition to maintaining the blog, he is also a working artist and freelancer. He designed graphics for Oakley during the Vancouver 2010 Winter Olympics, a series of Endeavor Snowboards, and a shoe for Converse, among many other projects. Hamada holds a fine arts diploma from Langara college, a bachelor's degree in media arts from Emily Carr University of Art + Design, has a background in logo design, and worked as a graphic designer at Electronic Arts.
His prior work with logos impacted the Booooooom name (that's seven o's, if you're counting), which was itself deeply influenced by a square. "I thought it would be funny as a way of hijacking the word boom," says Hamada of his made-up moniker. "I ran downstairs to see if I could register it. I knew Boom.com was taken with two o's, and then three o's, four o's—everything was taken until like seven and eight. Then I realized seven would fit perfectly in the three-by-three square logo." For Hamada, his squareness seems to lie in the angles of that logo: a meticulously packaged and neatly organized frame of surprises. Or, an art bomb about to go off. Boom.
Putting art onto computer screens is just one part of Hamada's goal for engaging with the global online community; pulling art out of them is another. "I'm realizing that, more than the art curation or my eye or my taste in art, really my skill set is the connecting-people part," he notes. Interactivity is paramount, and he has instigated many opportunities for followers to actively participate in projects and dialogues. Most recently, Hamada teamed up with MTV for a contest called Made of Imagination that asked entrants to invent a musical instrument, or greatly improve upon one, and submit a photo (and optional video) of their creations.
Over the years, in trying to tap into the psyche of contest participants, Hamada has realized that a task must be easy to complete (so that they will actually do it), and it has to give the best possible chance of creating something worth looking at. His first-ever project was simple: take a photo of a sunset. ("It's pretty hard to take a bad photo of a sunset.")
His personality errs on the side of humble, but there's no question that Hamada is a tastemaker. As he puts it: "I think that the minute other people consider you [a tastemaker], you have no control." If the proof is in the product and if the medium is the message, it's clear why creativity-hungry audiences are tuning in to Hamada's insight.
"You know, if you are just doing daily content, you can program a robot with an algorithm to steal posts off the 30 most-popular sites, and your site will get lots of traffic," says Hamada. "But people don't need another Pinterest—there are already hundreds of them. What I think they want is actual human connection."
Photo by Brandon Shigeta.