5 Gender-Neutral Skin-Care Lines Made for Everyone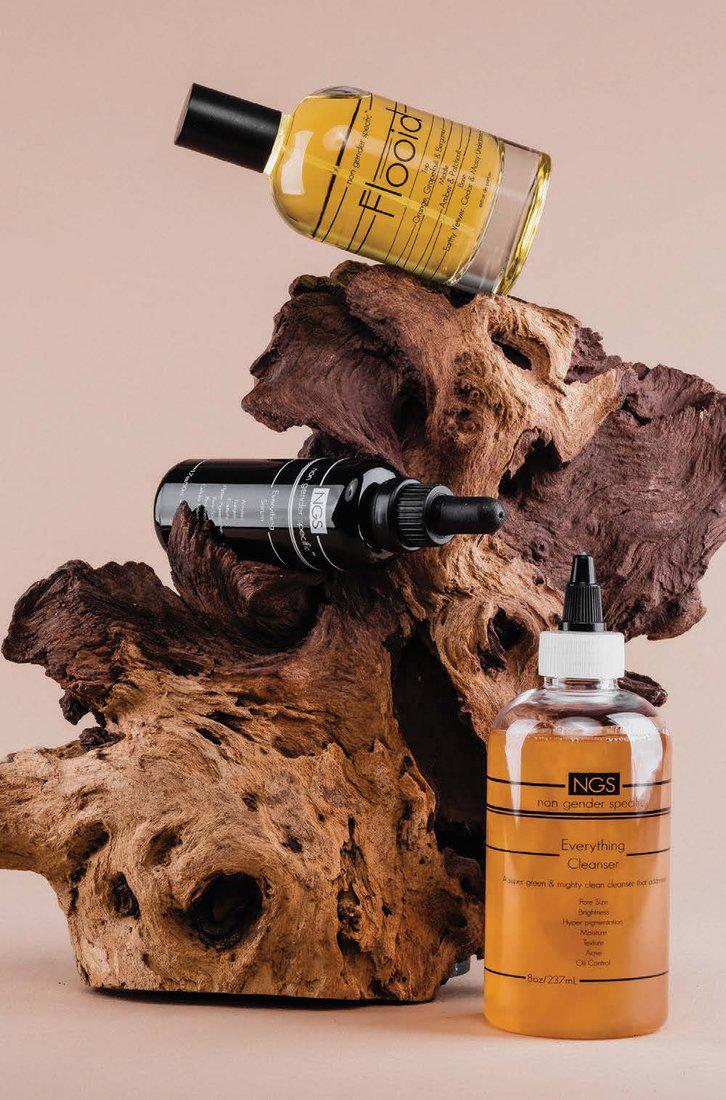 Cosmetic aisles used to be a battle of the sexes—men's products encased in grey bottles and women's tinctures packaged in pink. But today, as the beauty industry increasingly embraces inclusivity, the labels of masculine and feminine in skin care aren't just being blurred—they're disappearing.
While it's true that men's skin is about 20 percent thicker than women's and tends to produce more oil, dermatologists agree that products shouldn't be chosen primarily on the basis of gender.
"Ideally, you should choose skin care based on your individual skin type, whether or not you're male or female," Toronto dermatologist Dr. Kristy Bailey says. "One positive thing that gender-neutral products are encouraging is a less-is-more approach. I often treat people who come in with irritation all over their face (also known as allergic contact dermatitis), and it's because they're using way too many products."
Research shows that personal-care products marketed to women cost up to 13 percent more than similar products targeted at men, perpetuating the belief that women's skin-care routines should be more complicated and costly. The average person just needs a cleanser, a moisturizer, retinol, vitamin C serum, and sunscreen, Bailey says.
Men are now realizing that they want to get in on the skin-care action, too, without necessarily committing to a complicated routine. Public figures like Pharrell Williams, Frank Ocean, and Troye Sivan have openly spoken about their passion for research-backed skin-care routines, with Pharrell even launching his own universal skin-care range, Human Race, last fall.
With the world realizing that binary categories in beauty are outdated, these brands are paving the way with skin care for everybody.
Schaf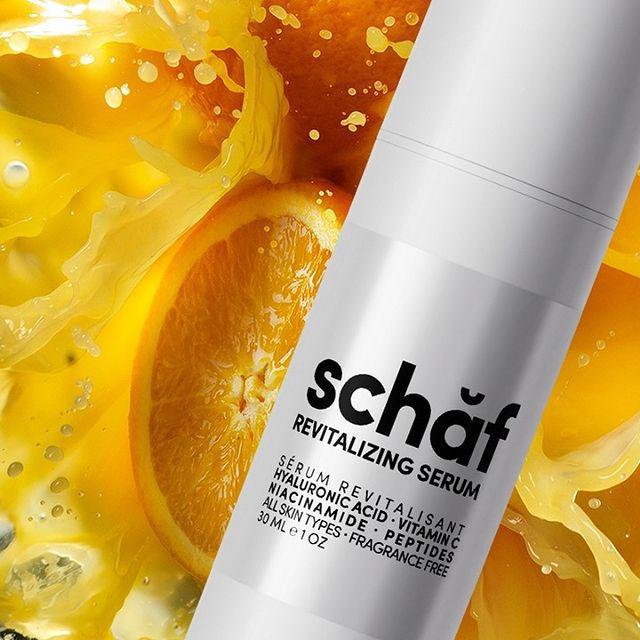 Toronto-based brand Schaf aims to create simple and effective products that don't discriminate. "We are all a little different, and to assume there are just two camps is actually kinda silly," founder Peter Schafrick says. "We make products that focus on balancing out your skin so they work for everyone." Free of fragrance and irritants like essential oils, Schaf's products rely on plant-based botanicals. These range from hydrating aloe niacinamide in the Revitalizing Serum to soothing olive squalane and firming peptides in the Age Repair Cream. With just a handful of powerhouse products (the latest being a fast-absorbing body lotion), Schaf aims to streamline the skin-care equation.
Non Gender Specific
Non Gender Specific (NGS) has developed a cult following for its multicorrectional formulas that eschew gender boundaries. Each product aims to target at least seven skin concerns, eliminating the need for a medicine cabinet full of products. The brand's Everything Cleanser, for example, is basically a green juice for your face—utilizing a potent mix of 20 natural ingredients including kelp and spirulina. "We typically let the ingredients themselves create the scent profiles for each product, rarely using fragrances in our skin-care products, and that usually results in a pleasant natural scent that appeals to most," NGS founder Andrew Glass says. Even the packaging pays homage to the earth. The brand's newest perfume, Flooid, comes in an outer box made of wild-flower-infused seed paper that you can plant after use.
Fenty Skin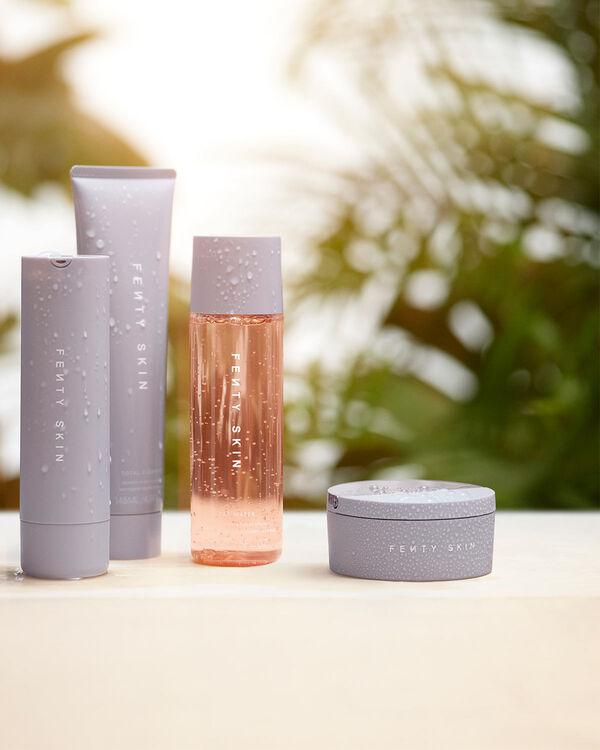 Rihanna's newly launched Fenty Skin line takes a fuss-free approach to self-care. With the goal of simplifying skincare, the line has just a handful of products including the cult-favourite Hydra Vizor Invisible Moisturizer Broad Spectrum SPF 30, TotalCleans'r Remove-It-All Cleanser, and the #FlashNap Instant Revival Eye-Gel Cream, which hit shelves in February. All the formulations are cruelty-free, vegan, oil-free, and designed for all genders, ages, and skin tones—which is especially a feat in the coral-reef-friendly sunscreen department. "I wanted to create a moisturizer with SPF that was totally invisible—that means no chalky residue and no flashback," Rihanna says in a press release. "We created this pink hue that works on all skin tones allowing it to blend in effortlessly and leave a healthy glow."
Clayton Shagal
Rather than delineating its products based on gender, Quebec-based Clayton Shagal has created specific routines for each skin type. While the brand first gained attention for its skin-plumping Collagen Gel, composed of 99 per cent pure non-hydrolyzed acid-soluble collagen, its other products are just as innovative. The Sensi Derm Cream makes use of artemia extract (made from plankton), which naturally boosts the skin's defence against UV and heat stress, and ceramides that restore the skin barrier and fight against the appearance of wrinkles. With the lipid barrier shown to decline in both men and women after age 30, all genders can benefit from these nutrient-rich ingredients.
Ursa Major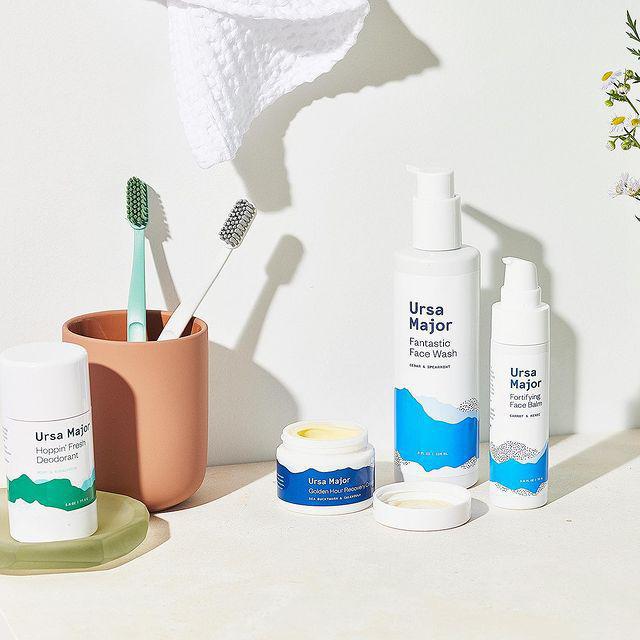 As one of the first plastic-negative skin-care brands, Ursa Major has been making waves with its clean cosmetics created for all. Among the hero products is the Brighten Up Vitamin C serum—which uses ascorbic acid, one of the most stable forms of vitamin C—and rosehip to boost radiance. Designed to be "low maintenance, but highly rewarding," all the products are formulated to be featherweight, so you barely feel them on your skin. With packaging and natural aromas inspired by the great outdoors and an eco-friendly ethos to match, Ursa Major celebrates Earth and what it means to be human.