Thai Stem Massage at Langdon Hall
A Cambridge, Ontario retreat.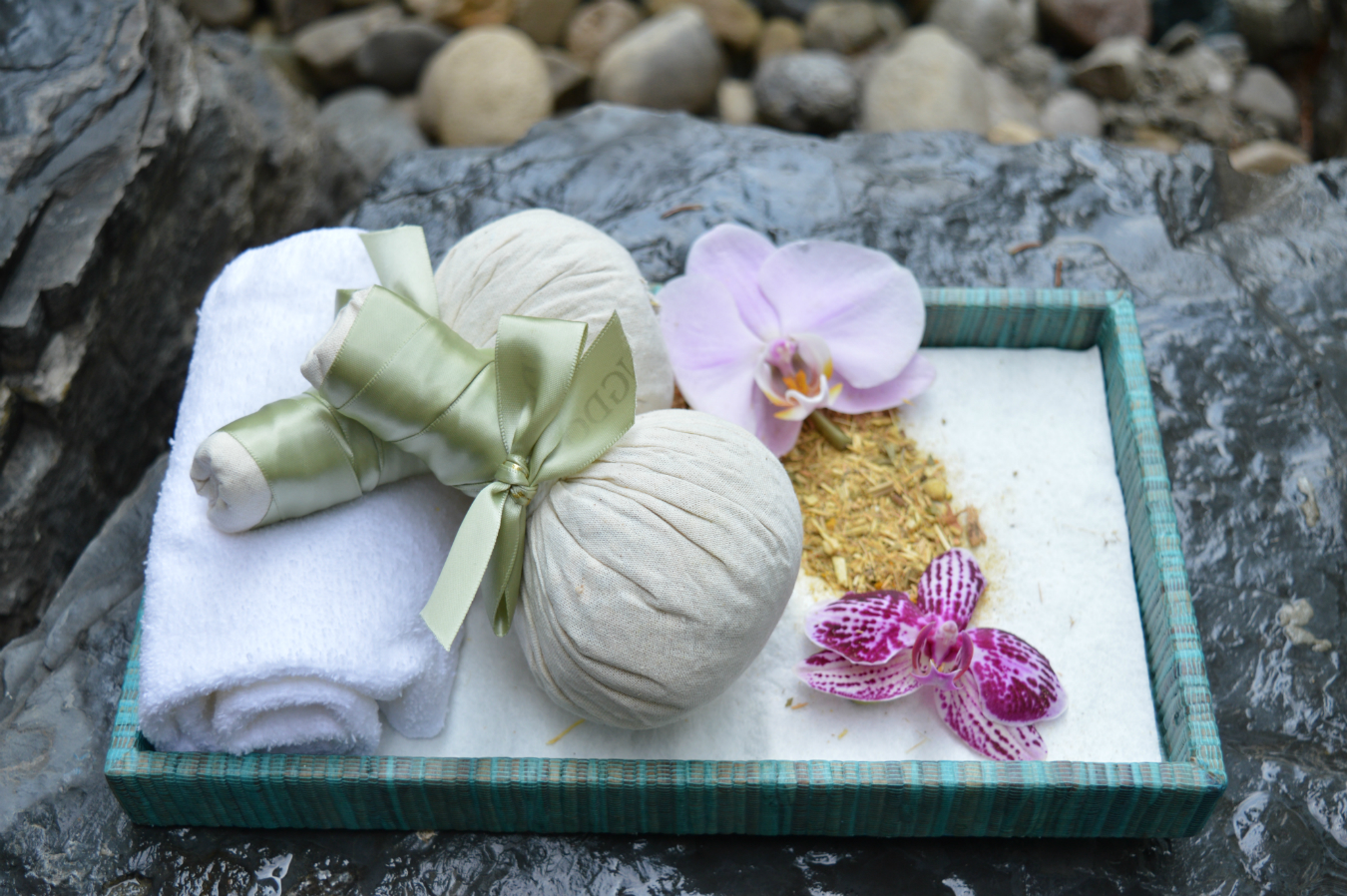 The scent of lemongrass hits my nose as I settle onto the massage bed. There are other herbs, to be sure, but it's the lemongrass that predominates—its fresh, sweet smell at once invigorating and calming, setting the mood for what's to come.
I'm at Langdon Hall Country House Hotel & Spa in Cambridge, Ontario, about 100 kilometres west of Toronto, and I'm about to experience my first-ever Thai stem massage. The 90-minute treatment is billed as a blend of acupressure, Thai yoga massage, and Hawaiian Lomi Lomi, but the stems themselves are the star of the show: bundles of herbs organically grown in Thailand, tightly wrapped into firm balls some four inches in diameter, with a handle large and long enough to hold with one hand. They resemble nothing so much as onions with their stalks still attached, if onions were made of muslin and smelled herbaceous and sweet.
The masseuse begins by working through pressure points in each section of my body, kneading deep into muscles to release tension. She then pulls one of the stems from a steamer—they've been moistened and heated to release the herb's oils, fragrance, and restorative properties—and manipulates it along the same points, simultaneously rolling and pressing so the heat penetrates. At first, I am paying attention, analyzing how the movements feel as the stems are rubbed deeply into my calves, my lower back, and upwards. But before long, the soothing repetition has lulled me into a relaxed half-sleep, the gentle heat from the stems working to relieve any inflammation and their aromatics encouraging an almost meditative state. Once the session is over, I feel invigorated—my skin is soft from the detoxifying oils, and my body is calm and at ease. I feel almost elongated, at least two inches taller.
A Relais & Châteaux property, Langdon Hall is a cherished getaway for many Torontonians, and not just for its spa. Chef Jason Bangerter and his team offer four meals a day (never forget afternoon tea), featuring local ingredients, some from the property's own gardens; on my visit, I sample mini croissants filled with duck-egg salad, fresh, local green chickpeas, a Monforte chevre, and radish salad. Guests with a particular interest in food can join a wine tasting or cooking demonstration, or sign up for a tour of the gardens with the head gardener to learn more about how produce gets from soil to plate. One can also enjoy Langdon Hall's outdoor pool, archery lessons, or 12 kilometres of hiking and biking forested trails—that is, of course, if you can drag yourself out of the spa.
Langdon Hall Hotel and Spa, 1 Langdon Drive, Cambridge, Ontario, Canada N3H 4R8, 519-740-2100.