Awesome Animal Print Nail Art That You Can Do At Home
Wondering how to do awesome animal print nail art? Canadian manicurists to the stars, Rita Remark and Tamara Di Lullo, say it's surprisingly easy to create your own nail designs at home, and right now, they're both going wild for animal print. Here are their at-home tricks for how to create leopard spots and zebra stripes in just a few steps.
Zebra Print by Tamara Di Lullo
What you need
CND Vinylux in Gala Girl, How Merlot, Fedora, and Get That Gold (all from the Cocktail Couture collection)
CND Vinylux Long Wear Top Coat
Method
Apply two coats of Gala Girl to all nails and allow to dry fully.
Optional double moon design: Use How Merlot and a detail brush to paint a half-moon close to the cuticle area.
Use Fedora to create a French tip.
Apply a light second coat of the two accent colours (How Merlot and Fedora) if necessary.
Paint a zebra design using Get That Gold and a detail.
Apply one coat of top coat and wait to dry.
Leopard Print by Rita Remark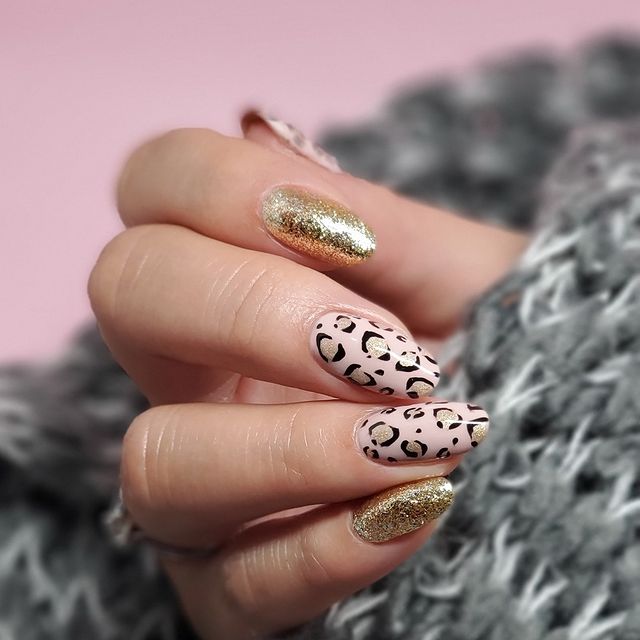 What you need
Base coat of your choice
Essie Nail Polish in Lighten the Mood, Chinchilly, and Licorice
Essie Topcoat in Matte About You
Bobby pin
Tin foil or paper to make a palette
Method
After base coat, apply two coats of Licorice on the thumb and index fingers and two coats of Lighten the Mood on your middle, ring, and pinky fingers.
Drop a puddle of Chinchilly on your palette. Hyperextend a bobby pin and dip the rounded end into the puddle. Use it to create random irregular shapes on the nails.
Add puddle of Licorice to the palette. With the bobby pin, lightly drag the colour around the original Chinchilly shapes in curves and lines. If there is any extra negative space at the end of this, add small dots or curves with the same colour.
Wait a long time for this to dry! Top coat tends to smear nail art (especially dots). Apply Matte About You lightly, so as not to smear the design, to top your leopard mani with a velvet finish.