Automatic Negative Thought at the Contemporary Art Gallery
Understanding the terms and conditions.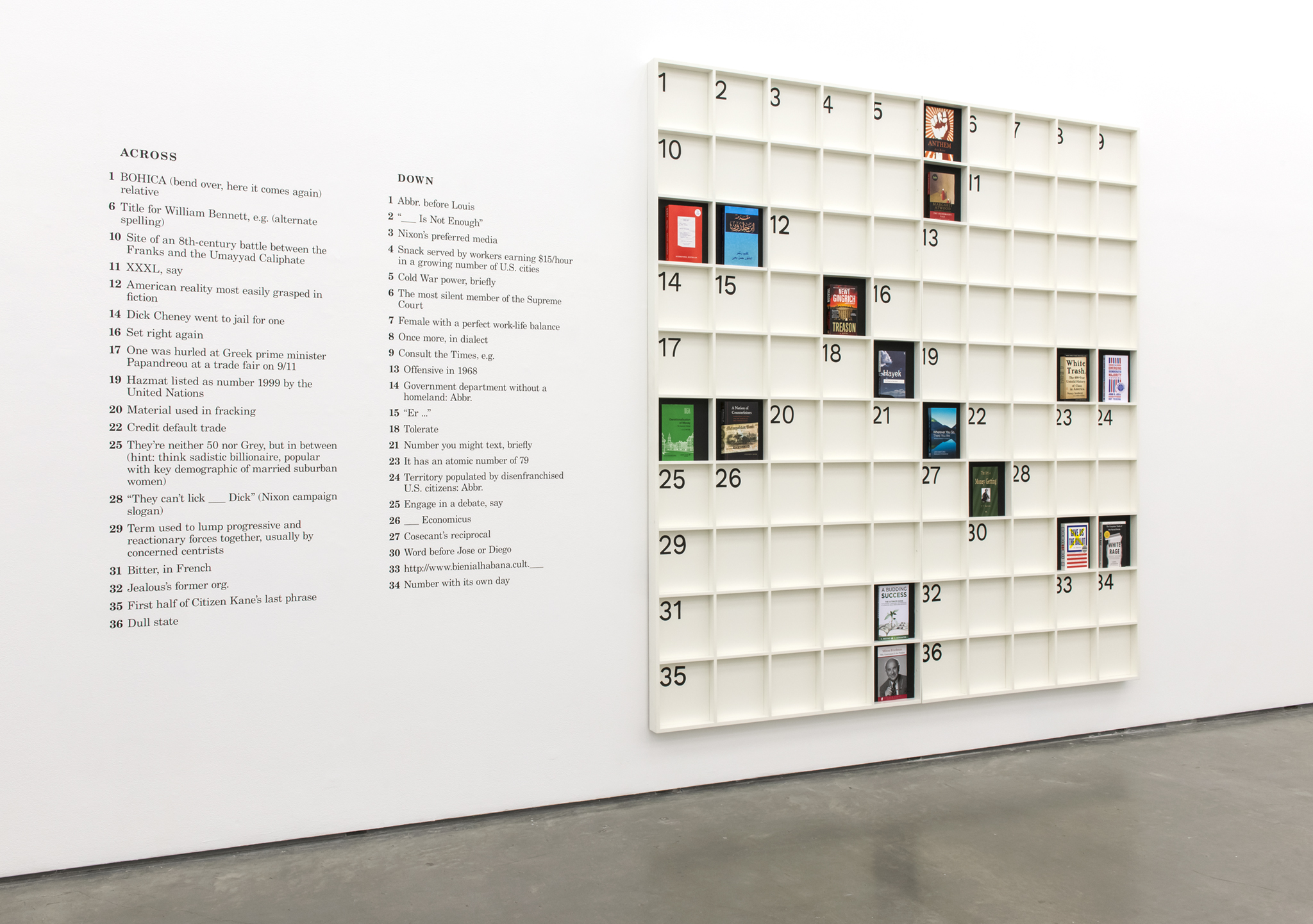 It can be argued that anxiety has become the definitive illness of our time. Unfiltered—often unwarranted—despondent thoughts that pop up in our heads are so prevalent that they have an official cognitive term in psychology: automatic negative thoughts. To New York- and Copenhagen-based contemporary artist Maryam Jafri, these thoughts have broader implications within our society, which she investigates in her first major Canadian solo exhibition at the Contemporary Art Gallery in Vancouver. The exhibition examines the economic, political, and cultural factors that explain certain fixations of contemporary society: self-care, politics, and the legalities of creative property.
Spanning two galleries, the exhibition is separated into four installations of Jafri's works, three of which are situated in the bright, white-walled B.C. Binning Gallery. Here, one can begin by contemplating Jafri's found-object series Wellness-Postindustrial Complex, a commentary on modern wellness trends, composed of pieces such as a toilet paper roll made out of a piece of yoga mat entitled Self-care (2017) and a pair of silicone feet studded with acupuncture needles called Anxiety (2017). Jafri speaks of the contemporary hype around wellness as a "going inwards" of society—a symptom of the individualization of health care in the United States, where government-provided health care is a debate, not a right. "Risk, responsibility, and liability is individualized [in the U.S.]," explains Jafri during the exhibition opening. "If you are sick, it's your fault."
Contemporary U.S. politics has been the impetus for many of Jafri's works, including her 2017 piece Where We're At: a 10-foot tall crossword puzzle created by Jafri and puzzle-constructor Ben Tausig. The concept came to Jafri in 2016 when The New York Times released a list of six historical and political books it claimed would explain the outcome of the then-recent U.S. election. "If [The New York Times] had read those books, then why did they miscalculate so badly?" Jafri laughs, referencing the Times' incorrect predictions of election results.
In the blank squares of Jafri's giant crossword, blacked out in regular crosswords, the artist has placed 16 books from her own recommended reading list—including only two from the Times'  list—with topics ranging from neo-liberal economics to dystopian fiction (Margaret Atwood's Handmaid's Tale and Ayn Rand's Anthem appear in the top two rows).
The crossword is fully solvable, adding an interactive component to the work; viewers can assemble in front of the walled installation and ponder the answers to brain teasers such as "American reality most easily grasped in fiction" (12, across) or "Nixon's preferred media" (3, down). A printed take-home version of the crossword is also available, as are the answers.
The adjacent Alvin Balkind Gallery offers a darkened reprieve from its neighbour. The small room is empty, save for a single bench facing a projection of Jafri's nine-minute video Mariam Jafri vs. Maryam Jafri (2019), which details the artist's past encounter with copyright law: a photo of her piece Anxiety was used by Getty Images as a stock photo, effectively taking away her right to her own work. In contrast to the room next door, which invites viewers to come forth and investigate, here, the art comes to you: sit anywhere and follow along with Jafri's contemplation of the complexities of creative ownership as the video runs in a loop.
Automatic Negative Thought is on view at the Contemporary Art Gallery in Vancouver from July 5 to September 22, 2019.
_________
Never miss a story. Sign up for NUVO's weekly newsletter here.