An Ancient Chinese Art Form Is Revisited by Gongbi Master Ren Zhong
The meticulously painted works are part of the Sunzen Art Gallery's latest exhibition.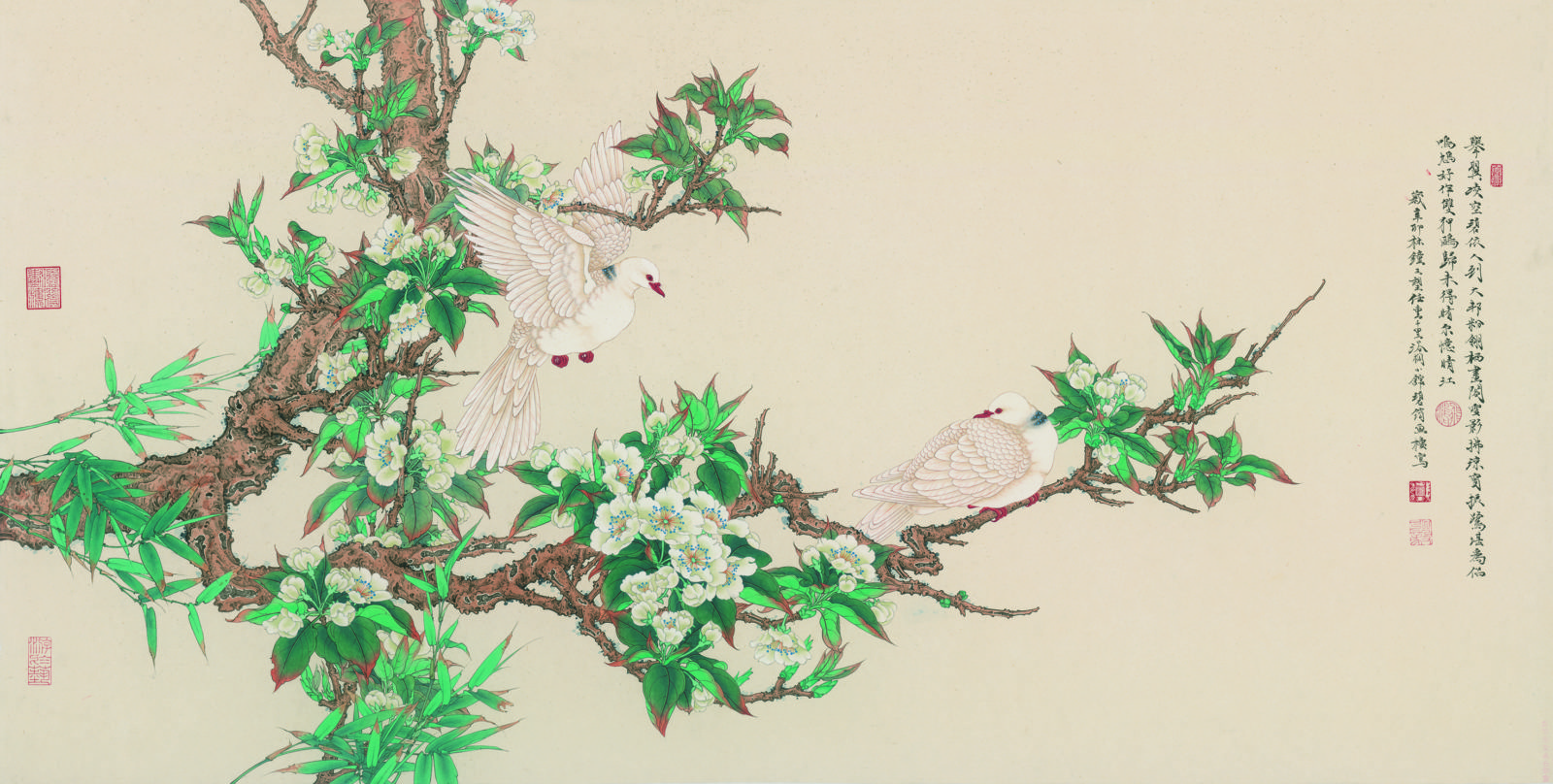 In Chinese art, gongbi paintings lie between the ethos of studious focus and the practice of artful expression. The art form dates back to the Han dynasty (206 BCE to 220 CE) and is rooted in a strict sense of realism. Loosely translating to "meticulous", gongbi paintings are the result of generations of practice for many artists: each painted line is delicately yet purposely flourished across a silk or rice paper canvas with a hair-thin brush. The scenes often depict the tranquility and harmony of the natural world.
Gongbi paintings, for their precision, are contrasted by works painted in the xieyi—or freehand—style. These paintings are unbound; the brush is moved by emotion rather than stylistic rules. Yet, for Lam Wong, co-curator of the latest exhibition at Vancouver's Sunzen Art Gallery, titled Twin Wings to the Glory, there is one gongbi painter whose skill in exactitude is matched by his ability to express emotional intensity: Ren Zhong. At only 43, Ren is one of few young gongbi masters practising today.
Twin Wings to the Glory features 38 of Ren's contemporary works, in which birds make a frequent appearance. The works on the gallery's ground floor, arranged thematically around the four seasons, trace time in tranquility: winter paintings portray bare bamboo trees lined with snow and solitary birds. In spring and summer, the colours deepen, the florals bloom, and the lone birds find partners.
On the second floor, paintings depicting the solitary life of ancient Chinese scholars and sages are displayed. These works present traditional symbols of gongbi paintings: pine trees and cranes depicting longevity, or a seven-stringed guqin, the musical instrument favoured by ancient scholars. Yet occasionally, Ren will betray hints of his modernity by using contemporary colours—like an unconventional pastel purple, for instance.
"To get the [sense of] feeling and spirit to come across [in gongbi paintings] is very difficult," explains Wong, who is also a painter and the artist-in-residence at the Dr. Sun Yat-Sen Classical Chinese Garden. Yet Ren's works exude a depth Wong cannot encapsulate within the borders of language. The closest he can get is with the Chinese character ji, which has no direct equivalent in English, yet encompasses tranquility, calmness, and sadness "but also an appreciation of the impermanence of things … of nature."
Such is the delicate nuance of Ren's work.
Twin Wings to the Glory is on view until February 21, 2020, at the Sunzen Art Gallery in Vancouver.
________
Never miss a story. Sign up for NUVO's weekly newsletter here.