San Francisco's emerald isle.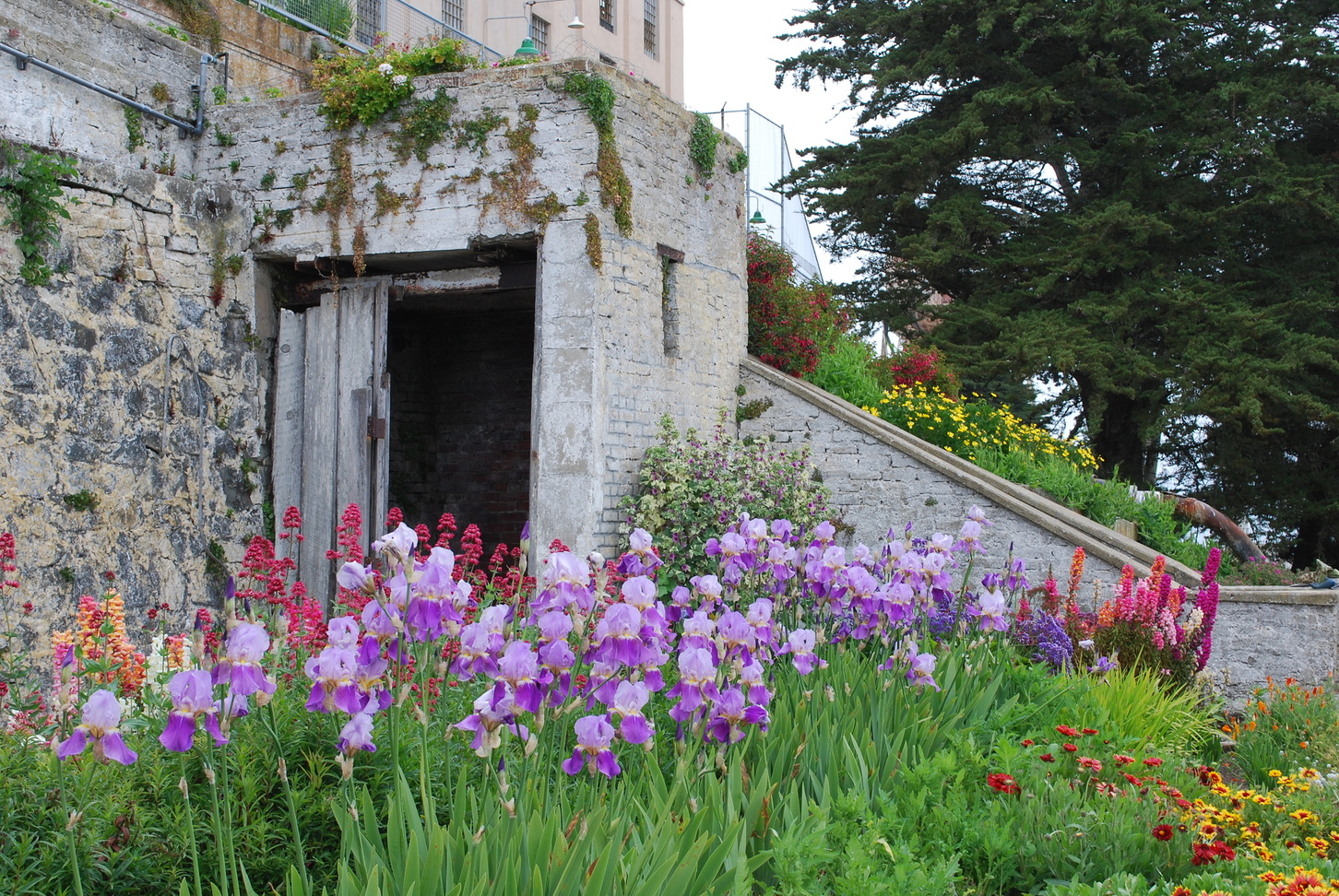 Alcatraz. The very name conjures up visions of famous inmates like Al "Scarface" Capone and recalls well-cited facts, such as: "Nobody successfully escaped." But for all we know about Alcatraz, few people realize that many of its prisoners were also gardeners.
Starting in the 1860s and lasting until the San Francisco maximum security prison closed in 1963, inhabitants of Alcatraz—including staff, inmates, and their families—built up gardens of hardy species to soften the harsh environment of "the Rock" and lift residents' spirits. The warden's secretary, Fred Reichel, became honourary leader of the cause, researching which seedlings would survive with little water (Mediterranean varieties prospered) and advocating for prisoners to be allowed to help with their cultivation. In those days, plots brimmed with poppies, fuchsias, and calla lilies, while a rosy carpet of hardy ice plants grew so thickly over the rocky slopes it was visible from the mainland. On the main dock, freshly cut blooms were laid out for visiting family members to take home. But when high operating costs shuttered the prison, these verdant grounds were left to become tangled and overgrown.
For all we know about Alcatraz, few people realize that many of its prisoners were also gardeners.
Thanks to the Garden Conservancy, the Golden Gate National Parks Conservancy, and the National Park Service, the Gardens of Alcatraz no longer languish. "When the garden preservation project began in 2003, a plant inventory was done and it was found there were more than 200 species of plants still surviving on their own and coping with the neglect of over 40 years," explains Shelagh Fritz, Alcatraz Gardens program manager. "Today, we have over 300 species of plants on the island, all of them in keeping with the historic character of the gardens." This is in large part thanks to a team of volunteers—approximately 700 of whom logged over 7,000 hours last year alone—as well as permanent gardeners who take care of weeding, planting, composting, mulching, and deadheading beneath the island's famous squawking seagulls. (Alcatraz is named after its sea birds, from the Spanish word alcatraces for pelicans.)
These days, visitors can ferry over and explore five main gardens: Main Road, Rose Terrace, Officers' Row, Cell House Slope, and the Prisoner Gardens on the west side. The California climate continues to allow for an abundance of plant life, from fig trees to purple stalks of Pride of Madeira (Echium candicans) to succulents like Aloe arborescens and Agave attenuata, which bloom in the spring. "The Rosa 'Bardou Job' is usually in bloom then as well," says Fritz, detailing one of the more unique specimens of Alcatraz. The rose counts among the rarest of all the world's varieties and was thought to be extinct until it was found growing behind the warden's house. It has now been well-planted rightfully back on Alcatraz and, for many rose-lovers, is worth the trip alone.
When to visit: Anytime from January through September is recommended. Spring is the best for flowering plants.
To get there: Alcatraz Cruises is the official source for tickets to Alcatraz Island. https://www.alcatrazcruises.com/
_________
Never miss a story, sign up for NUVO's weekly newsletter, here.