Reflecting on the Utahn city's subtlest season.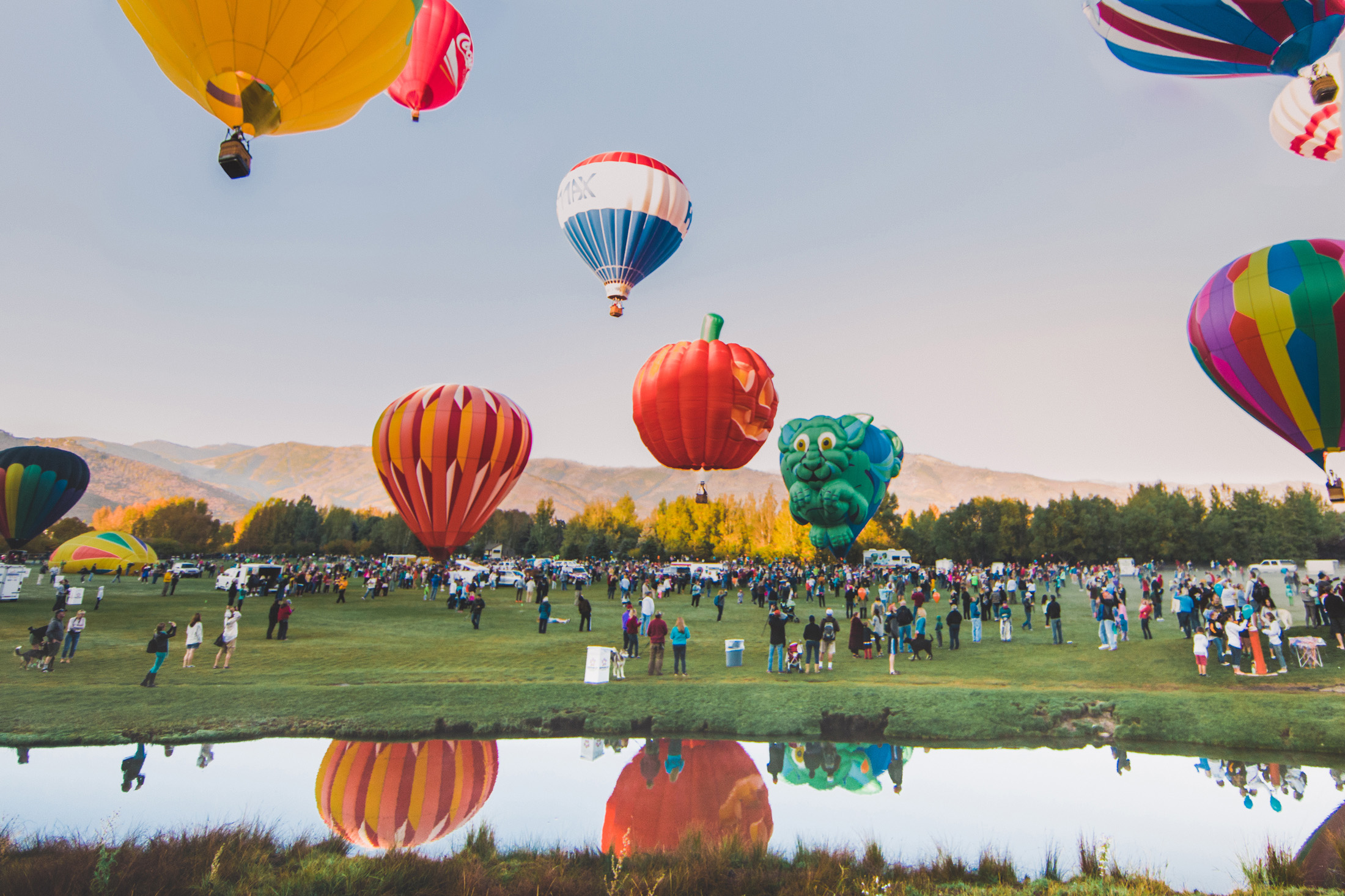 Come autumn, a hush falls over Park City. The crisp days come earlier to this Utahn city than the rest of the country, some attest, and as the foliage turns to gold, the slopes get a break from folks zipping downhill nonstop, be it the summer's mountain bikers or the snowy months' skiers and boarders. Indeed, with the onset of fall, the population whittles down to about 4,500 (nearly half its winter density), and Park City becomes the ultimate serene getaway.
As a way of celebrating the season, the city hosts the Autumn Aloft hot air balloon festival, an annual tradition that first drew ballooners from around the world over 30 years ago. Because of its easy-landing flat valley floor and mountain views, Park City has become a hot destination for ballooning (rides can be arranged year-round through experiences like Skywalker Balloon Company and Park City Balloon Adventures), and while residents can often spot the balloons from a distance throughout the year, Autumn Aloft offers the chance for all to gather as a community to watch a launch up-close. One weekend every September, locals and out-of-towners alike flock to the North 40 Fields for sunrise each morning with carafes of coffee and hot chocolate, blankets wrapped around shoulders, cameras at the ready.
Yet, there is no guarantee that the balloons will actually take to the sky. Hot air ballooning is a Goldilocks game dependent on weather, in the name of safety. If winds are too high, balloons may be blown astray; too hot and the heat inside the balloon, which must be about 65°C above the external temperature, becomes overwhelmingly sweltering. But even without lift off, there's no crushing sense of disappointment from the Autumn Aloft crowd—who patiently wait while pilots test their balloons with a few inflations—but an acceptance, an understanding. We can try to harness the season, we can orchestrate an event to showcase natural splendour, but at the end of the day, the splendour will happen with or without our permission. It's an assertion of the untameable nature of, well, nature.
Besides, there is plenty to discover in Park City beyond what floats (or doesn't) in the sky. With the high-season crowds quelled, the short, quiet months become the ideal time to revel in Park City's best offerings. Discover them, from outdoors to in.
Hiking
Surrounded by the hills, you must inevitably go to them. A stay at Westgate Resort will put you at the heart of Park City Mountain's Canyons Village, where a gondola awaits. A ride up nearly 2,500 metres to Red Pine Lodge unveils trails for any level of trekker. No matter your choice, there will be stunning vistas: take the mild Alpine Lake Trail to a serene spot, or follow Holly's path back down the mountain. Keep an eye out for bikers, but revels in views of sweeping valleys that await each turn of a corner or break through the spindly aspen trees—a fairy-tale sight to behold on their own, their trunks dotted with eye-like notches.
Whether you've worked your body to aches or are just in want of a good pampering, slip in a treatment from Westgate's Serenity Spa. Gemstone masks for the face, under-eye, or lip boost collagen and minimize puffiness. Cap off the day with a sumptuous dinner at the AAA-Four-Diamond Edge Steakhouse. Absolutely select a steak as entrée—whether the zabuton or eye of ribeye, the New York strip or filet mignon, all are divine—and if you can't get enough, begin with the exquisite wagyu steak sashimi, lined atop dollops of wasabi mashed potatoes.
Fly-fishing
For the ultimate exercise in tranquility, arrange to spend a few hours down on the banks of the Provo or Weber rivers with Park City Fly Fishing Guides. Don your provided waders and immerse yourself in the babbling waters, casting and recasting to while away the hours. No matter your angling experience, you'll likely snag a brown trout or two, learning tricks and techniques as subtle as a flick of the wrist from your expert angler—who have spent most of their lives, and still many of their off-duty hours, fishing these waters. Experience the very epitome of retreat with the guided Private Waters trip to secluded spots an hour outside of Park City. After all, the treasure is not your bounty, but the time spent in serenity.
Main Street
No matter the hot air balloons' flight status during Autumn Aloft, come the festival's Saturday night, Main Street is lined with baskets—sans balloons. After spending an afternoon perusing the historic street's shops, galleries, and eateries, join the crowds for the Candlestick celebration. Operators blast their burners into the night sky, putting on a fun show of synchronized flames—some even offer onlookers a chance to try it themselves.
When the time comes to head indoors, reserve a Gin Experience from Alpine Distilling. Hosted in the micro-distillery and private lounge just below upscale restaurant 350 Main, the night is not only educational but interactive. Over a four-course meal from 350 Main's chef, your enthusiastic hosts from Park City–based Alpine Distilling will test your gin knowledge with aroma sensory and tasting sessions. The standout takeaway, however, is more than facts about the juniper-based spirit. Guests create their very own batch, selecting from an array of botanicals–lavender, fresh grapefruit peels, and cinnamon—before their gin is distilled before their very eyes in Alpine Distilling's handmade Portuguese copper stills.
_______
Never miss a story. Sign up for NUVO's weekly newsletter here.