Chic off-grid vacation spots.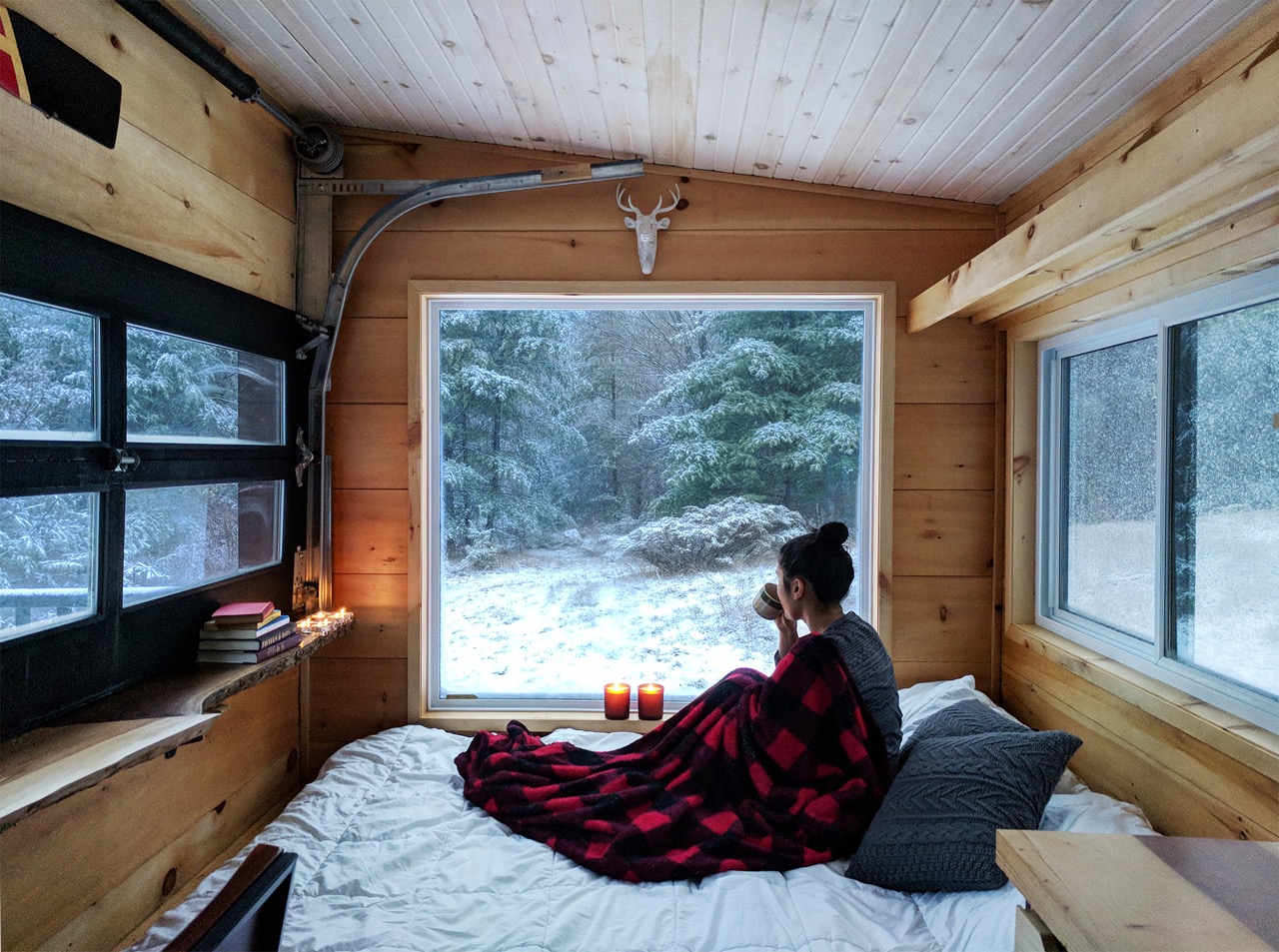 Crave an off-the-grid escape in Ontario? Rental company Cabinscape matches contemporary design with eco-friendly rental cabins that fit the bill for a weekend getaway in the wilderness.
Cabinscape founders John Loerchner and Laura Mendes have long enjoyed backcountry exploring, but after their daughter was born, knew they had to change vacation plans for the short term. Faced with remote cabins or generic "McMansion" cottages, Loerchner and Mendes decided there had to be better options for backcountry accommodations that were sustainably-built and offered creature comforts.  The duo decided to pool their collective work experience and family connections, creating Cabinscape in 2016.
The company's hallmarks were established early—waterfront locations, adjacent to hiking trails, off-the-grid with a modern-day prospector design vibe—the cabins needed to provide all the conveniences of home, reflect the surroundings, and leave a small footprint.
In June 2017, Auburn was listed online and within 48 hours it had been completely book for every weekend of the summer.
Finding the right spots for off-the-grid cabins was a year-long search for Loerchner and Mendes, ending in southeastern Ontario's Frontenac County, an hour and a half from Ottawa. Located on the shores of Sharbot Lake, Cabinscape's first cabin was built in winter 2017. Inspired by the design tenets of the tiny living movement and featuring millwork by Loerchner's brother's company D.L. Creations, which uses reclaimed wood for its projects, the Auburn cabin is minimalism meets sustainability.
The solar-powered two-storey Auburn cabin has two queen loft beds, seating areas, kitchen, indoor and outdoor showers, compost toilet, propane barbecue, and canoe. The interior is clad in natural wood with home decor essentials like cozy textiles, and simple kitchen accessories in white, black, and gray.
In June 2017, Auburn was listed online and within 48 hours it had been completely book for every weekend of the summer.The company's success has benefited from their pretty Instagram feed of idyllic cabin moments and the natural beauty of Frontenac County's landscape.
Last November, Cabinscape added Mason, a two-person cabin, to their portfolio, named in honour of late Canadian naturalist and filmmaker Bill Mason. Currently located in Frontenac County on 600 acres, Mason's cozy interior includes all the same options as Auburn and a garage door wall that lets in sunlight year-round and in warmer months, brings the outdoors closer. Perfect for outdoorsy types who want to hike, ski, or snowshoe, the 160-square-foot Mason cabin will be moved to a new location for the summer season.
Cabinscape will expand again in May 2018, with two additional cabins currently under construction, that will be available for rental as of Victoria Day weekend. And for those who are smitten by the Cabinscape aesthetic, custom-designed cabins are also on offer for those who want to design their own off-the-grid tiny vacation home in the wild.
_________
Never miss a story. Sign up for NUVO's weekly newsletter.