Dreams of how Vienna might once have been.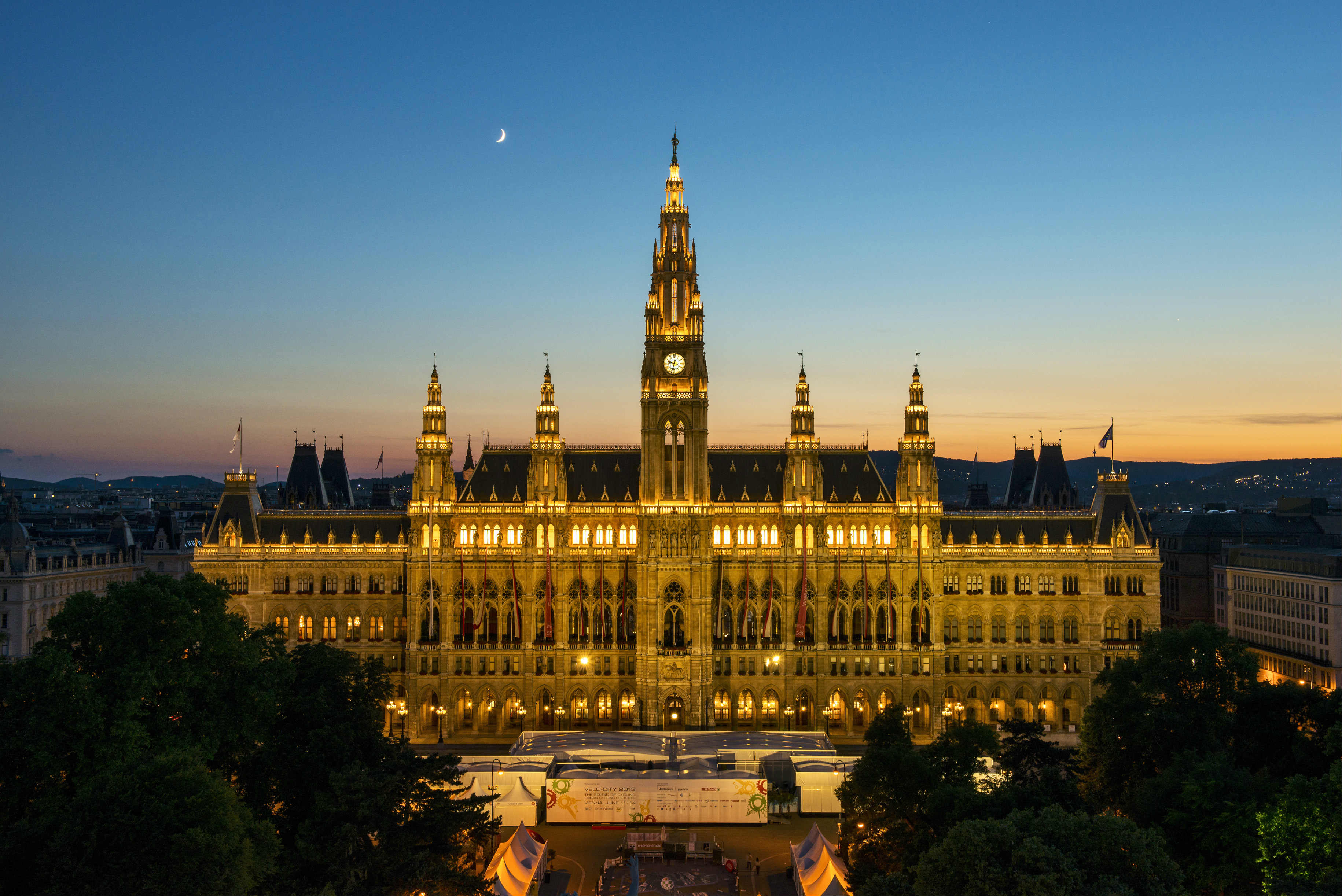 The first time I saw the Hofburg in Vienna, I was 16, and I was in love.
Neither of us had ever been in love before, but we had both read plenty of books; we knew what to expect. He was a year older—about to start university in the fall. Our trip was haphazard and unplanned in all the practical ways (hotel-bookings, getting the appropriate night-trains, remembering to buy toothpaste) and determined in all the beautiful ones (we made sure to see Schiele's "Crescent of Houses, II" at Vienna's Leopold Museum, and decided that if we were ever to follow through with our plan of making an adult career as art thieves, that would be the first piece we'd steal). It was a lost summer, and inevitably, a last summer.
We had decided we were in love with each other; we probably were. We loved Vienna more.
We'd bonded over a shared precocious atemporality: a sense that if we could only live in the past (quill pens, long letters, courtly manners, unimpeachable honour, falconry on the Black Sea) we'd fit in: somewhere that wasn't high school, or New York, or ordinary life. Place-names—cities we'd never been, cities we never would go to—were spells. That summer, with its night-trains, seasides, and mornings spent sitting at Vienna's Café Sperl over newspapers and fig jam and scribbled promises on the back of a tea-bag-wrapper to reunite in 10 years precisely, was an exercise in nostalgia for lives we'd never even lived.
Vienna was at the heart of it. The cream-coloured facades of the Inner Stadt bathed in moonlight, the palaces along the Ringstrasse, and the curlicued, gold-flecked, angel-carved Secessionist architecture of the fin de siècle peering down over the Naschtmarkt—for us, they were portals to a world of old values. It was a world of Stefan Zweig and waltzes, poets that spent all day in coffee-houses.
Being 16, of course, we elided our history. Zweig's world—that time of the "happy apocalypse", how historians term its beauty on the verge of collapse —was a world on the brink of war; the melancholy beauty of Vienna's fin de siècle as much a function of defiant obliviousness as the Austro-Hungarian Empire crumbled under the courtly conservatism of the Kaiser Franz-Josef as of any inbuilt idealism. Back then, they were as nostalgic for their own glory days, their own prior emperors. The days of Strauss echoed those of Mozart.
I'd been to Vienna many times since then—alone, and with other people I'd loved. But when I was offered the opportunity to travel on a Monarch Collection Danube cruise—a boutique riverboat company Uniworld's exercise in Habsburg nostalgia, celebrating what they called "Europe's legendary aristocratic lifestyle and heritage", it was that first summer in Vienna I thought of.
What would it mean, I wondered, for me to go searching for the Habsburgs again? Nearly ten years later (and several degrees more cynical) would I fall under the spell of Strauss so easily?
What would it mean, I wondered, for me to go searching for the Habsburgs again? Nearly ten years later (and several degrees more cynical) would I fall under the spell of Strauss so easily?
Among so many people travelling in search of vanished glory days, would I be able to resist thinking of my own? From the first embarkation in Budapest, it was difficult not to compare the SS River Beatrice to my childhood certainty of what the fin de siècle Austro-Hungarian Empire must have been like. The boat was a gleeful, glorious pastiche of art nouveau aesthetics: the pencil-sketches in the pastel staterooms, the chandelier in the lobby, the jewel-toned upholstery in the wood-paneled lounge. A glass jar on the room vanity seemed to mysteriously refill itself with varying biscuits every time I left the room. The stewards—almost anachronistically impeccable—all but bowed; at times, two or three would come to check on me in succession. Even the prosecco in the minibar was decorated with a picture of Klimt. In the dining room, they played Liszt. Once, Liszt's liebestraum no. 3—quite literally, "a dream of love"—had been the soundtrack to that summer. Before we'd set off on our voyage—communicating, in those days, exclusively via AOL instant messager—we'd play it simultaneously on our computers, imagining that when we, at last, went to Vienna, we'd hear it everywhere. Our first night, we'd gone to a churchyard concert of Liszt.
Here, it was the background for dinner. All the songs repeated on loop, until I could hum along over dessert without even remembering what they were. That first night it was easy to be wary, even cynical. As the liebestraum looped in the background, as I looked through the cruise's activities—a concert at Vienna's Palais Eschenbach, a visit to the Hofburg's Spanish Riding School, and a tour of the Winter Palace where the Habsburgs had once held their dances. I wondered if we were all participating in some sort of collective delusion: a hundred-person dream of a Vienna of finery and frivolity, and vanished yet exultant glory that had never truly existed: neither for Stefan Zweig, nor for me.
The next day, there was a Liszt concert on board the ship. I came into the lounge early – intending to do a little reading. Instead, I was alone with the pianist. I listened to him practice. He played the songs I remembered most vividly from a decade prior: the campanella, the liebestraum, the odd sonata by Chopin. However I had changed, the songs—played wildly ("demonic," Liszt's contemporaries called him), savagely, had not. The sun was low and pink over the Danube. The old palaces of Buda mirrored themselves in the water, half-broken by the onward current.
The Vienna of the Beatrice was at once glorious and artificial: an artful recreation of dreams of Empress Sisi's Vienna: ballrooms and bonbons.
"I'm afraid that Europe is passing me by," murmured a woman named Shirley, the night we docked in Vienna. She and her sister Bobbi—both from Liverpool, both in their eighties—had come on board the River Beatrice to forget. One was widowed; the other's husband had Alzheimer's: a disease that demanded constant emotional and physical care. Neither woman was in the best of health—they chose to forego most of the optional shore excursions in favor of sitting on the roof deck, staring as imperial cities gave way to ruined castles, ruined castles to strip malls, strip malls to green wilderness, and back again as we made our way downriver. Still, they said, it was worth it: just to be here, among so many beautiful things; to let the place wash over them. They'd never been able to travel before, they said; now, they might as well.
The Vienna I saw from the Beatrice both was and wasn't the Vienna I'd known at 16, or the Vienna I'd dreamed about before that.
The Vienna of the Beatrice was at once glorious and artificial: an artful recreation of dreams of Empress Sisi's Vienna: ballrooms and bonbons. We visited the Spanish Riding School, slipped past the guide-ropes into the stables, the tack-rooms, where the imperial saddles, still with their impeccable insignia, were stacked high. We took waltzing-lessons in the ship-lounge—then let the Blue Danube wash over us at a private champagne concert. We learned how to make Esterhazy cake; we attended morning lectures about the most salacious details about Habsburg life: about the notorious, glamorous Sisi and her proclivity for gymnastics, her reported lovers. (We talked only slightly less about her son, the Crown Prince's murder-suicide with his lover at Meyerling, about his successor Franz Ferdinand, whose Sarajevo assassination started the First World War, about how she herself was assassinated in Geneva by an Italian anarchist: her infamously tight corset stemming the wound's bleeding long enough for her to make it back to her ship before collapsing. Those moments were too harsh for our collective dream).
Slipping away from the guided excursions, I sought my own echoes of the Habsburgs, of the "happy apocalypse," of summers last and lost. I ducked away from the salesmen, the pamphleteers in their faux-Mozart costumes, hawking opera and concerts and palaces and memories, and I sought out the city on its own terms. I walked among the roses at the Volksgarten, alternating red and white, laid out as an example of imperial magnanimity towards the public on the Hofburg grounds; a monument to Sisi stands at one end. I snuck into the Hotel Sacher, drank champagne in the hidden Blue Bar—barely marked, in the back of the lobby, away from the main tourist hordes—the way I never could have afforded to do at 16.
I visited the Café Sperl, where I had once eaten fig jam and made promises, and watched the professors and the tourists and the itinerant poetry-sellers; going from table to table, with their pamphlets. I walked alone at night through the empty, moonlit streets of the Inner Stadt, where I had once been so happily, so gloriously lost, and realized how little I remembered of what I had said 10 years ago. At night, with the streets so empty and the moon so full it felt like the whiteness would burst around me, it was easier to think that time only ever ran in circles. That the Vienna that every generation from Sisi's onwards had sought to recapture still existed.
In the shadow of St. Stephen's Cathedral, at the Loos America Bar—a Deco-dark, mosaic-paneled box of a cocktail joint, designed by Adolf Loos in 1903 in conscious opposition to the ornate decadence of Viennese fin de siècle architecture—I drank a French 75, pressed up against strangers. "I'm celebrating my 20th wedding anniversary," a blonde woman in white told me. She pointed to her husband—getting drinks at the bar—a stout, grey-haired man in a leather jacket. "Our first date was right here." She laughed and I laughed, and together we toasted to other people's love stories.
There is a German word for longing: sehnsucht. It is a homesickness for a country you have never visited, a love for somebody you've never met. It is a yearning without an object, and so without an end. It's the vague, elegiac melancholy you find in Viennese writers like Zweig or Roth, missing the Vienna Before the War, which is also—they admit—the Vienna of their childhoods.
There is a German word for longing: sehnsucht. It is a homesickness for a country you have never visited, a love for somebody you've never met.
Like my long-lost summer, Vienna's beauty lay in the fact that it had probably never existed quite the way anybody remembered it, and yet we kept coming back, remembering, anyway.
It was that, I thought, that the world of the Beatrice had captured so well.
Maybe it didn't matter if Vienna had never really been a place of bonbons and ballrooms, if the Austro-Hungarian Empire crumbled, if the Danube wasn't even really blue. The world of nostalgia onboard the Beatrice may not have been accurate, exactly, but in its yearning idealism, in its dreams of how Vienna might once have been, should once have been, could be again—just for a week—was at its most Viennese of all.
The Liszt kept on playing, throughout my week onboard. We sailed onward: down the Wachau Valley, down to Durnstein Castle—where I climbed to where Richard the Lionheart had once been kept prisoner, where only ruins were now left—to Salzburg and to Melk, to abbeys and castles. We drank too much wine; ate too much Sachertorte; listened to the liebestraum, still on loop.
There was no use pretending we were not living a dream. But, like any liebestraum, it was a dream of love.
Originally published September 26, 2016.