High-end, higher purpose.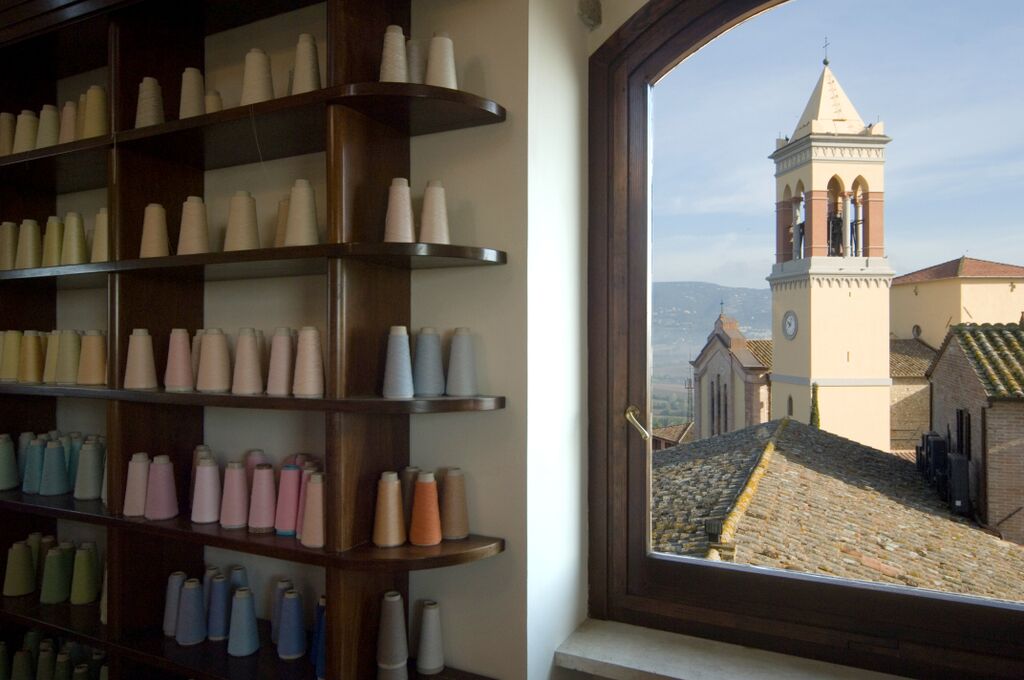 Designers are often credited with creating their own universes, spinning their aesthetic identities into personally stylized empires buoyed by product expansions, parties, and assiduously curated social media feeds. Sixty-two-year-old Italian designer Brunello Cucinelli has taken a slightly different route with his eponymous line of cashmere and luxury sportswear pieces; Cucinelli, quite literally, has created his own community.
In 1978, Cucinelli established his company headquarters in the hilltop hamlet of Solomeo, where he later built the School of Solomeo (its four curricula are mending and linking, cutting and assembly, tailoring, and masonry). He has since been recognized for reviving the sleepy Umbrian village by investing in the area's traditional industry of clothes-making and restoring its time-worn villas and landmarks, some of which date to the 12th century. "I felt in order to create a beautiful product, our employees needed to be working in a beautiful place. The environment of Solomeo is tranquil and serene, which allows creativity to flourish," Cucinelli explains of his choice to centre his company amid the cobblestones. "I have always believed in the art of craftsmanship and artisanship. When I first began my business, I wanted to create a product crafted from the highest quality, which could be enjoyed for generations."
An avid reader of philosophy, Cucinelli, whose first Canadian boutique opens in Vancouver late October, aimed to champion a "humanistic" form of capitalist structure upon launching his line. He contributes 20 per cent of company profits to the humanitarian Brunello and Federica Cucinelli Foundation and pays workers on average 20 per cent above industry standard in order to continue using traditional Italian craftsmanship techniques to manufacture his designs. "A product of their nature cannot be created through mass production," he says of his collections.
Pieces from Brunello Cucinelli's fall/winter 2015 show will be the first Vancouver shoppers may peruse. "There are lots of layers with chunky knits, furs, and lush cashmere, all of which have a very sporty-luxe vibe," Cucinelli says of the collection, which was inspired by the concept of "wild luxury." "The materials, colour palette, and designs reflect and celebrate the beauty of nature," he elaborates. Indeed, the collection's ultra-tactile fabrics invite cuddling up to protect against cold mountain air—even the backpacks are crafted from fur. Cucinelli feels Vancouver's outdoorsy character made it an ideal location for his Canadian debut (though do not be mistaken; Gore-Tex  and fleece do not factor into his work). "For such an active city, Vancouver can enjoy the combination of comfort and luxury. The people can appreciate the designs' understated, laid-back effortlessness," he says. "Vancouver is a city that values nature and has respect for its environment and I think people will have something to relate to in our designs."
And so Cucinelli's community grows.