A powerful, comfortable, slinky roadster.
While I have most certainly gone on record (read: waxed poetic) about the lovely and winding path of Angeles Crest Highway just outside of Los Angeles, California, allow me to present a different format for enjoying such an endearing bit of road.
In my recent piece on the too-fast-to-believe McLaren 720S, I extolled the pre-dawn exit from the city for a spirited run into the sub-alpine. But what if you want to see the hills in a more relaxed manner? Sure, a mid-engine supercar has its time and place—but maybe you want to put the top down and stop for a cup of coffee before sliding back into an Italian roadster, throwing on your sunglasses, and drive into the orange glow of the mid-morning sun. This is a decidedly more Californian approach, and even though it goes by a new name, the Ferrari Portofino is just the car for the job.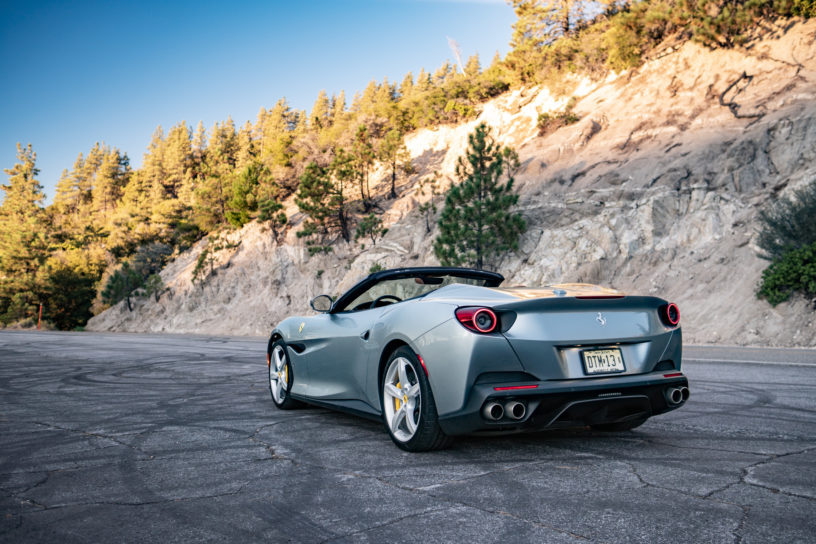 Replacing the California, the Portofino is Ferrari's everyday drop-top GT: a powerful, comfortable, slinky roadster with a folding hardtop and a snarling engine note. The California was in production from 2008 to 2017, and the Portofino is just starting to hit dealerships, offering a very similar two-plus-two format for a front-engine daily use Ferrari that couldn't look more at home around Los Angeles.
As much as I love to have a mid-engine supercar for the amazing driving just outside L.A., you still have to get to those roads, park on city streets, and crawl in endless traffic. And in a state where sunshine is both free and plentiful, there is a lot to be said for a comfortable and luxurious convertible that can also take a run up to Newcomb's Ranch for coffee or make the most of Topanga State Park en route to the coast and its many fine beaches.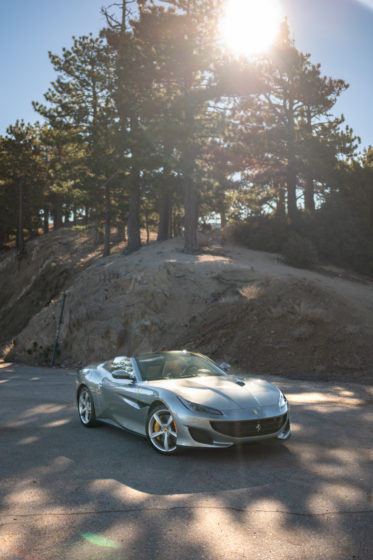 As it represents the entry point into the brand's line up, the Portofino represents a difficult blend of style, performance, versatility, and accessibility. Nowhere near as intimidating (or as capable) as a 488, and less expensive and hardcore than an 812 Superfast, the Portofino (which starts at $243,009) harkens back to the brand's history of making easy-driving front-engine GT sports cars.
While many of those cars are characterized by their V12 engine, the Portofino (like the California before it) makes a strong case for Ferrari's 3.9-litre twin-turbocharged V8. As much as I loved the V12 in the GTC4Lusso, the V8 in the Portofino is a perfect match for the spirit of the car. It's smooth, sounds amazing, and with 591 horsepower and 560 lb-ft of torque, the Portofino is legit fast. With quick shifts via its 7-speed dual clutch transmission, 0 to 100 km/h comes in 3.5 seconds on route to a top speed of 320 km/h. I'd argue that given its GT credentials and drop-top charm, the Portofino may actually be faster than it needs to be, with plenty of power and a strong snarl from the exhaust whenever you need it.
I had the Portofino all over L.A., and from hours of traffic while working on my tan (top down, of course), to running errands, escaping to the beach, or running up Angeles National Forest on a cool Saturday morning, the car is nothing short of a treat. It's easy to drive, visibility is good, and there is enough tech to be useful, but not so much that it takes away from the experience of driving a sports car. The interior is comfortable, relatively simple, nicely made and—as cliché as this statement has become—it's a nice place to sit for a drive, even the most mundane of examples.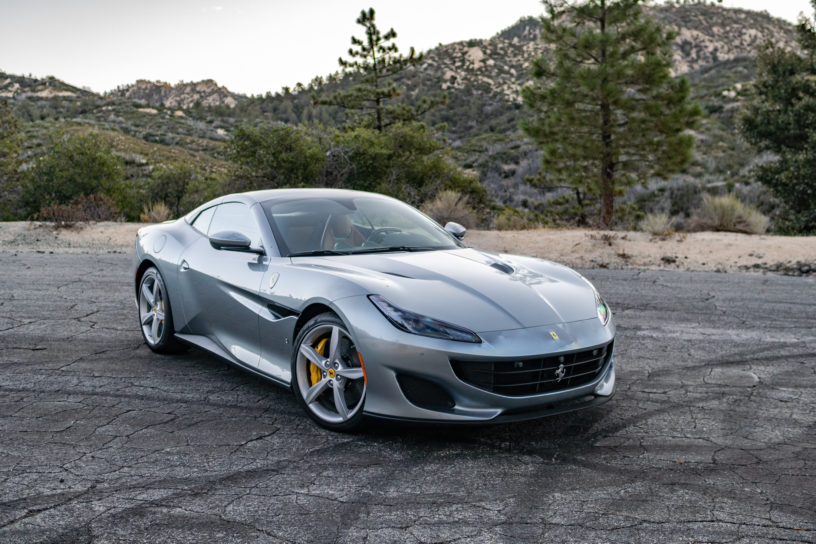 The steering is sharp and fast, the engine is just as happy in stop-and-go as it is in Sport mode, power is plentiful, and while the exhaust occasionally seemed a bit too loud when navigating city streets, it was perfect for a morning drive up the coast or when reverberating off a canyon wall.
Top up or down, I think it's a great looking car too—long, low, slinky, and dramatic, but not at all brash, the Portofino manages to look special while also reserved enough to be an everyday car. After a few days behind the wheel, it's of little surprise that its predecessor was named the California, or that the Portofino is named after the stylish resort town on the Italian Riveria.
Early Saturday morning on Angeles Forest, feeling less "a-need-for-speed" and more for a simple cup of coffee at Newcomb's along with the sunlight through the trees and the cool wind in my hair, the Portofino is just so good. Supercars are fun, sure, but the Portofino feels downright romantic. We all know Ferrari can make supercars, race cars, and even hypercars, but you'd better believe they can make a damn solid sunshine car, too.
Photos by James Stacey.
_______
Never miss a story. Sign up for NUVO's weekly newsletter, here.