The New Mercedes-Benz G-Wagen
An update of the iconic G-Wagen is unveiled in Detroit.
The Mercedes G-Class (a.k.a the G-Wagen or just "The G") is something of a relic. Despite the passage of time and development of technology, Mercedes has been offering a civilian version of their now iconic off roader-come-luxury-SUV in some format since 1979. A rolling tribute to the "if it ain't broke, don't fix it" mentality, the G has remained largely unchanged, especially in terms of its exterior design. It's a tall, boxy, bank vault on wheels, and from private school pick up to the parking lots of nice hotels, G-Wagens are a common sight.
When the G-Wagen was first released, the idea of a "luxury SUV" didn't really exist, at least not as we know it today. An update of Mercedes' longest-serving model range is big news, and the famed German brand previewed the next-generation 2019 model this past week at the North American International Auto Show in Detroit.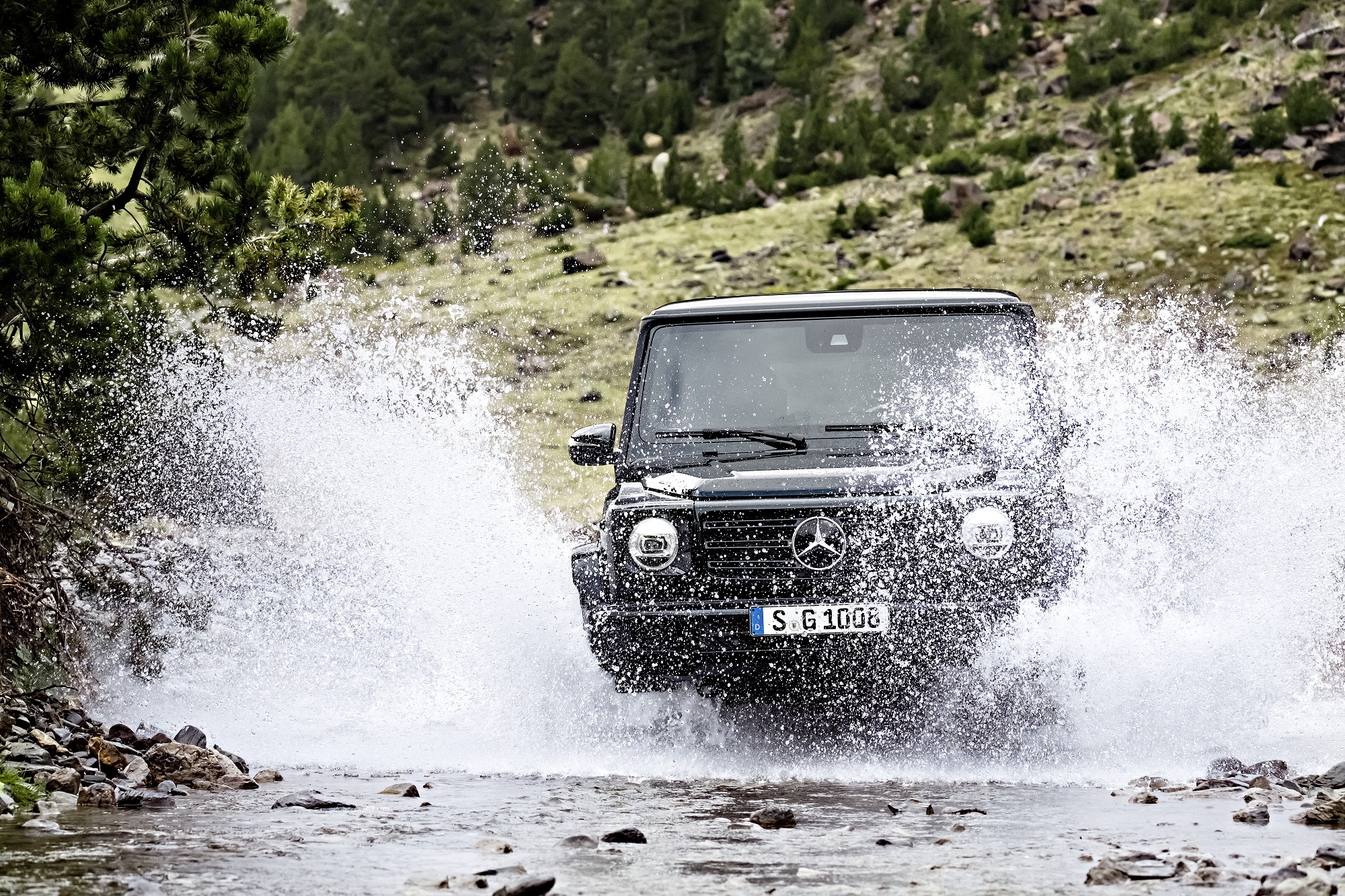 In a dilapidated old theatre housing a group of assembled journalists and industry personalities, Mercedes rolled out an almost identical-looking new G. Backlit by columns of flame and crawling over steep ramps, a casual observer would likely be unable to distinguish the classic from the current-gen G-Class.
During the presentation, head of Mercedes-Benz Cars Dieter Zetsche compared the G-Wagen to design icons like the Coke bottle and the Eames chair. The G's shape is undeniably iconic and Mercedes' main goal with this refresh was to respect that well-known (and loved) design while modernizing and improving its handling capabilities for both on and off-road driving.
While the skin may (thankfully) look quite similar, the underpinnings are notably updated. Without going into entirely too much detail, this includes an extensive use of aluminum, increased overall rigidity, a new independent front suspension (for a better on-road day-to-day driving), and a modern electrometrical rack-and-pinion steering system (a long-needed update over the original recirculating ball setup).
From the desert to the jungle, to the alps, to Rodeo drive, the G-Wagen is a strange and wonderful SUV.
The result is a G that is 53 mm longer, 121 mm wider, and 170 kg lighter, all while offering improved handling, ground clearance, and wading depth (the G can now wade into waters up to 70 cm deep). G-Wagen fans will be happy to note that along with these improvements, the G's characteristic ladder frame remains, as does its trio of 100 per cent locking diffs and available low range gearing (for when the road gets very rough).
While a more powerful and more performance-minded AMG variant is undoubtedly in the works, the 2019 G 500 is powered by Mercedes' 4.0-liter "Hot V" twin-turbo V8 producing an ample 422 horsepower and some 450 lb-ft of torque, all of which is sent to the wheels via a new 9-speed automatic transmission.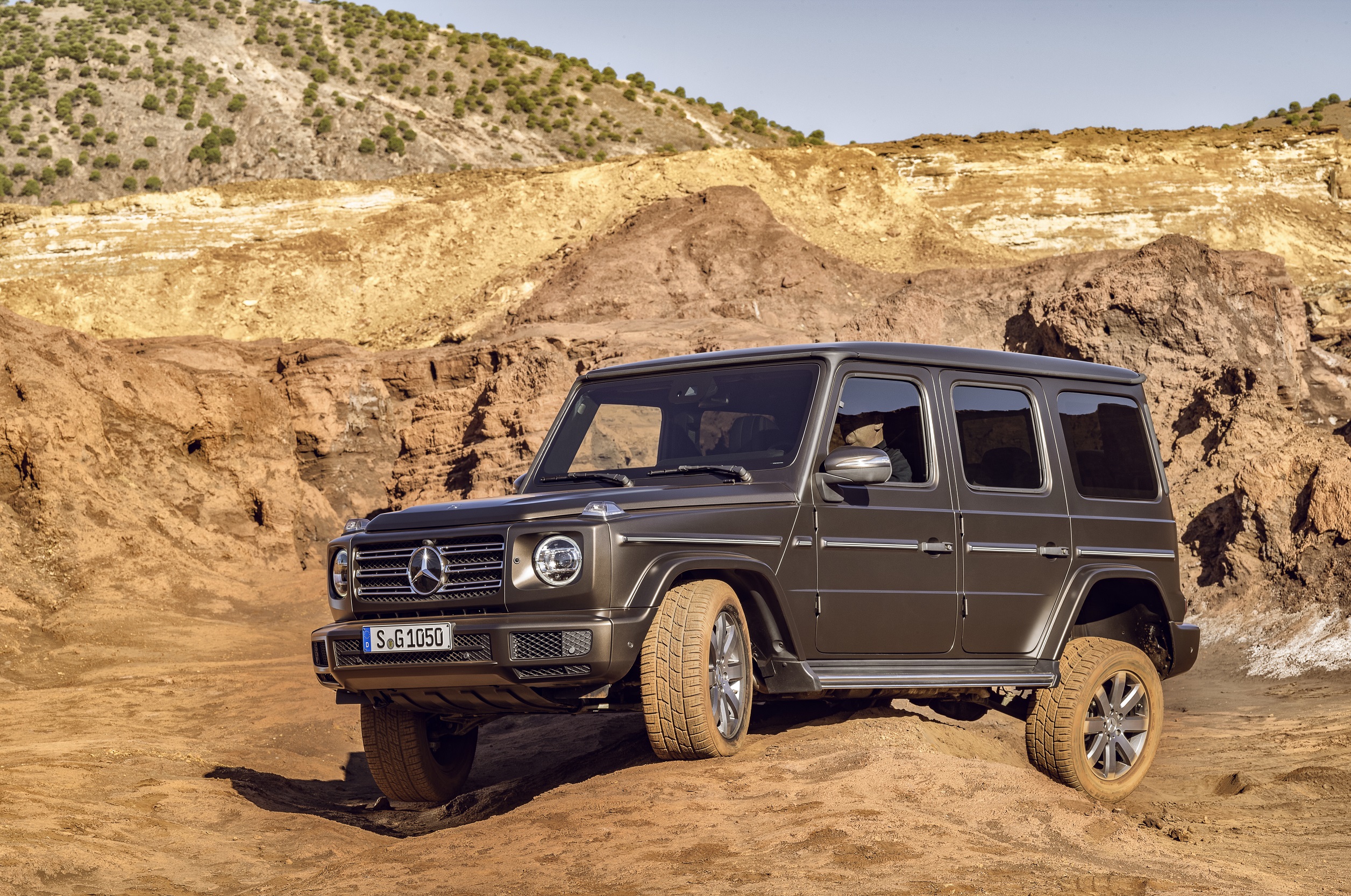 The interior has been entirely redesigned to offer more occupant space and better integration of Mercedes tech and luxury. With the option of a full digital display cluster, the new G-Class can be specified much like any premium Mercedes-Benz model. By contrast, the current generation G-Class was so long-standing that most advancements had to be tacked on to the original design. For the new G-Class, the various systems (including the infotainment screens and the rear-view camera) benefit from a much more cohesive integration with the interior design and vehicle layout.
With the 300,000th G-Wagen having been built this past summer, on or off the road, the G has been a very successful platform for Mercedes. All G's are built largely by hand in Graz, Austria, and while the model has become an expression of luxury and wealth for many of Mercedes more affluent customers, many G-Classes are made for military and service applications all over the world—Mercedes says that over 80 per cent of all the G-Wagens ever produced are still in operation.
From the desert to the jungle, to the alps, to Rodeo drive, the G-Wagen is a strange and wonderful SUV and I'm happy to see that Mercedes has gone to great lengths to preserve the off-roading legacy that continues to set the G apart from more casual, cookie-cutter SUVs.
_________
Never miss a story. Sign up for NUVO's weekly newsletter.