Mercedes-AMG GLA 45 4MATIC
A practical hatchback with an extra helping of hustle.
For anyone with a childlike love of revy engines and the occasional squealing tire, it's hard to argue with the AMG formula. Taking Mercedes and making them faster, louder, and more exciting, this once third-party entity was brought in-house with Mercedes in 1999 and by all appearances, they've been given free reign to apply their winning formula to any and all of Mercedes considerable fleet.
Want a huge SUV with 585 horsepower? There's the AMG GLS 63. Want an everyday sedan that blends into traffic, but still goes like a missile? Look no further than the AMG E63S. From sedans to CUVs, to SUVs both big and small, if you're willing to pay for performance, there's likely an AMG for you. Looking at the entire AMG range, it's hard not to see the Mercedes-AMG GLA 45 4MATIC as something of an outlier, a niche high-performance thought experiment applied to one of the brand's more casual offerings.
Operating as a premium player in the hatchback-SUV landscape since 2014, Mercedes calls the GLA an SUV, likely due to its somewhat higher ride-height and all-wheel drive platform. To my eyes, it's a car, but I'm willing to cut Mercedes some slack on this as SUVs are far more popular than simple cars at the moment—and this is far from a simple car.
Giving AMG the GLA meant that Mercedes wanted to create a premium alternative to the well-established idea of a performance hatchback, commonly called a "hot hatch" (think VW Golf R, Ford Focus RS, etc). In taking a smaller practical city runabout and fitting it with big wheels, plenty of tire, all-wheel drive, and a loud four-cylinder engine, Mercedes created a niche product for those who want their everyday car with a side of supercar.
As is often the case with AMG cars, the GLA 45 does little to pronounce itself—until you press the start button. While the slightly more aggressive bodywork, side skirts, and 20-inch AMG wheels may speak to an enthusiast, the 2-litre turbo inline four-cylinder under the hood speaks a more universal language. Like a teenager unwilling to face a new day, it comes to life with a snarl and replies to any input with a raucous collection of shouts, pops, and crackles.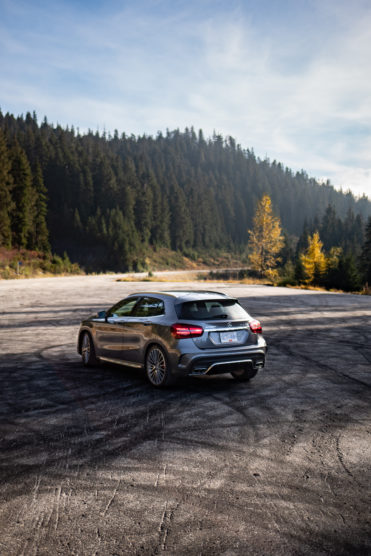 With 375 horsepower hitting all four wheels via a smooth and snappy 7-speed dual clutch automatic, the GLA 45 hustles. And while the performance is impressive (0-100 km/h in 4.4 seconds), the character of the car is so wrapped up in this engine that the numbers seem entirely secondary. The GLA 45 is fast, sure, but it takes about five minutes in the car to realize that it likes being fast (and loud).
The interior is straightforward, if a bit outdated compared to other current Mercs. The AMG spirt continues inside with swaths of Alcantara, black leather, sporty red accents, and a knob on the center console that offers options from Comfort to Sport+ and Race. At first glance (in comfort model) the GLA 45 drives like a small hatchback or SUV. It's small, visibility is good, the seats are comfortable, and there is a lot of tech on offer alongside an excellent stereo. While there are plenty of buttons on the dash, general use of the car is fuss-free and the infotainment is perfectly functional once you master the learning curve of the dial-based controls.
Tooling along in traffic, the GLA 45 is calm, quiet, and smooth—just what you'd expect from a Mercedes. Want to experience this AMG's true character? Turn that little knob on the console to Sport + and the exhaust wakes up, the transmission drops gears to pull revs, and the GLA 45 champs at the bit. I recommend you find a good bit of road, an empty on-ramp, or perhaps an open track day, because this car loves to sprint. It's eager, sharp, and so much fun.
The all-wheel drive offers a huge amount of grip and the GLA 45 is balanced and sure-footed. From a quick run to Costco or a blast up to Whistler for the weekend, the GLA 45 is Mercedes saying you can have your cake and eat it too. A practical and easy-to-live-with SUV that manages to be a complete blast when the situation calls for a bit more pace.
It's an appealing slice of cake, to be sure, but while you may be able to have your cake and eat it too, there is no free lunch. This hot Merc SUV starts at $52,300 and can easily be spec'd well into the 60s, with this Mountain Grey Metallic example costing a bit over $63,000. Compare that to the less lux and lower performance Golf R that starts at $42,495 or the $58,988 starting price of the performance-obsessed Focus RS and the Merc seems well placed. While certainly not cheap, if you want a practical platform that ticks boxes for both luxury and performance (not to mention outright fun), the GLA 45 4MATIC offers the fun-loving enthusiast charm of a hot hatch without sacrificing its everyday credentials.
_________
Never miss a story. Sign up for NUVO's weekly newsletter.