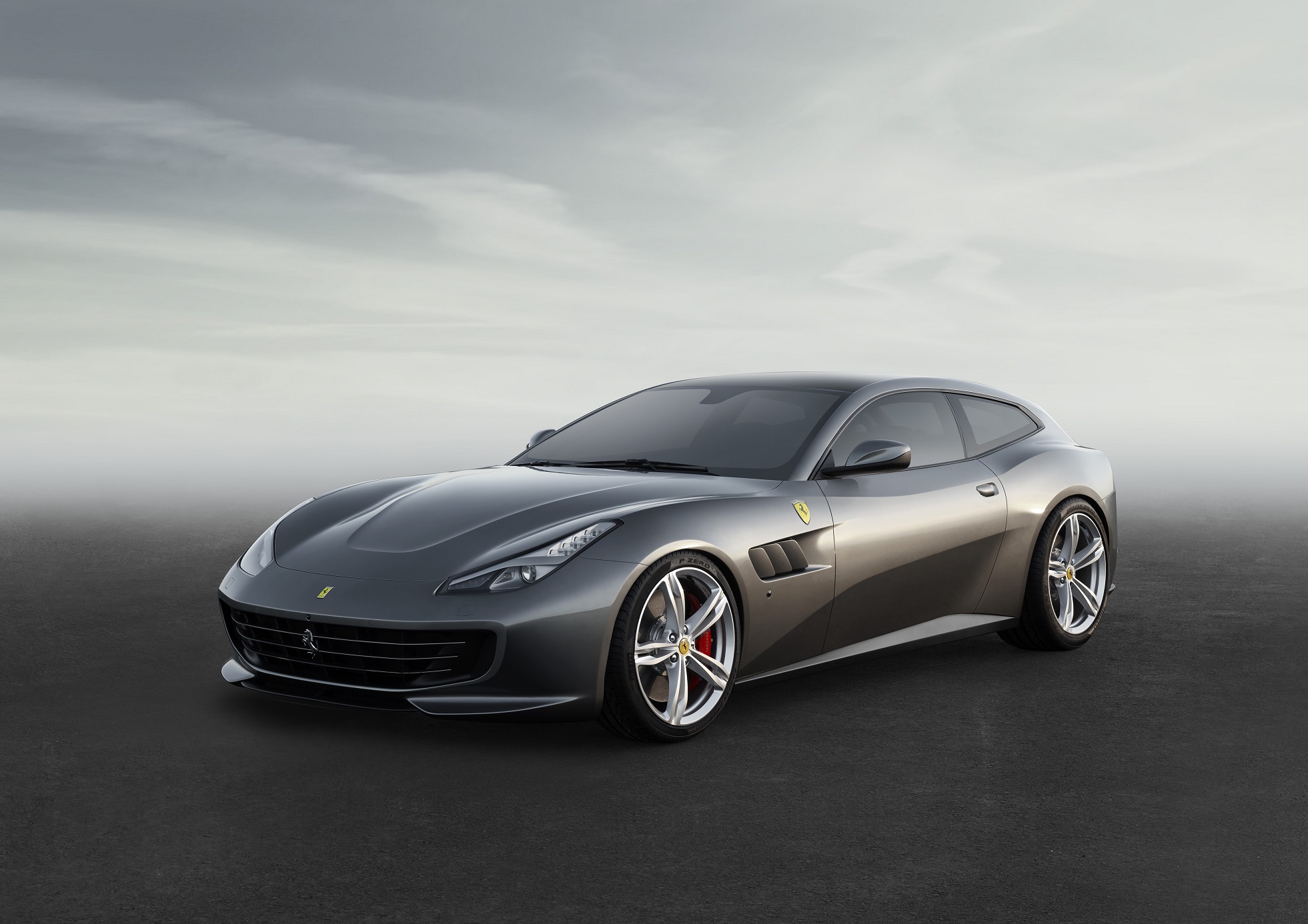 While Ferrari is certainly best known for bright red, mid-engine supercars with enough storage space to stow your sunglasses and Ferrari-branded driving gloves, they do in fact offer something a bit more practical as well. With two doors, four seats, 12 cylinders, four-wheel drive, and a hatchback tail, the GTC4 Lusso is as practical of a beast you'll find within Enzo's famed stable of prancing ponies.
The GTC4 Lusso is essentially a refresh of the Ferrari FF, which was launched in 2011 and replaced the aging 612 Scaglietti. The GTC4 Lusso retains much of the FF's design but sports a new tail shape, improved aerodynamics, and a revised nose to aid in feeding enough air to that front-mounted 6.3L V12. Power is up to 681 hp, a bump of 30 hp over the outgoing FF, and with 514 lb-ft of torque, the GTC4 Lusso can hit 100 km/h in 3.4 seconds.
Much like with the FF, all of that power is routed through a four-wheel drive system, but the GTC4 Lusso also borrows the new four-wheel steering system that Ferrari recently fitted to the decidedly hardcore F12 TDF. Four-wheel steering improves stability and gives the impression that the 4.9M-long GTC4 Lusso is shorter than it really is. Combine this with the latest generation of Ferrari's Slip Side Control system along with their magnetic dampers, and the GTC4 Lusso is a Ferrari that can get the kids to school, even if it probably should have been a snow day.
The cabin has also received a subtle update over the FF, with a more compact steering wheel and a new infotainment system featuring a 10.25 inch HD touch screen with support for both Apple CarPlay and Android Auto. The GTC4 Lusso's long doors provide enough space for even adult passengers to scramble into the luxurious, if a bit tight, rear seats.
The two-door hatchback form, traditionally called a "shooting brake", is dramatic and handsome. With an aggressive nose and long hood, it flows into a rakish roofline supported by wide hips, large wheels and an aggressive rear diffuser with quad-tipped exhaust. The GTC4 Lusso was shown in advance of the Geneva Auto Show this March, and while pricing has not yet been announced, it should boast a price tag similar to that of the FF, which started at $335,000.
The FF launch was a big moment for Ferrari as no other manufacturer made, or makes, a comparable model. With the GTC4 Lusso proving their continued commitment to the shooting brake format, Ferrari maintains a position distinct from their competition. As Bentley rolls out their Bentayga SUV, Lamborghini ponders eventual production of the Urus, and Maserati preps their forthcoming Levante, Ferrari remains steadfast. The FF, and now the GTC4 Lusso, is Ferrari's anti-SUV. They'll give you four seats and four-wheel drive, but it's still a Ferrari, and a V12, two doors and a top speed of 335 kph is what they do best.