Warm Truffled Peas with Caramelized Shallot Vinaigrette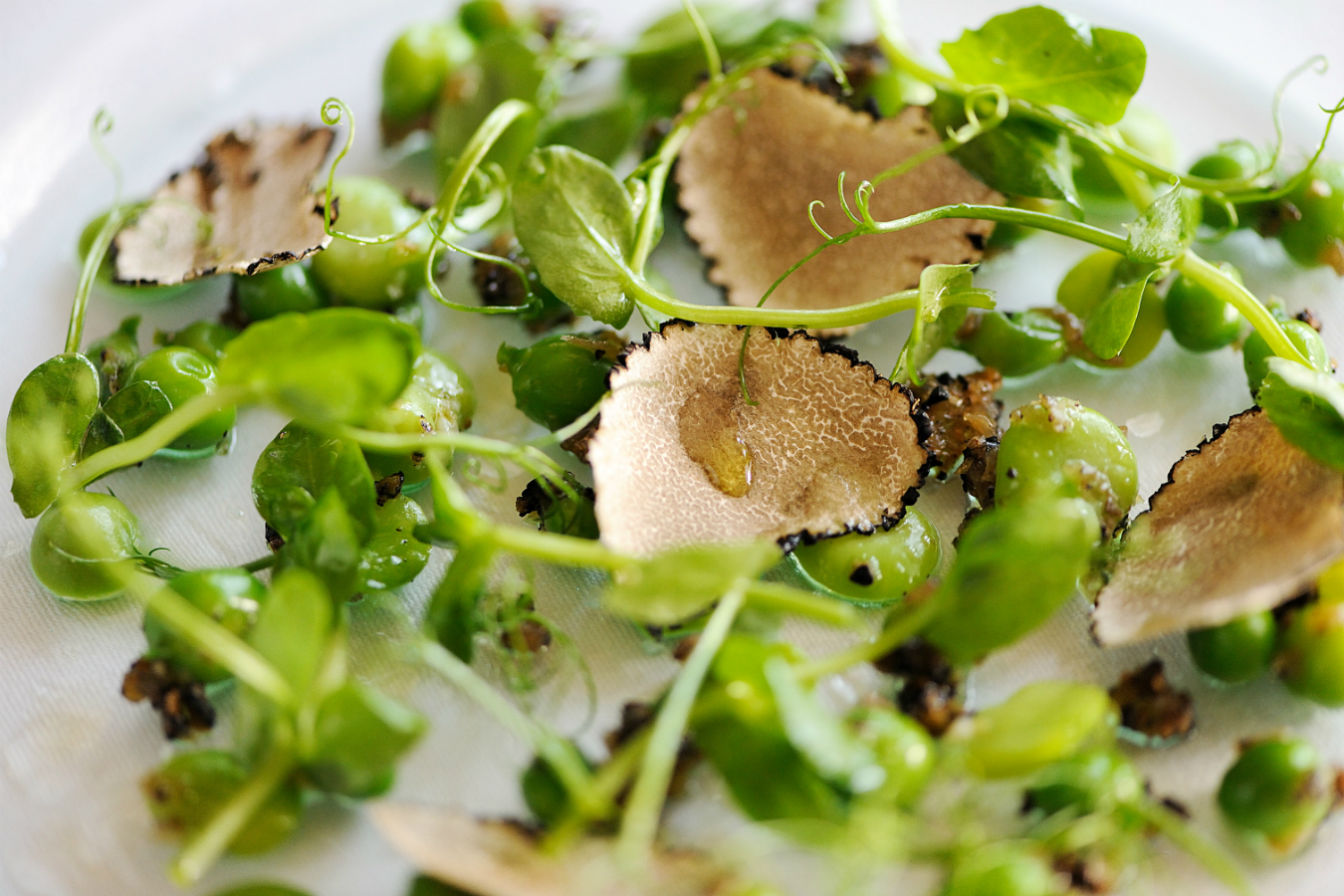 The Small Luxury Cookbook is a curation of 221 recipes from the various chefs of the Small Luxury Hotels of the World. Here, we share salads that encourage leaving hearty winter soups behind for unique light fares suitable for the warming weather. 
Chef: Sam Moody of the Bath Priory in Bath, England
Serves: 4
Ingredients 
60 g fresh English peas
60 g fresh English broad beans
350 g frozen peas
500 ml extra virgin olive oil
500 g finely chopped shallots
50 ml sherry vinegar
1 Wiltshire truffle (or similar)
Salt
Ground white pepper
Sugar (optional)
Pea shoots for garnish
Method
For the shallot vinaigrette heat the oil gently and add the finely chopped shallots and a good pinch of table salt. Cook out on a medium heat for approximately 30 minutes, or until the shallots have darkened and cooked through. Now remove from the head and add the vinegar. This can be set aside to cool to room temperature. These quantities make a good amount of vinaigrette that works well with chicken dishes or salads.
For the pea purée blanch the frozen peas in boiling water for one minute, then remove and refresh in cold water. Once cold, mash the peas using a rolling pin or in a food processor, making sure you don't blitz them too fine. Pass through a fine sieve to make a smooth purée. Finish with salt and ground white pepper, or a little sugar should it be needed.
Both the peas and the broad beans need to be popped out of the pod and then blanched in boiling, salted water. The peas need blanching for roughly a minute and refreshing in cold water. The broad beans need two minutes in boiling water then refreshing. Broad beans also have a very bitter outer case, which needs removing before consuming.
To finish, mix the fresh peas and beans with 60 ml of shallot vinaigrette and a good amount of grated truffle, then heat very slowly to ensure the peas and beans don't discolour. Put a teaspoon of the pea purée on each plate and add a tablespoon and a half of the peas and beans.
Garnish the plate with a few slices of truffle and fresh pea shoots.