The Importance of Indigenous-led Food Operations in B.C.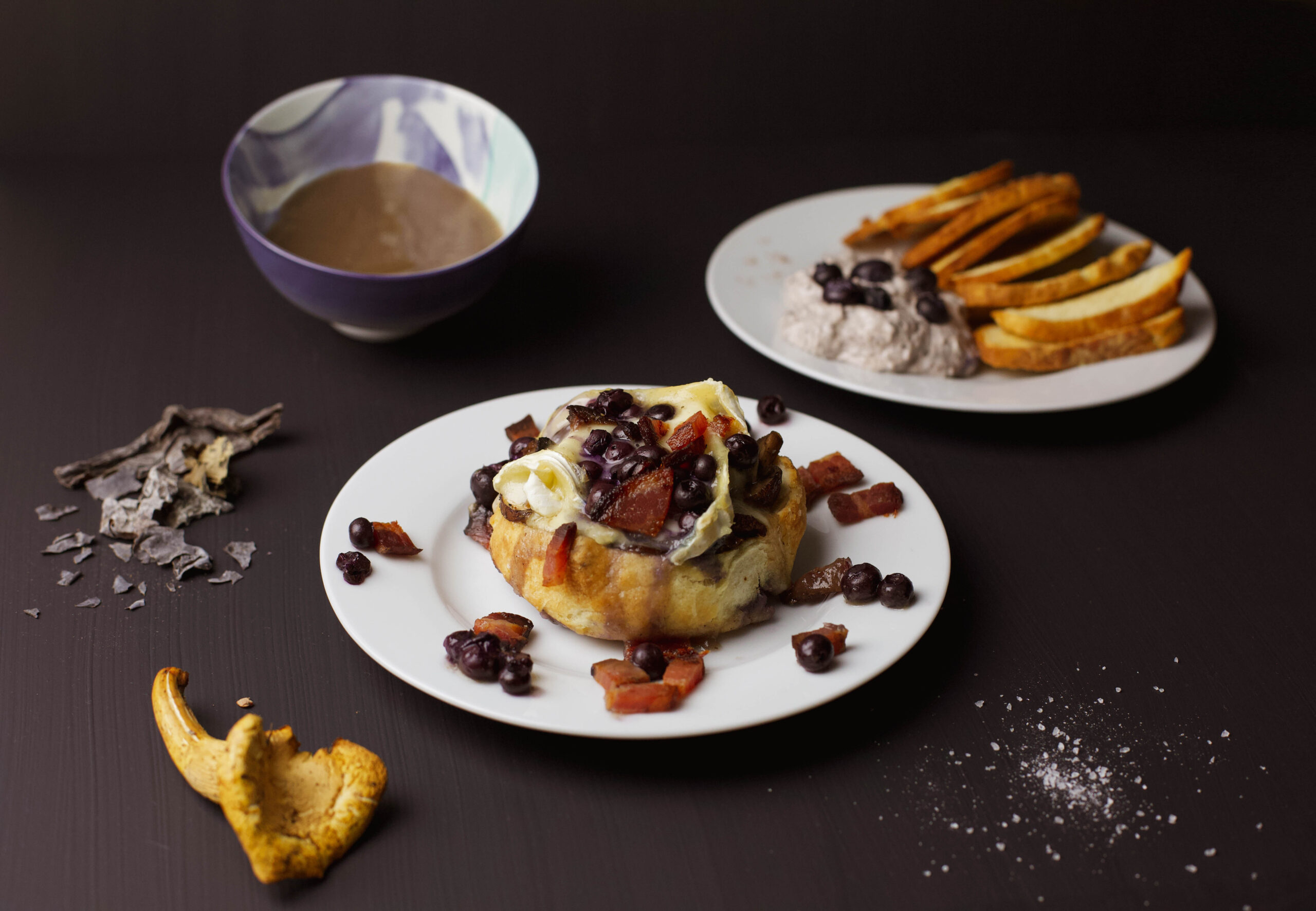 Xazil Jocelyn Gabriel is only 20 years old, but she has worked in a kitchen for five years. Her culinary journey began when she was an Indigenous youth ambassador at the Squamish Lil'wat Cultural Centre (SLCC) in Whistler, British Columbia. Gabriel excelled during the program, but her passion had always been food, so when the SLCC began to host its annual Winter Feasts, she was a natural fit to work the braised bison carving station—a space that incorporated both her culinary and guest service skills. Today, the young member of Lil'wat Nation is an apprentice under executive chef Felix Breault at the SLCC's Thunderbird Café, where she's working toward becoming a Red Seal chef.
Gabriel shares her Ucwalmicwts name, Xazil, with her grandmother and often reflects on their respective places in history. "I'm motivated by the opportunities and the food security many of my ancestors didn't have," she explains by phone from her home in Mount Currie. To her, the work she does in an Indigenous kitchen is one of the stepping stones on the long path toward healing from the trauma and injustice her people have long faced under settler colonialism. In Gabriel's culture, that path takes seven generations, but she's constructing the bedrock: "I am part of the resilience."
For his part, Breault is turning the historically hierarchical nature of commercial kitchens on its head: the Montreal expat encourages his staff to inform the café's culinary decisions. Breault feels he learns more from his staff—both youth and elders—than he bestows on them. "Working with the team at the SLCC, I've learned that food goes far beyond the kitchen," he explains. "It is upstairs in our museum, with a history of survival shared by the SLCC cultural ambassadors and curators. I have a lot to learn from the original people of this land, and the relationship to the Earth and its sustenance."
At Thunderbird Café, Gabriel, Breault, and their colleagues work with ingredients sourced from cultivators who understand the historical relationships between Indigenous plants and peoples. Theirs is a history of societies thriving with the Squamish and Lil'wat land. "Using ingredients and recipes from my community is a way for Indigenous people to tell their story," which doesn't start in the kitchen, Gabriel explains. "It begins with our land; walking with and learning from our elders' traditional planting, harvesting, and preserving techniques." She was taught how to take "just enough and leave an offering so that more will grow to feed us the next year."
Gabriel uses memories of food from her childhood for inspiration when refining dishes for weddings or other celebrations at the SLCC. "There's so much vegetation and [so many] animals that can be foraged and hunted on both territories. I like to see the variety of fine cuisine that can be made from them." Squamish Nation is Coast Salish, and Lil'wat Nation is Interior Salish, each with their differences, including what they harvest from the land—used "for medicine, sustenance, or both." Mixalhítsa7 (Alison Pascal), SLCC's curator, who is currently researching ancient medicines for an upcoming exhibit, told Gabriel that a territory's people can recognize the taste of a salmon from their own rivers. "Each nation thinks their salmon is the best—and they're all right," she says with a laugh.
At Vancouver's Salmon n' Bannock, restaurant manager Darnell Stager echoes the sentiments shared by Gabriel and Breault. "When we support Indigenous-owned businesses, we promote community and understanding amongst our businesses and nations," he tells me one afternoon before preparing a large banquet order. Stager considers restaurants opportunities to unite many aspects of the culture. "For a long time, our peoples have been underappreciated or undervalued. By uplifting them with our business, we can help to preserve and spread our culture." Salmon n' Bannock focuses on sourcing sustainable ingredients. "When we cook, we honour the ingredients and put our hearts onto the table," Stager explains. "We try our best to ensure that our proteins are sourced in an ethical way: we only use free-range and organic game meats. All our fish is caught wild from the ocean—[so it's] nice and fatty!" Stager believes the connection between people, plants, and animals is inherent: "We envelop our environment the same way our environment envelops us. This probably sounds like a Zen koan," he observes, but the knowledge is undeniable: "If we disrespect our environment, we end up disrespecting ourselves."
The executive manager of North Pacific Kelp Wild Foods in Haida Gwaii, Dafne Romero, supplies restaurants such as Salmon n' Bannock with her hand-harvested kelp. Passionate about protecting the underwater kelp forests of  Graham Island, Skidegate Inlet—which benefit the biodiverse coastal ecosystems by forming natural breakwaters and preventing shorelines from eroding—she often speaks through her community's school district about the importance of having clear policies on ethical harvesting "so we can continue having food for future generations," as she explains over the phone. To Romero, harvesting what we eat directly from the land realigns the "ecology of our metabolism to the ecosystem of where we live," offering countless health benefits. "Try to connect with what you are cultivating, what you are farming, or even what you're carving," she says. "Understand that all you need is what you have in front of you. And what you have in front of you is priceless."
Salmon n' Bannock is the only Indigenous-owned and -operated restaurant in the city of Vancouver; it comprises 10 employees from 10 different Nations. Stager views it as a "medium point" that brings together strong diversity. Stager is a member of the urban Indigenous community in Vancouver, meaning he was born and raised in the city. He says this background comes with many advantages, but it also means he grew up physically and culturally separate from his community of Kitsumkalum of the Ts'msyen Nation. Wanting to create something that brings people together, he started working in kitchens at a young age, as Gabriel did.
"If you think about it, a lot of the best memories you have are probably [in] the kitchen cooking, or eating round a table," he notes. In addition to bringing a sense of community back to the man who was disconnected from his ancestors as a boy, food is also a conduit to his heritage. "Cooking and feasting together [have] always promoted storytelling. Our oral traditions are ingrained in us," he says with poise. "We're lucky to still have many knowledge keepers with us in our community. Their guidance is so important to our way of life." The restaurant puts this into practice by taking the values and ingredients of the past and creating food for the present's multicultural tastes—for example, Bannock tacos. When I ask what Stager would recommend from the kitchen, he answers excitedly, "Try the salmon. It's not only juicy and full of flavour, but salmon has always represented cycle, continuation, and rebirth."