Raspberry Pistachio Madeleines
A recipe from Edmonton's Duchess Bake Shop.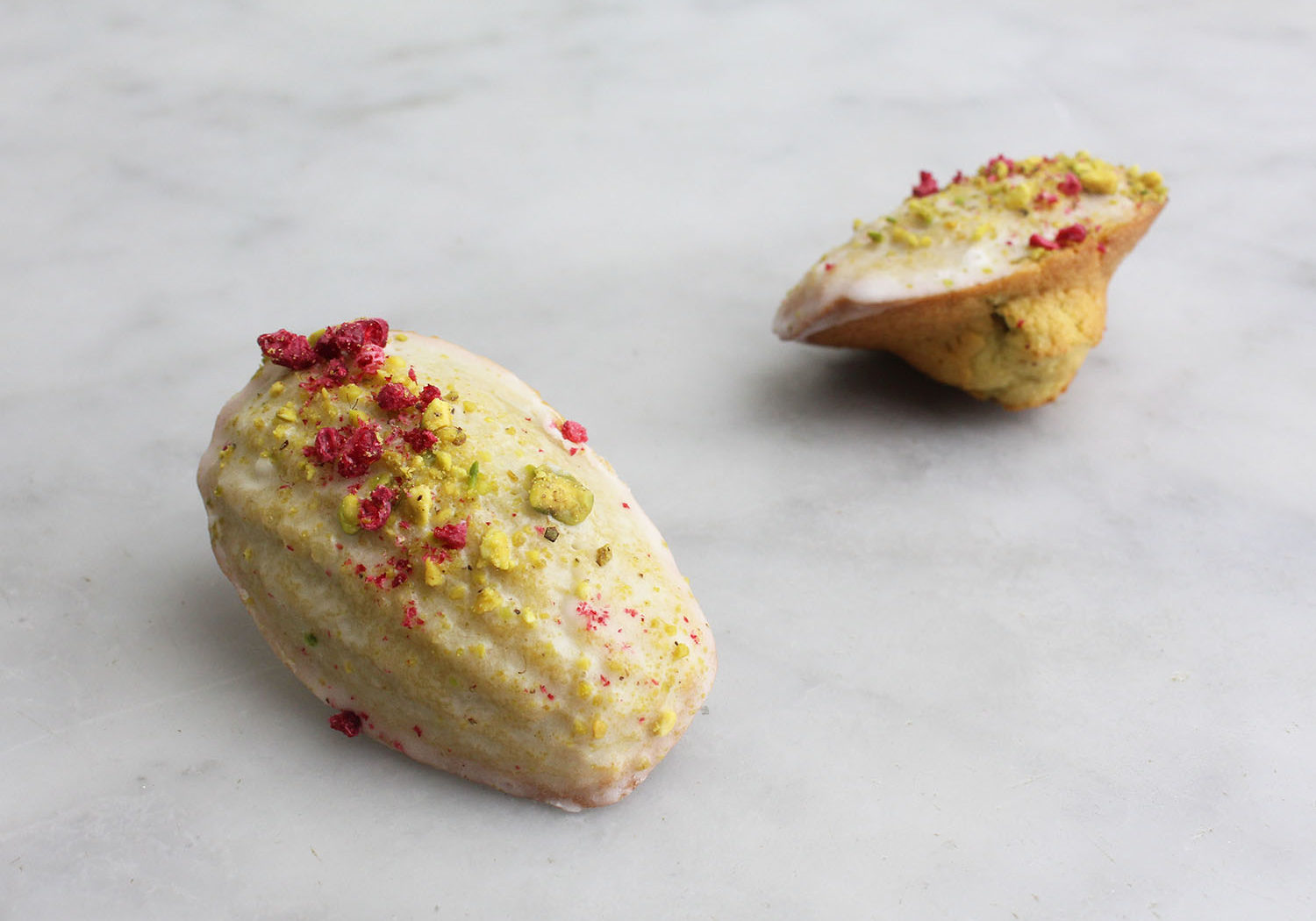 This recipe was adapted from the cookbook Duchess Bake Shop: French-Inspired Recipes from Our Bakery to Your Home by Giselle Courteau.
You'll always remember the first time you eat a moist, buttery madeleine warm out of the oven. These tiny French tea cakes make a lovely little treat that won't ruin an appetite. They are also a great finisher after a big meal. The batter is quick and easy to prepare, bakes up in no time flat, and freezes really well. We love this classic combination of raspberry and pistachio, but feel free to introduce your favourite extracts, spices, and garnishes.
Makes 24 Madeleines
Ingredients:
Madeleine Batter
160 g (1 cup) all-purpose flour
1/2 tsp baking powder
4 large eggs, at room temperature
150 g (3/4 cup) sugar
150 g (2/3 cup) unsalted butter, melted and cooled
2 tsp vanilla extract or paste
Lemon Glaze
60g (½ cup) icing sugar
120 g (½ cup) fresh lemon juice
To Garnish
Pistachios, crushed
Freeze-dried raspberry pieces
Equipment:
You will need a 24-cavity madeleine pan. These are becoming easier to find in specialty kitchen stores and online. It's hard to come up with an alternative pan to use as it's the distinctive shell-like shape that makes the madeleine unique; however, a mini-muffin pan will also work.
Procedure:
The batter will need to rest in the refrigerator for at least 3 hours before baking. When ready to bake, preheat your oven to 400˚F (205˚C). Grease and flour the madeleine pan.
Mix the flour and baking powder in a small bowl and set aside.
Whisk the eggs and sugar in a bowl until well combined. Add the butter and vanilla, and whisk until well combined.
Make a well in the centre of the dry ingredients, and whisk in the wet ingredients. Mix until well combined.
Cover with plastic wrap and refrigerate for at least 3 hours.
While the batter is resting, make the lemon glaze by mixing the icing sugar and lemon juice in a small bowl until well combined. Set aside.
Using a piping bag or a spoon, fill each madeleine cavity to about three-quarters full. Bake for 10 to 12 minutes, until they are golden around the edges. You'll see a bump rise up in the middle of each madeleine—a sign of success!
Once baked, immediately unmould the madeleines by gently tapping the pan on the counter.
While still warm, dip each madeleine in the lemon glaze to coat well, then sprinkle with crushed pistachios and freeze-dried raspberry pieces.
Serving/Storage:
Madeleines are best eaten the day they're baked. The batter will keep for up to three days in the refrigerator or up to one month in the freezer.
_________
Never miss a story. Sign up for NUVO's weekly newsletter, here.