A case for sea vegetables.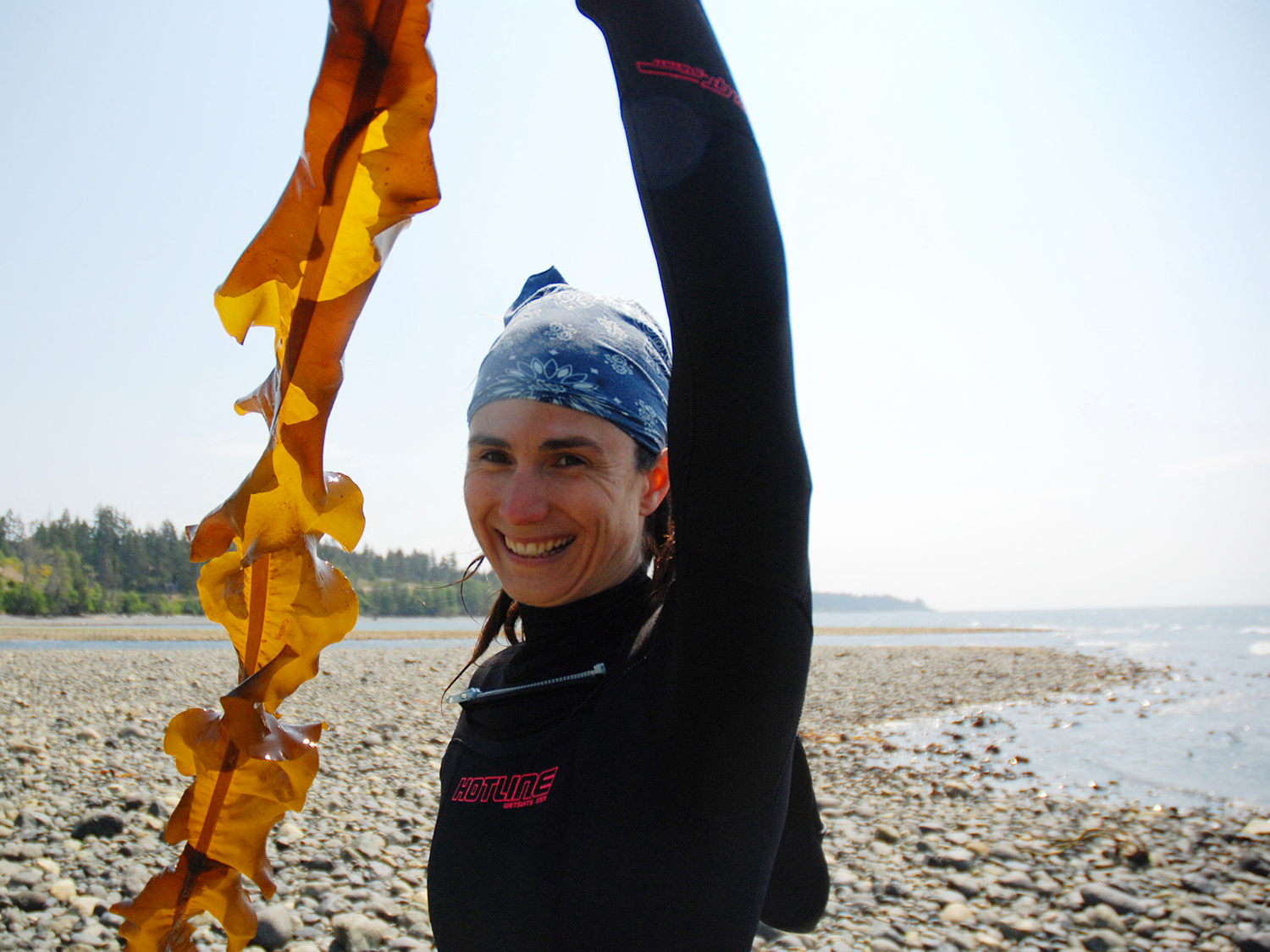 When Amanda Swinimer gets dressed for work, the suit she dons is a wetsuit, and her office is the wild West Coast of Vancouver Island.
Swinimer is a sea forager. She spends her days diving in the swirling forest of underwater kelp beds, hauling in a harvest of some of the healthiest food on Earth. She combs the rocks at low tide for sea lettuce, as well as dulse and alaria—red and brown algae, respectively—carefully pruning the plants that grow here in abundance. "We have 650 species of seaweed on our coasts," she says, "and 32 types of kelp, the most diversity on the planet."
Swinimer is a marine biologist and has been harvesting seaweed near Sooke for 16 seasons, now selling her dried products, seaweed-based teas, and wild-crafted medicines under her Dakini Tidal Wilds label. She offers seaweed workshops, snorkeling tours, and even hands-on harvesting for anyone who wants to know more about sea vegetables. She recently hosted Food Network chefs Chuck Hughes and Danny Smiles on their cross-Canada road trip, treating them to bull kelp stipes, grilled with olive oil and lemon juice.
Island chefs have discovered the tasty nuances of seaweed, too. At Aura Restaurant at Inn at Laurel Point in Victoria, seaweed is always on the menu, from the deconstructed layered sushi to the dusting of laver on the house-baked rolls. Chef Manpreet Sethi is constantly experimenting with local ocean greens, as in his "scallop mortadella", which is tinged electric green with sea lettuce and featured on the restaurant's seafood charcuterie board.
Vancouver Island-based marine biologist Amanda Swinimer spends her days harvesting some of the healthiest food on Earth.
Seaweed is found at the centre of the plate at Wolf in the Fog in Tofino, as well. Nick Nutting's Bamfield salad combines slivers of shredded bull kelp with crispy popped wild rice, daikon radish, and sautéed shiitake mushrooms.
Victoria's Be Love combines raw kale with seaweed and dulse "parmesan" for a vegan Caesar salad and at Wild Mountain Food & Drink in Sooke. Chef Oliver Kienast also steams island clams in an umami-rich halibut broth with slivers of kelp and wild Japanese knotweed. "We have a great Japanese culture on the West Coast and a tradition of cooking with sea vegetables," says Kienast. "Seaweed gives a dish a briny richness."
Local artisan distiller Jason MacIsaac also likes the briny note that Dakini Tidal Wilds' winged kelp adds to his Sheringham Seaside Gin. The former chef and local surfer says the Alaria marginata in his juniper and wild rose petal botanical mix gives the gin a smooth umami touch. "We say it's clean as a south island surf," says MacIsaac.
A teaspoon of dried seaweed flakes a day is enough to obtain the medicinal properties that come from its concentrated shot of vitamins, micro-nutrients, and trace minerals. Sprinkle it on your salad, toss it in your miso soup, or just snack on dried seaweed.
Still, one of the best ways to enjoy the ocean veggie is an intuitive one: "Seaweed is really lovely with fish," says Swinimer, who wraps fish in seaweed before cooking to impart both flavour and natural nutrients. "Soak the dried kelp, wrap the fish, and grill or bake it—it's light and crispy, and the perfect pairing."
_________
Never miss a story. Sign up for NUVO's weekly newsletter.