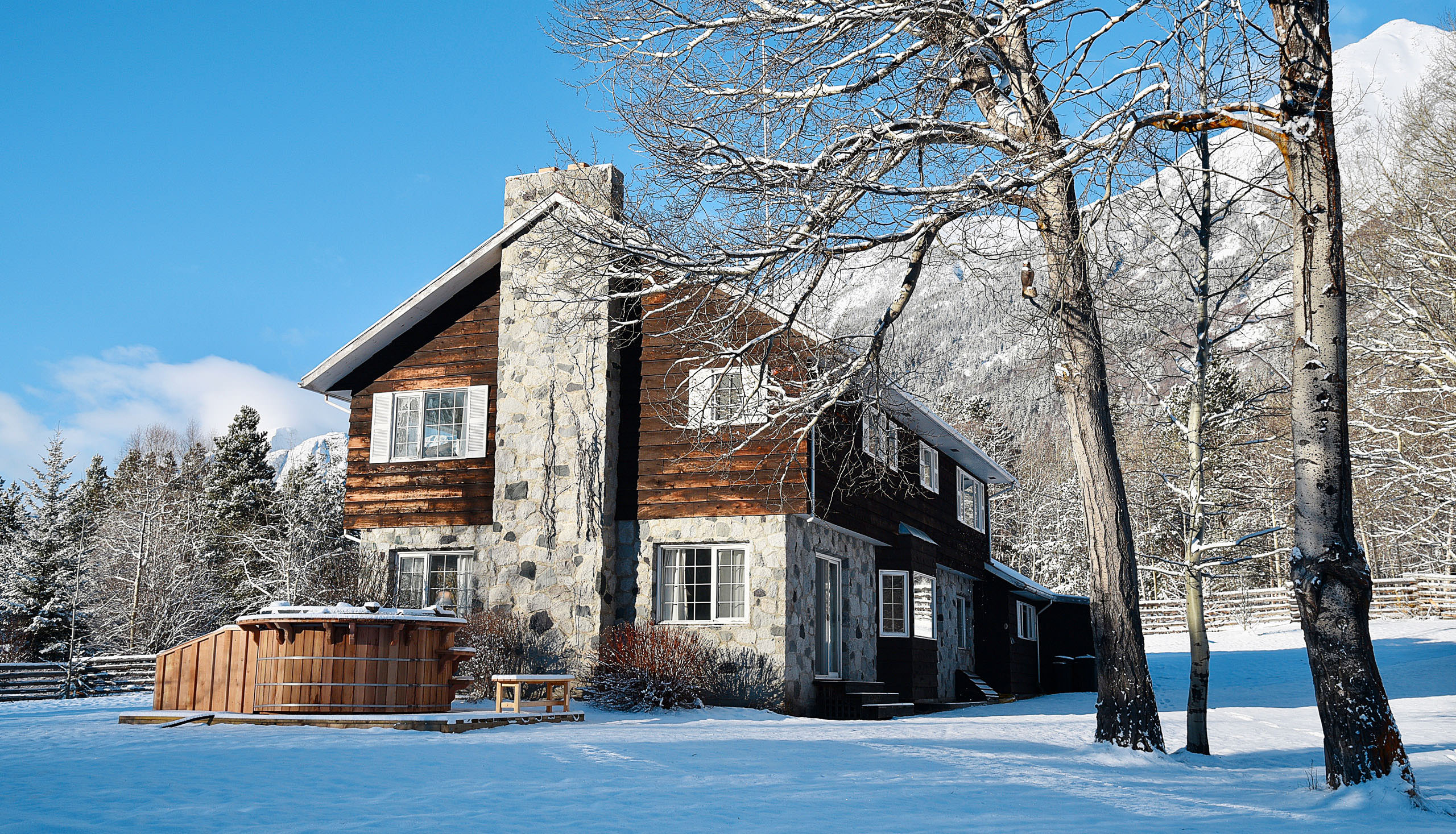 For Ski-Bound Adventurists
On a bluebird day in early April, breakfast wraps quickly. Along with a second round of eggs Benedict comes the all-clear to fly until the North Pacific's next meteorological tantrum arrives. Skiers scatter excitedly for cabins fronting historic Tweedsmuir Park Lodge outside the coastal British Columbia town of Bella Coola. Soon, groups of four-plus-guide assemble at flagged landing areas, and the whup-whup of rotor wash echoes from the valley's rocky walls. It's go time at Bella Coola Heli Sports (BCHS).
Starting on snowy pillows a five-minute flight from the lodge, each subsequent lift stages us farther out onto long, languishing glaciers and the ridges that cradle them. No complaints about the snow: it's the kind that can change your life. Around noon, we fly into a glacier-gouged valley where scalloped forest traces the phantom shoreline of a one-time lake that drained—as though someone pulled a plug—into the craggy, labyrinthine milieu below. Landing beside heavily fractured Jacobsen Glacier, we ski knee-deep powder, mindful of the apartment-block ice tumbling in suspended animation.
When we go around again, I recall the short plane ride from Vancouver, where the view revealed mountains and valleys swirling in every direction. At its centre, the Monarch Icefield stretched between peaks like a sheet pulled taut on a giant bed, scrunched-blanket glaciers rippling its corners. Now, standing at its edge, the scale is surreal. Already heralded for big terrain and deep snow, BCHS expanded several years ago into the Pantheon Range near Mount Waddington—B.C.'s highest peak at 4,019 metres—capping an astonishing 3.25-million-acre tenure. Here, amidst peaks so titanic they warp puny human perspectives, films like K2 and Seven Years in Tibet were shot, while first descents and unnamed runs lurk on every horizon.
The high-fiving that ensues after each run confirms this paean to discovery, but the boisterous group I'm with seem particularly excited. And with good reason: the terrain is theirs, so to speak. BCHS founders Christian Begin, Peter "Swede" Mattsson, and Beat Steiner are not only enjoying an infrequent day out together but a last hurrah; after 20 years, Begin and Mattsson have moved on while Steiner remains to run the show. But not before they've all received just recognition: the World Ski Awards once again ranked BCHS World's Best Heli-ski Operator. High praise, it's also validation for the three amigos who forged their friendship in the active outdoor filmmaking industry around Whistler.
In the 1990s, Begin and Steiner were cinematographers with a string of high-profile movie credits, while Mattsson guided their backcountry shoots. Searching for a less-crowded venue, their eyes were widened by the mountains around Bella Coola, and they made a deal with a funky 1930s hunting-and-fishing lodge to pay a fee for every head they brought in. "You could barely drag tourists here in the summer, and suddenly we were bringing in people in the winter," recalls Mattsson. "No one in town really knew what was going on above treeline because they'd never been up there, so it was all a bit mysterious."
It was a long, hard road to heli-skiing's ne plus ultra destination, but it was more than mountains that made Bella Coola special: there was also the deep history and culture of the Nuxalk First Nation, excellent fishing, and abundant wildlife. The musty, kitsch-filled Tweedsmuir Park Lodge was purchased, then renovated as central hub of a base constellated with high-end cabins, hot tub, sweat lodge, fitness room, and firepit; culinary and wine offerings ratcheted up; and small-group bases were added—Eagle Lodge, Pantheon Heli Ranch, Mystery Mountain Lodge. Then, just as they were getting good at it, someone decided they were the best.
Having carried the title three years running, it's hard to imagine relinquishing—particularly given recent announcements: a new boutique program of cruising coastal fjords and heli-skiing from a catamaran. If that seems to add fossil fuel to the fire of obvious carbon profligacy, BCHS just became the world's first climate-positive heli-ski operation through purchasing offsets that help preserve old-growth forest while supporting local First Nations and educational platforms that encourage others to fight climate change.
As predicted, the next storm pins us down, but we keep busy with pool games, fishing, mountain biking, visits to Nuxalk mask-carvers, and hikes with a First Nation guide to the Polynesian-like petroglyphs of Thorsen Creek—once speculated over by Norwegian explorer Thor Heyerdahl. Archery, hot-tubbing, and hilarity fill the interstices. In the lodge, Begin holds forth on BCHS's A-Star B2 helicopter program, which carried four to five guests as opposed to the 12-person industry norm—a taxi-versus-bus approach. "We saw small-group heli-skiing as the future," he recalls. "Now it's the standard."
When the storm dissipates next morning, and we start again on the nearby pillows, they're 60 centimetres fluffier than our last visit. We ski big glaciers until lunch, then bump out to a zone called Cloudbreak, where the great skiing becomes magnificent—snow so intoxicating that we linger until the horizon flames crimson.
It's one of the best ski days of my life. And though that doesn't automatically qualify BCHS as the world's best heli-ski destination, another transcendent day in incomparable mountains is pretty convincing.